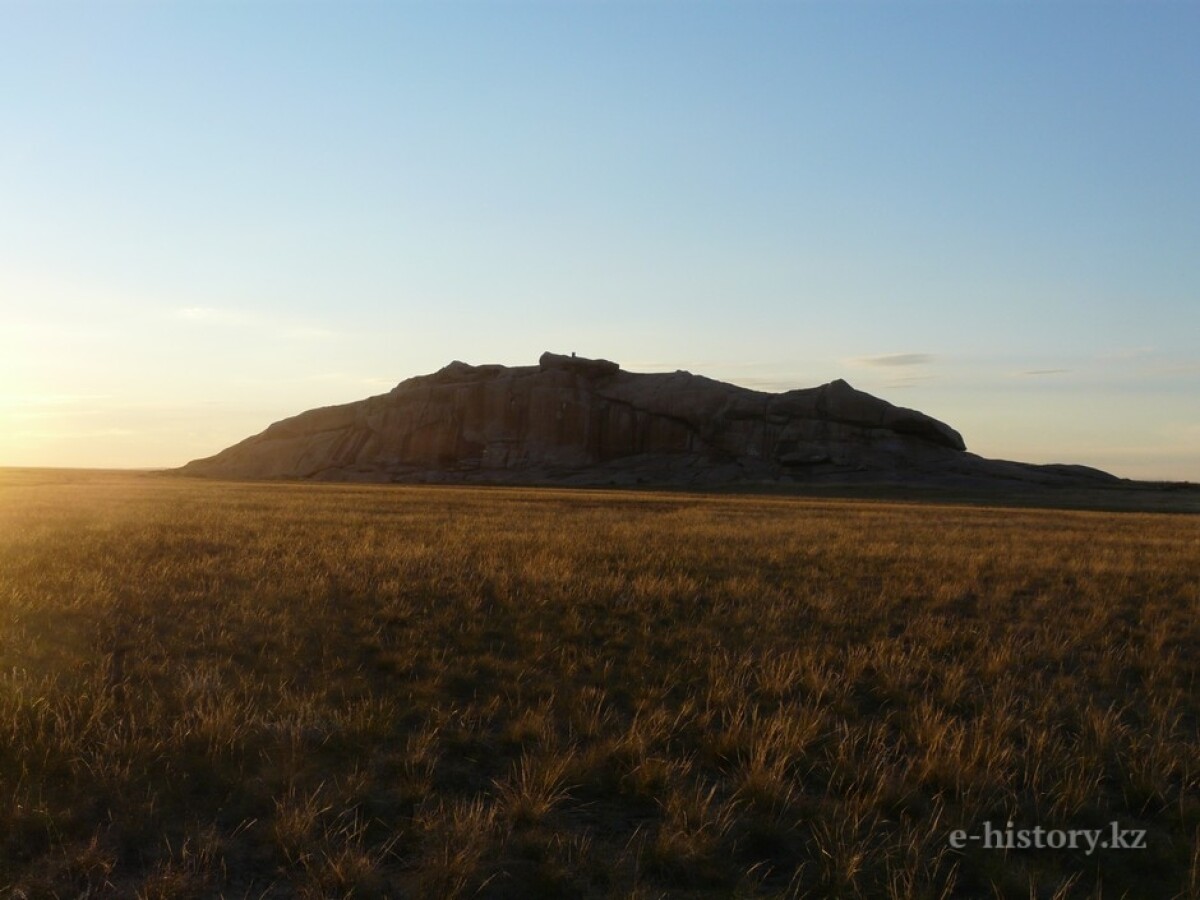 Unusual creation made by genial architect – nature is placed in Tarbagatay
In that magic land still are met mystic non-investigated phenomena. One of such wonders is known as Boritastagan. This stone of an amazing shape has two names: some call it "Boritastagan" (Wolf's сup), and someone called it "Boritastagan" (Abandoned by a wolf).
Thought which Otynshy wrote
About that stone among people there are a number of fairy-tales and stories. Once upon a time the native-born of that region, activist Alash – Otynshy Alzhanuly in his newspaper "Dala uyalayaty" by short text published the interesting legend about Boritastagan: "Between the slopes of the mountains Tarbagatay and Kalbatau there is the plain Sarydala. In the middle of this plain is Boritastagan. At the very top there were stones. People say that they are there since the times of ancient shamans. And they tell: "Once at the foot of Tarbagatay one giant grazed sheep. He was so huge that he was sitting at the Camel neck and his legs reached the Camel neck.
Once, when his wife sitting at the spinning wheel was grazing sheep, poor animals were attacked by wolves.
A giant was at a loss and threw to wild animals its spinning wheel. She fell directly into the middle of the plane and turned into the cliff…".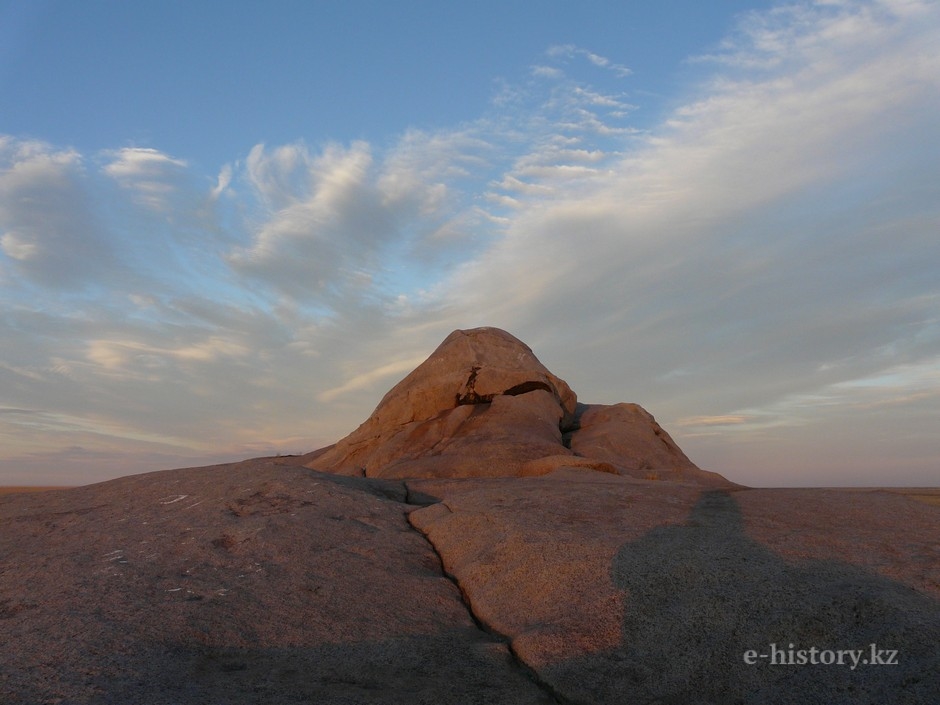 The representative of Kazakh intelligentsia wanted to transfer the charming beauty of the works of native land through fables and legends.
The author steered clear of the legend on Tolagay, "People brought from Tarbagatay the range of Tolagay which standing out from the ranges Kalbatau, attracted the view and as if angled for the legend", - there is such superstition among people.
Legend about stone
And there is the legend about Boritastagan. "In ancient times in the mountains of Tarbagatay lived one respectable old lady-giant. Day after day she grazed sheep, placed herself with flock and traditionally was spinning yarn and tuning favorite motives under her breath. With thoughts she went to the far childhood, blooming youth. Once her soul wanderings were ceased by the noise which came from the side of flock. Tired and mean from constant attacks of steppe predators giant threw in a fit of anger holding in her hands and could fear them. Boritastagan is presented as the stone from the spinning wheel".
"God's seal"
Boritastagan – granite cliff of strange form. The height of the stone is about 19 meters, the radius equals one kilometer. Its shape is prolonged from the East to the West. From the Southern side the cliff is straight. From the northern side there are some cliffs on which it is possible to climb up. Kazakhs at this place conducted the sacrifices. On the tree branches which grew at the cliff top they tied the chintz ribbons. Boritastagan cliff reminds the big ship which furrows the steppe vast lands. Its length is 200, and width is more than 50 steps.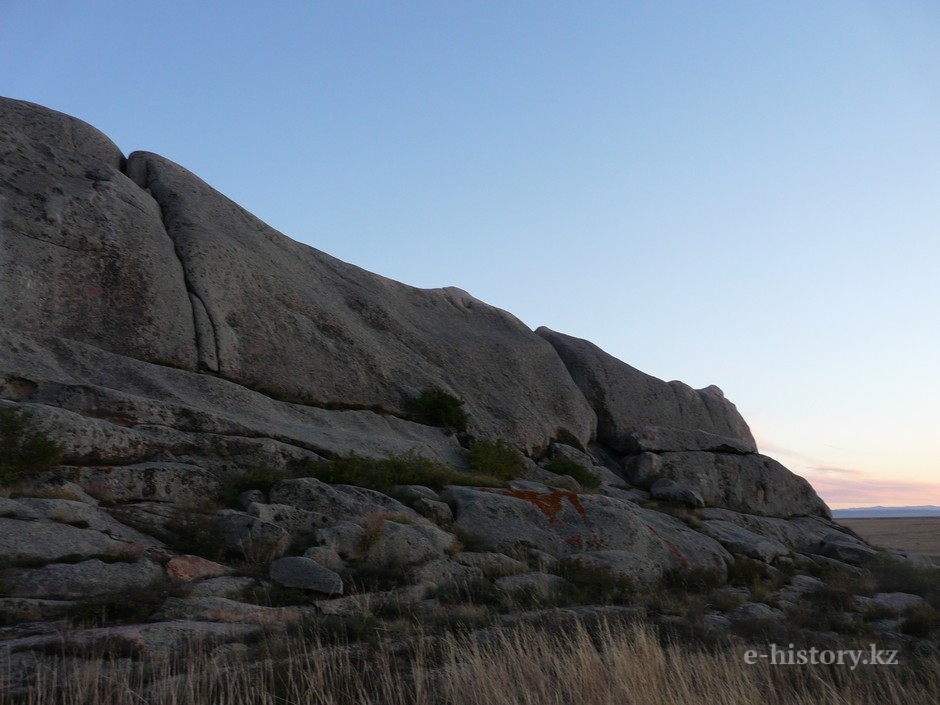 The first scientific research: of "Forgotten seal of the God"  ("Kudaydyn umyt kalgan mori" as Nesipbek Aituly called it) was carried out the doctor of mathematical sciences, senior research assistant of the National Academy of Sciences Toktar Nurekenov. During the visit of the place he found unusual stones and carried out laboratory research for the presence in the composition of minerals characteristic to meteorites. Later to the south from Boritastagan in the valley of red stones of Tarbagatay the research conducted Russian scientists. \
By Zangar KARIMKHAN
Translated by Malika MURSALIM
Use of materials for publication, commercial use, or distribution requires written or oral permission from the Board of Editors or the author. Hyperlink to Qazaqstan tarihy portal is necessary. All rights reserved by the Law RK "On author's rights and related rights". To request authorization email to
or call to 8 (7172) 57 14 08 (in - 1164)