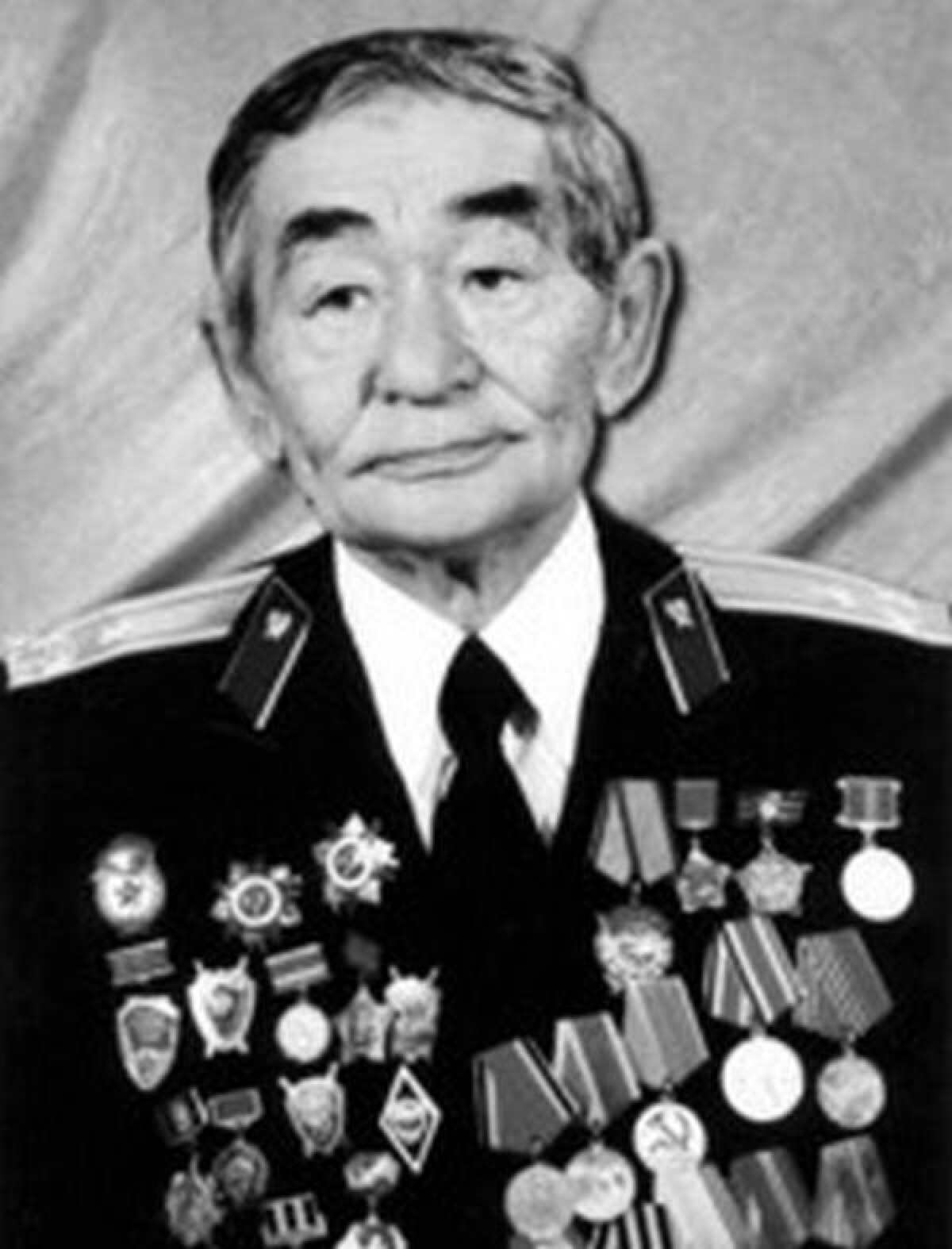 On the 70th anniversary of Victory in the Great Patriotic War and 20th anniversary of the Constitution of Kazakhstan we recall Ospan Sauranbayev who worked for Prosecutor's Office for 35 years
He was born on 7 November 1924 in the village of Belsabar, Shu area, Zhambyl region. After graduation from a secondary school, he went to the front in October 1942. In 1944 at the age of eighteen, he was seriously wounded and returned home. Ospan Sauranbayev earned his Law degree and started working for the Prosecutor's Office and became respected by people. His contemporaries remember him with warm words.
Kazi Zhumaliev, pensioner:
— Once a really terrible crime occurred in the village of Merke. One Russian man fired at his wife and scared the neighbours. Policemen and doctors arrived to provide medical assistance to the wounded woman. But the criminal opened sporadic fire on them. The local residents were terrified. All senior official of the area gathered in front of the house. The man didn't listen to any of them.
At that time, I worked for the Local Committee of National Control. We all were scared and didn't know what to do. Nobody had enough bravery to come into the territory of the house. There was a big black dog which tried to attack us. Suddenly Prosecutor Ospan Sauranbayev moved to the house. «Comrade Prosecutor, it would be better if you don't come in: the armed criminal is in critical psychological condition and poses a danger to your life», — people said. And he responded: «I saw much worse stuff during the war, if I die for the benefit of my Motherland, I'm not regret». So he continued his way. Ospan just looked at the dog and it retreated.
The criminal came out and pointed his rifle towards Ospan Sauranbayev. The Prosecutor said: «I swear that we will protect you according to the Law, as it is possible because you have punished the wife who betrayed you». The man was startled, and the tears appeared in his eyes. Then he gave the weapon to Ospan with the words: «I believe you as you also fought in the war».
Doctors managed to save the woman. She didn't denounce her husband to the court. The accident thereby had a happy end. Ospan managed to prevent the tragedy in this family. For his heroism, Ospan received a letter of thanks from Rudenko, Prosecutor General of the Soviet Union.
Once a case of theft of grain was investigated by the Prosecutor' Office. It was witnessed that the guard stole and them sold grain. Ospan analysed the life of the guy: «When his father went to the war to protect the Motherland the boy wasn't born yet. He suffered much as he became an orphan. That's why he believed that it wasn't a theft but the way to earn money. We clarified the Law to him and the guard made reparations for damage caused by him».
In this regard Ospan said: «Criminal proceedings are not necessary». Thus, he showed his humanity. Nowadays that man has a big and happy family...
Maksut Zhumagyl, Honoured worker of the Prosecutor's Office of the Republic of Kazakhstan, pensioner:
— I still remember our first meeting with Ospan Sauranbayev. On 15 September 1976 I was transferred to the Prosecutor's Office of the Merke area. I worked as Investigator and he was Prosecutor of the area. When I came in his office he looked at me like he had investigated all my soul. I still remember his words: «Do not come to work without uniform». From that day, I have never forgotten to put on my uniform. He thereby had taught me to respect my work and realise the responsibility.
I worked as Investigator in Merke. Once Ospan Sauranbayev invited me and asked to prepare a prosecutor's report. «I'm an Investigator, how can I do this?» — I asked him. «If you wish to become a Prosecutor, you should learn this. I will help you only once but never ask me again», — he said.
Most people used to work in a chaos; they make one decision now and change it on the same day. Ospan Sauranbayev never repeated again.
He respected Kazakh language, his native language, much. He respected Kazakh literature. When I visited him at home I saw that he read work of world literature. He read many books. He always wore a tie and suit.
Gulzhanat ABDIMOMYNOVA
Use of materials for publication, commercial use, or distribution requires written or oral permission from the Board of Editors or the author. Hyperlink to Qazaqstan tarihy portal is necessary. All rights reserved by the Law RK "On author's rights and related rights". To request authorization email to
or call to 8 (7172) 57 14 08 (in - 1164)