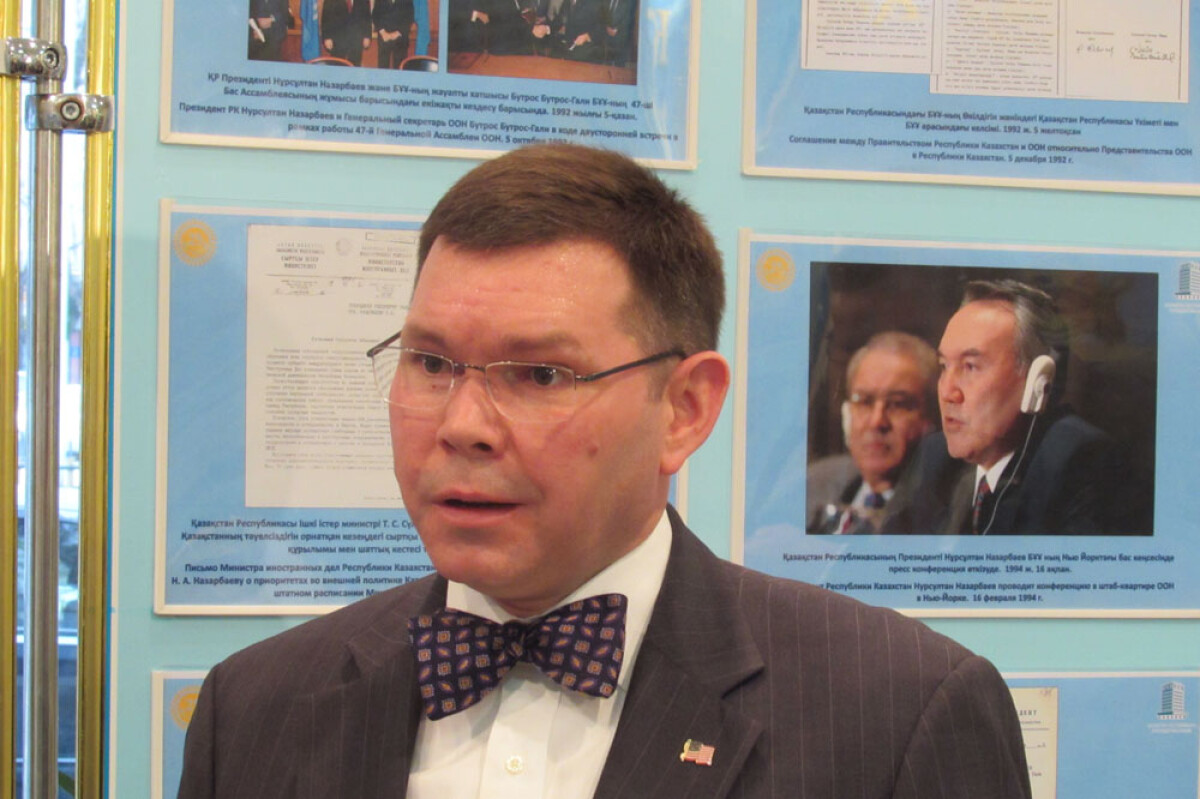 This report was declared at the round table dedicated to the 25th anniversary of Independence organized by the Archive of the President RK, U.S. Consul General surprised interest facts
When Kazakhstan declared independence on December 16, 1991, it joined a world in crisis. When the Soviet flag lowered for the last time over the Kremlin on December 25, Kazakhstan and other newly-independent states faced economic challenges, power shortages, and instability in the region.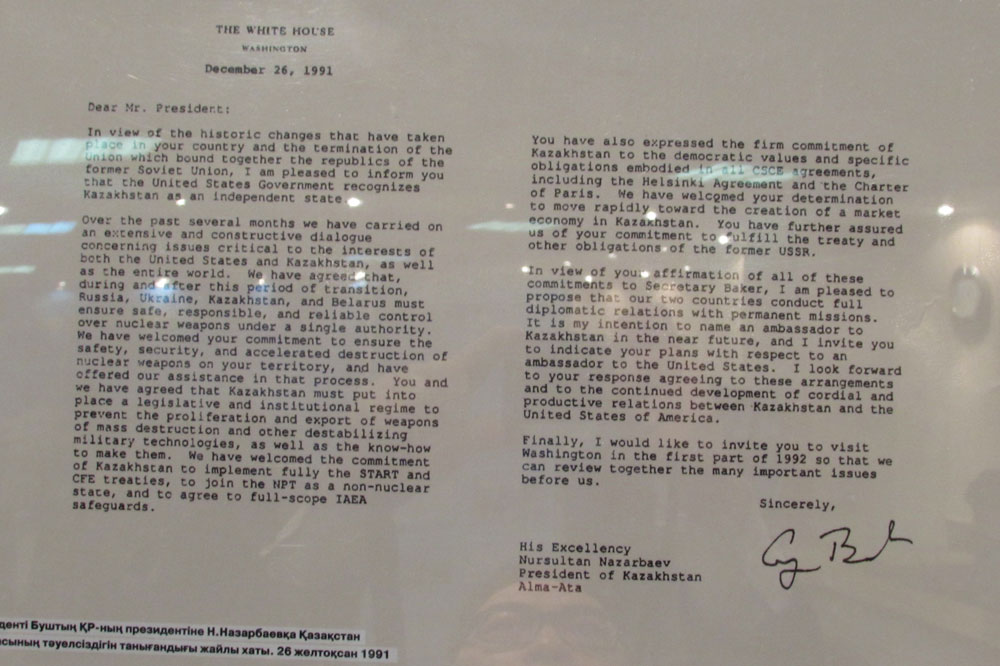 The next day, President George HW Bush sent a letter to President Nazarbayev formally recognizing Kazakhstan as an independent state, making the United States the first country to do so. 
On that cold day in December, when the world seemed to be falling apart, Presidents Bush and Nazarbayev began a partnership that would help ensure stability and development--in Kazakhstan and across the entire region.
Today, I am proud to carry with me a copy of President Bush's letter, sent on December 26, 1991, recognizing Kazakhstan's independence and formally inviting President Nazarbayev on his first visit to Washington DC.  Director Jabbarov, it is my honor to present this letter to you today!  (Give letter to Jabbarov; applause)
This historic letter accompanies twelve historic photographs we are proud to present the Presidential Archives, commemorating 25 years of U.S.-Kazakhstan relations.  These photos tell the story about how our two countries found each other as partners and friends, leading to a lasting relationship that has benefited both their peoples.
With your patience, I would like to share with you these photographs and their story partnership over the last 25 years.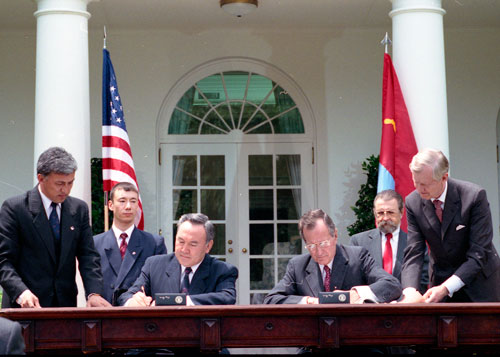 Our story begins with President Nazarbayev's first visit to the White House on May 19, 1992.  During that visit, President Nazarbayev demonstrated Kazakhstan's leadership to the world as he committed to adhere to the Strategic Arms Reduction Treaty treaty.  Thus began a partnership in non-proliferation that continues today.
Addressing President Nazarbayev, President Bush said, "Our meeting today marks the beginning of a new relationship, a relationship made possible by the end of the long era of East-West conflict that we called the cold war.  With the passing of that bitter conflict, we enter into a new era of hope for a more democratic and free order in Eastern Europe and in Central Asia…. On behalf of all Americans, I pledge the support of the United States of America as Kazakhstan seeks a future that is peaceful, prosperous, and free."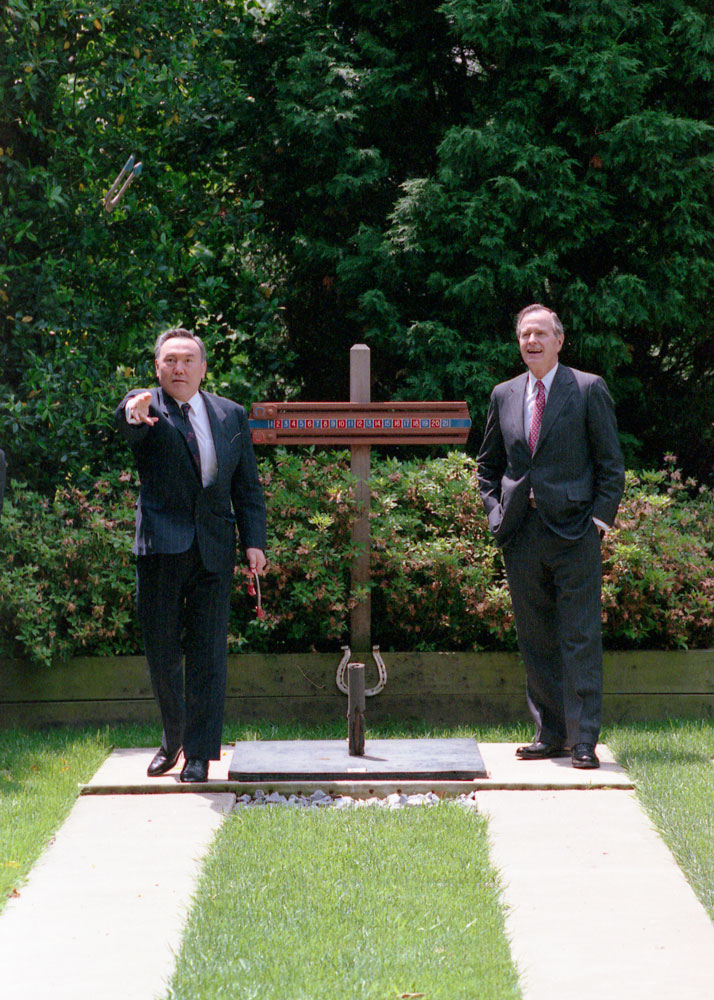 During the visit, President Bush also learned that Kazakhstanis aim for success at everything they do--including American horseshoes.
In September of 1992, Ambassador William Courtney arrived in Almaty to open the first U.S. Embassy in the former Soviet Union. 
With Ambassador Courtney's arrival, Kazakhstan and the United States rapidly established broad bilateral cooperation in education, health, business, and the critical issues of nonproliferation. 
The United States, Kazakhstan, and Russia immediately began working together to help Kazakhstan free itself of 1,400 nuclear warheads and remove radioactive and biological materials remaining from Soviet weapons programs. 
Our joint efforts received crucial support from U.S. Senators Sam Nunn and Richard Luger, who led U.S. efforts to help safeguard dangerous Soviet weapons materials.  This photo records their first visit to Almaty in November 1992, where they met President Nazarbayev to discuss how to eliminate health and environmental hazards associated with Soviet weapons of mass destruction.  I am proud to note that our cooperation in this area continues to the present day.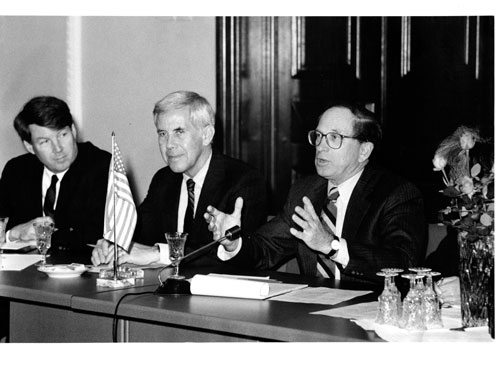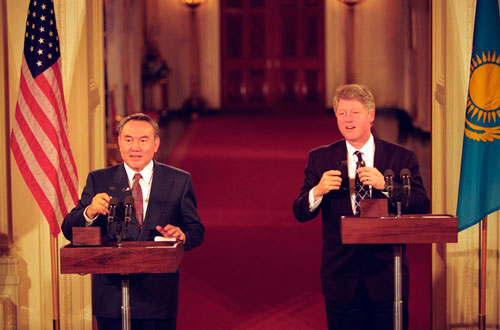 During Ambassador Courtney's tenure, President Nazarbayev met his second U.S. President, William Jefferson Clinton.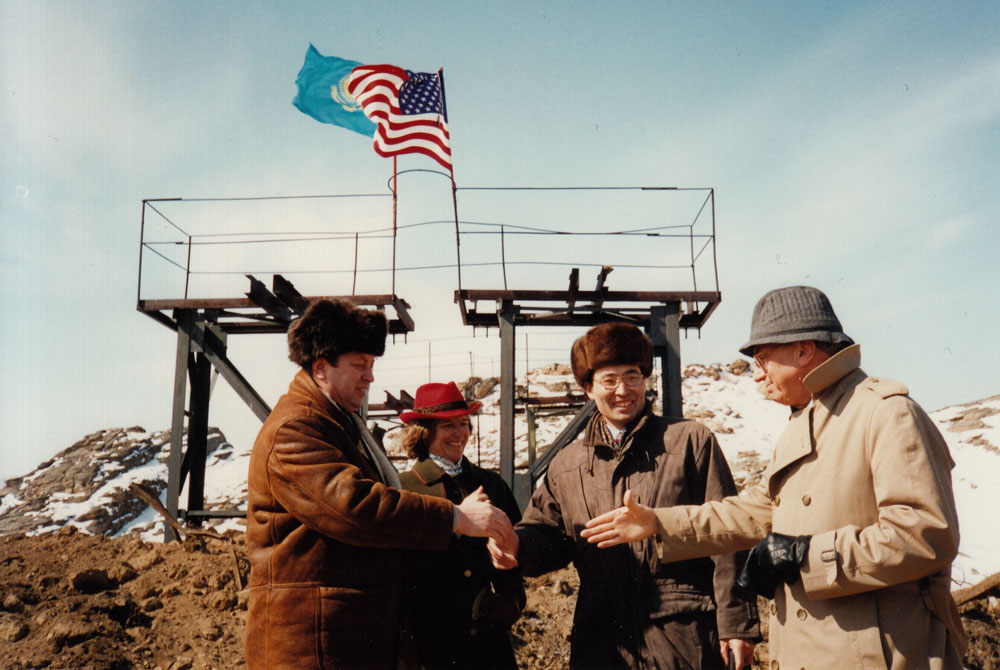 Our second Ambassador, Elizabeth, "Beth" Jones arrived in Kazakhstan in 1995 to continue this partnership.
She is pictured here along with former Minister of Science and Technology and Akim of Semipalatinsk in a ceremony to close the first nuclear testing tunnel at Degelen Mountain in the Polygon, a project funded by the Nunn-Lugar program.
Our Ambassadors have always had a deep connection to the people of Kazakhstan, and Ambassador Jones was no exception.  When terrible winter blizzards jeopardized hospital electricity, Ambassador Jones brought in large generators for each of the oblast children's hospitals.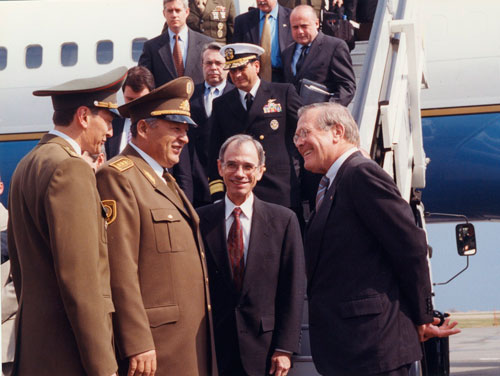 Ambassador Jones' deep connection to Kazakhstan includes a member of her family.  Her sister adopted a Kazakh orphan, Ajimah, who is now a student enrolled in her first year at the University of Virginia.  Indeed, over the last 25 years Americans and Kazakhstanis have become more than just partners--we have become family (rodsvenitkii).
Five days after Napper arrived in Kazakhstan, the region was shaken by the tragic events of September 11.  Recalling those dark days after the attacks, the Ambassador wrote:
"I will never forget how the leaders and the people of Kazakhstan came to the support of the American people in our hour of grief and danger, constructing a spontaneous memorial of flowers on the street in front of our embassy.
Even though I had not yet officially presented my credentials as ambassador, in an act of enormous grace and solidarity President Nazarbayev visited the American embassy to express his condolences and to announce Kazakhstan's determination to stand with the United States and against terrorism.
During the fateful autumn of 2001 Kazakhstan provided invaluable assistance to the coalition assembling to confront the Taliban regime in Afghanistan, which harbored the terrorists."
Ambassador Napper was grateful for Kazakhstan's support at that difficult time, and on his behalf I thank Kazakhstan today.
The next Ambassador to Kazakhstan, John Ordway, proved that--once an American visits Kazakhstan--he never wants to leave.  He has the distinction of serving four times as Chief of the U.S. Mission to Kazakhstan.  Once as Ambassador to Kazakhstan from August 2004 until September 2008, and three times afterward as charge d'affairs. 
Under his leadership, we fulfilled President Nazarbayev's request to move to our new embassy in Astana.  This made Ordway the last ambassador in Almaty and the first U.S. ambassador in Astana.  This photo was taken at the new embassy on the day it was dedicated, November 14, 2006.
Recalling his time here, Ambassador Ordway later said, "No one can spend time in Kazakhstan and not be impressed with the culture, the hospitality and the success the people of Kazakhstan have had in building a vibrant, successful, multi-ethnic and religiously diverse society."
Ambassador Ordway had the opportunity to accompany President Nazarbayev as he met with another U.S. president at the White House in 2006: George W Bush.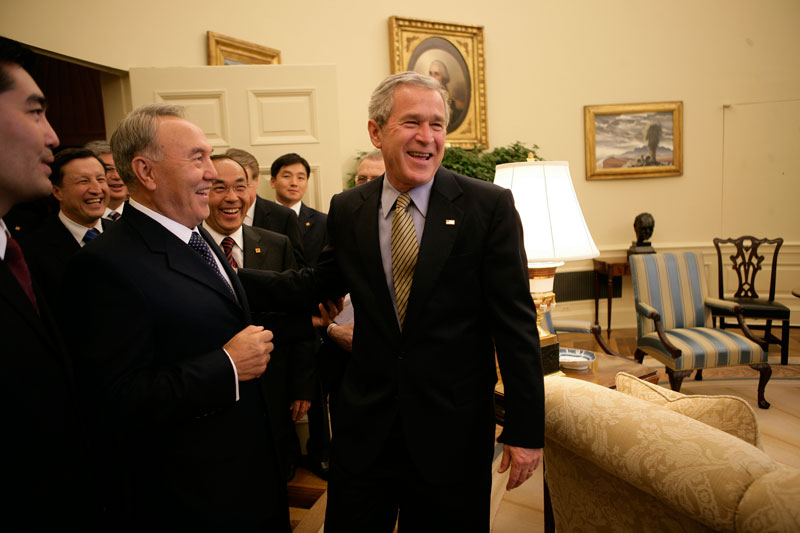 In their meeting in the Oval Office, President George W. Bush welcomed President Nazarbayev and thanked him for Kazakhstan's vital help in Afghanistan.  Fifteen years after Kazakhstan's independence, the two presidents reaffirmed their commitment to a shared vision of stability, prosperity, and shared democratic reform in Central Asia and the broader region.
Presidents Obama and Nazarbayev discussed this international partnership during a bilateral meeting at the United Nations Headquarters in September 2015.  There was much to celebrate.  Kazakhstan had just acceded to the World Trade Organization and opened the IAEA's low enriched uranium fuel bank in Kazakhstan. 
Clearly, Kazakhstan has emerged from the uncertain days of 1991 as a growing, confident, and ambitious global partner.  Twenty-five years ago, Kazakhstan's future was unclear.  Today, we look forward to Kazakhstan taking its place on the UN Security Council.  Indeed, this is a story with the best chapters ahead.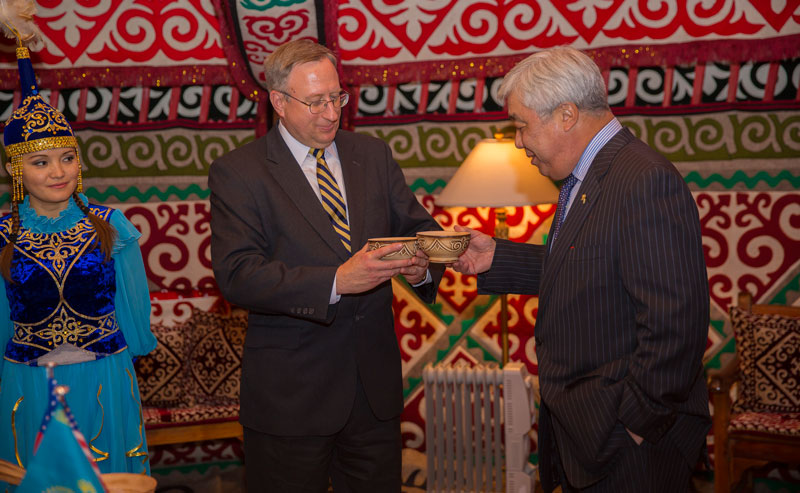 Much of this success is thanks to the veterans of the Kazakhstani diplomatic corps in this room today, and I invite everyone to applaud them for their achievements on behalf of Kazakhstan.  (applause)
As we reflect on what we have achieved together, I invite all of us to think about how we can ensure that our progress continues over the next 25 years and beyond.  I truly hope that in 2041 we can stage an exhibit marking 50 years of independence that includes achievements far beyond what we can dream today.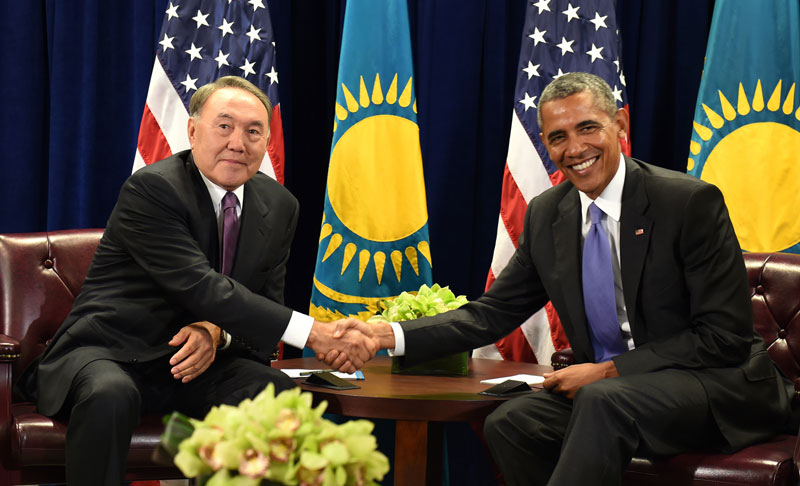 As we look ahead to the next horizon, this exhibit demonstrates we are standing on the shoulders of giants.  Let us be inspired by their vision as we build a future of peace and partnership. 
Congratulations Kazakhstan on 25 years of independence, and congratulations to both our countries on 25 years of fruitful bilateral relations!
Mark Moody,
U.S. Consul General 
Use of materials for publication, commercial use, or distribution requires written or oral permission from the Board of Editors or the author. Hyperlink to Qazaqstan tarihy portal is necessary. All rights reserved by the Law RK "On author's rights and related rights". To request authorization email to
or call to 8 (7172) 57 14 08 (in - 1164)