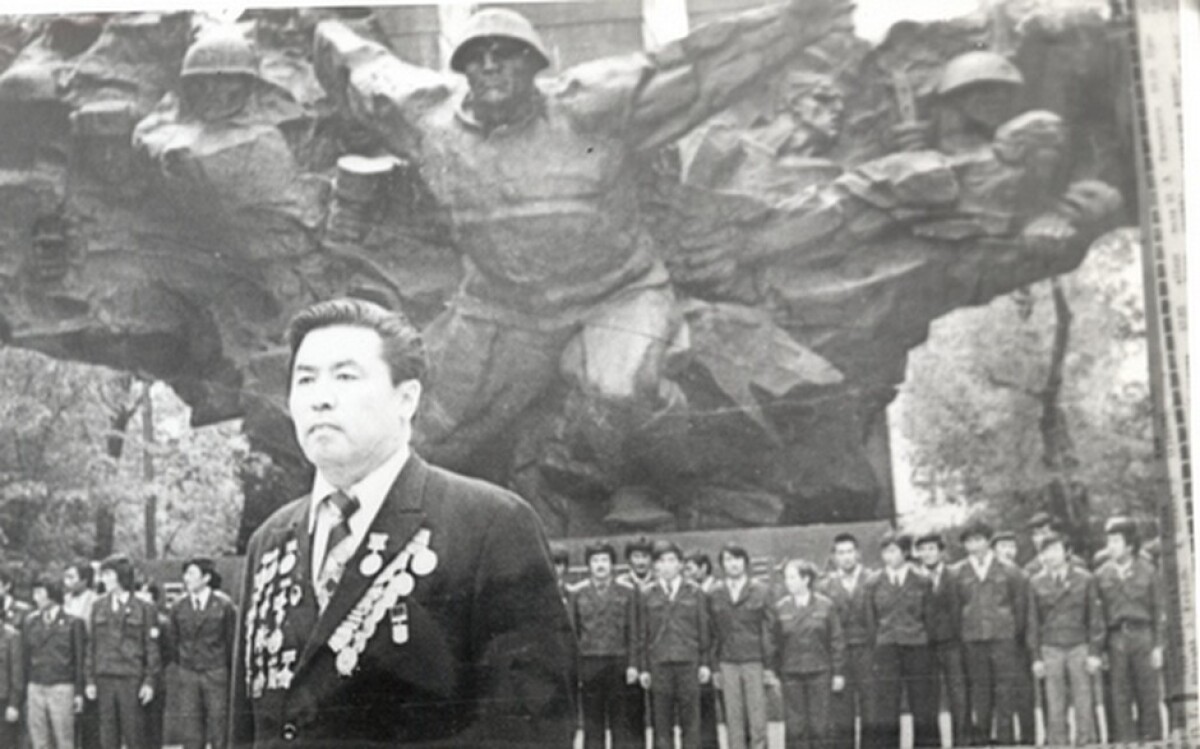 R. Koshkarbayev was one of the first combatants, who raised the flag of victory over the building of the Reichstag.
Rakhymzhan Koshkarbayev (1924 — 1988 гг.) — a veteran of the Great Patriotic War and labour. He was born in Akmola region. When the war broke out, he was only seventeen years old. He became a volunteer at the front. In 1942 he graduated from the Frunze Military Academy in the rank of the second lieutenant. At war, he was the commander of the troop of the artillery division. 
R. Koshkarbayev was one of the first combatants, who raised the flag of victory over the Reichstag building in May 1945. Warriors of various combat units made an effort to reach the Reichstag with the Soviet flag. On 30 April 1945, from 11 o'clock in the morning to 6 o'clock in the evening they were crawling under the thunder of ceaseless fire, overcoming the last 300 m till the building. They raised the flag of victory on the wall of the Reichstag. At that time Rakhymzhan was only 20. 
It is how Koshkarbayev describes the hoisting of the first red flag: "Combat Davydov led me to the window. (It was in the "Himmler's house"). "Can you see the Reichstag? Select the right people, you will raise the flag." And he gave a dark, heavy enough parcel — flag was wrapped in the black paper. With a group of the intelligence officers I jumped out the window. In a short time we all had to lie down. The intensive fire began. Near me was one fighter. It was Grigory Bulatov. He constantly asked: "What should we do, comrade lieutenant? We were lying near the ditch filled with water. Let's put our surnames on the flag", I suggested to him. And with the chemical pencil which was in my pocket, lying under the bridge, wrote: "Regiment 674, battalion 1". And wrote our names: "Lieutenant Koshkarbayev, Red Army soldier Bulatov". We had lied here till the dark. Then the artillery preparation started, and with the first shots he ran up to the Reichstag. I raised Bulatov, held him by legs, and here at the height of the second floor we raised the flag... ." 
By the end of the war the lieutenant Koshkarbayev was the commander of the troops of the military intelligence of the 674th artillery regiment, 150 artillery division. R. Koshkarbayev's photo was printed out in all newspapers. 
For the courage and dignity displayed at war with fascist invaders R. Koshkarbayev was awarded the Order of Red Star, Order of the Great Patriotic War of the first degree. By the Decree of the President of the Republic of Kazakhstan as of 7 May, 1999 he was posthumously awarded the highest distinction — the title "Halyk Kaharmany" ("People's Hero").
Use of materials for publication, commercial use, or distribution requires written or oral permission from the Board of Editors or the author. Hyperlink to Qazaqstan tarihy portal is necessary. All rights reserved by the Law RK "On author's rights and related rights". To request authorization email to
or call to 8 (7172) 57 14 08 (in - 1164)