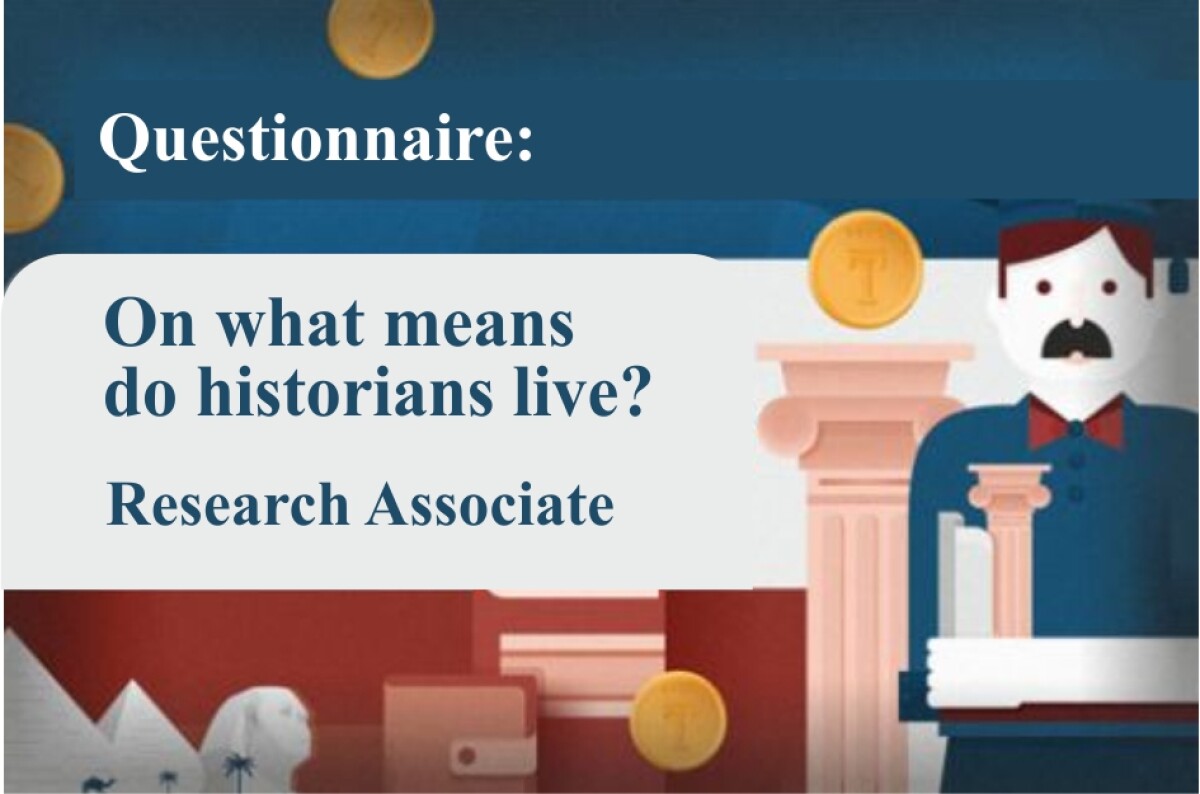 National Digital History Internet Project conducts the special questionnaire among professional historians on social-material wealth. Participate, share and pass Your opinion
The following participant of the questionnaire is a Research Associate Erkin Erlanuly.

When I studied at school, I had special interest to humanitarian disciplines, including history. This interest of mine pushed me to become a historian. 

The peculiarity of my work is in that I engage with the scientific research work. Taking into account that the main direction of my work is dedicated to the research of main aspects of national history, the demands presented by a research associate, as a result tend to that. 

It is not difficult to finish studies on the specialty Historian, but it is difficult to become a historian. Each person considering oneself a historian has main tasks: to master theory and methodology of science, scientific philosophy. Each man thinking of oneself as a Historian has to be able to work with manuscripts, archive documents. A person who can't all that is not a historian. Also history develops its scientific fruits very slowly. That demands patience.  

80 thousand tenge. We know well that the salary of the officers of other branches in particular, judges, prosecutors, officers of internal affairs are often increased. However, the salary of historians hardly exceeds 50-60 th tenge. Taking into consideration the current prices, when all the things are expensive this money is not enough for all the expenses.       
In a nutshell, it is prohibited to forget that the situation in the sphere of education will not become better while the situation of sphere of education will not become better.

To engage with unskilled work and wait for salary, or work mentally and earn as much as possible? I asked this question several months ago. At that time I chose the second way, that is I decided to earn by mental work.
Notwithstanding the fact that research associates have multiple sources of income, all of them choose salary. To dispose to the inconvenience I decided to engage with additional scientific projects. As additional income I write scientific projects and write them on demand.
In spite of the shortage of additional incomes, they are enough to cover additional financial expenses. 

Except for everyday expenses there are expenses on work. If to talk particularly when you deal with scientific work, it is necessary to search much, know, learn, and all of that bumps into money. Saying about the precise sum of expenses annually at least 50 th tenge is spent, sometimes it is necessary to spend even more. But all those expenses are compensated later.    
Use of materials for publication, commercial use, or distribution requires written or oral permission from the Board of Editors or the author. Hyperlink to National Digital History portal is necessary. All rights reserved by the Law RK "On author's rights and related rights". To request authorization email to kaz.ehistory@gmail.com or call to (7172) 79 82 06 (ext.111).  

 
Use of materials for publication, commercial use, or distribution requires written or oral permission from the Board of Editors or the author. Hyperlink to Qazaqstan tarihy portal is necessary. All rights reserved by the Law RK "On author's rights and related rights". To request authorization email to
or call to 8 (7172) 57 14 08 (in - 1164)