Events calendar
24 February
24 February 1917
100 years ago Dogalsk battle happened in Turgay steppe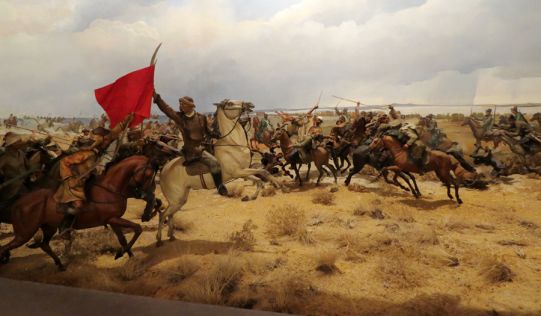 98 years ago Dogalsk battle, which was one of the significant in national and liberating movement, was in the Turgay steppe. Ibray Atambekov and Keiky Kukomov together with the leader of Amangeldy Imanov heroically showed themselves in the battle.
24 February 2001
A museum of the victims of political repressions was created in the village Dolynka (Karlag Museum)
A museum of the victims of political repressions of the village Dolynka (Karlag Museum) was established in accordance with the instructions of the President of the Republic of Kazakhstan, by the order of the akim of the region on February 24, 2001. The founder of the Museum is the city administration of Karaganda region, the government authority is the Department of Culture of Karaganda region.
Karlag Museum is a museum in Dolynka village of Karaganda region in Kazakhstan. It was created in order to study and preserve the historical monuments KARLAG and commemorate the innocent victims of forced labor camps, which were situated on the territory of Kazakhstan.
Massive political repressions were carried out in the Soviet Union in the 1930-1950's. Gulag (System of Soviet labor camps and prisons, the city of Moscow) has its own system ITL-labor camps. KarLag was its largest branch, with the center in Dolynka village, where the administration of KarITL was situated, which affected the whole system of camps of Kazakhstan.
Until 2011, the part of the building of dispensary ROC "Arman", village  Dolynka (former object of KarLag"Polyclinic for civilian employees") was allocated for the museum. The total area is 166.9 m2, of which the exhibition area is 78 m2, storage facility is 10 m2, building area is 230.7 m2.
Now, the museum was moved to the former building of the KarLag camp management.
A museum of the victims of political repressions of the village Dolynka held the special events in honor of the memorial dates, the meeting on the "Mamochkino" graveyard, "The memorial date", "Independence Day". The exhibitions and lectures "Agriculture of KarLag",", "The rise of KarLag agriculture", "Numbers and destinies" are being organized.