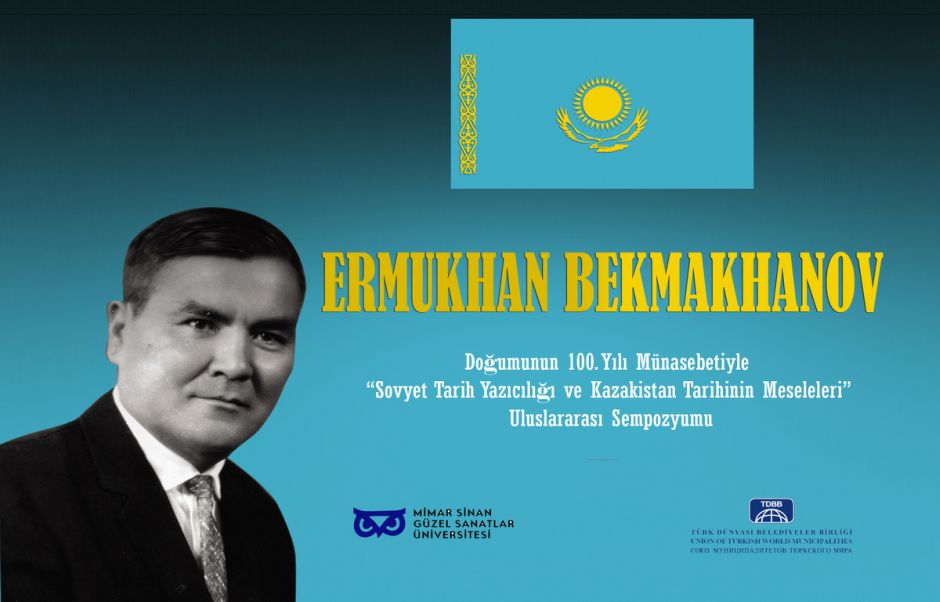 14 April 2015
Mimar Sinan Fine Arts University and Turkish World Municipalities Association (TDBB) organize an international symposium on "Soviet Historiography and Problems of the History of Kazakhstan" on the occasion of the 100th birth anniversary of the first Kazakh historian Yermukhan Bekmakhanov in 2015, 15-16 April.
Historians from Kazakhstan, Turkey, Turkish Republic of Northern Cyprus will participate in it. Some specialist historians from the USA and Japan contribute to the symposium with their articles. The papers presented to the symposium will be published later as a book in three languages such as Turkish, Kazakh and English.
Soviet system not only dominated social and political spheres, but also in science, art and culture, especially in the writing of history. Soviet historiography which has its own rules did not allow historians to get out of it. Historians trying to ignore them had been severely punished.
In this way, one of the historians sent to exile for labor camps in Siberia was Yermukhan Bekmakhanov. Bekmakhanov who has special place among Kazakh historians for becoming the first Kazakh historian with doctoral education, was subjected to great pressure for publishing a book in 1947 about Kenesary Khan (1802-1847), leader of a large rebellion movement aganist Tsarist.
Harsh criticisms were published aganist him on Pravda and other important newspapers at that time. As a result, he was arrested in 1952 and sentenced to 25 years for labor camps in Siberia. Bekmakhanov was pardoned and returned to his post in 1954 at the university after Stalin's death in March 1953. He continued his research and raising historians until his death in 1966, May 6.
Bekmakhanov who made significant contributions to the writing of Kazakh national history is commemorated in Kazakhstan by various scientific meetings and activities at his 100th birth anniversary of this year.
At the symposium in Istanbul will be discussed the life and works of Bekmakhanov and various aspects of the Soviet historiography. Papers will be presented by some experts on the history of USSR and Kazakhstan such as Prof. Dr. Araylym Musagaliyev, Prof. Danagül Makhat Prof. Dr. Aytaly Orazbayev, Assoc. Prof. Dr. Darken Kurmangaliy, Assoc. Prof. Dr. Roza Musabekov, Assoc. Prof. Dr. Elnur Agayev, Prof. Dr. Abdulvahap Kara, Assoc. Prof. Dr. Ilyas Kamalov, Assoc. Prof. Dr. Ismail Turkoglu, Assoc. Prof. Dr. Emin Özdemir, Asst. Prof. Dr. Gülnar Kara, Asst. Prof. Dr. Meryem Hakim Kırımlı, Asst. Prof. Dr. Ibrahim Kalkan, Dr. Leysen Şahin
Date: 15-16 April 2015
Location: Mimar Sinan Fine Arts Bomonti Campus
Address: Cumhuriyet Mah. Silahşörler Cad. No: 71 34380 Bomonti-Sisli Istanbul
Tel: 0212 246 00 11
E-mail: zeynepceylan83@gmail. com)
Use of materials for publication, commercial use, or distribution requires written or oral permission from the Board of Editors or the author. Hyperlink to Qazaqstan tarihy portal is necessary. All rights reserved by the Law RK "On author's rights and related rights". To request authorization email to mail@e-history.kz or call to (7172) 79 82 06 (ext.111)