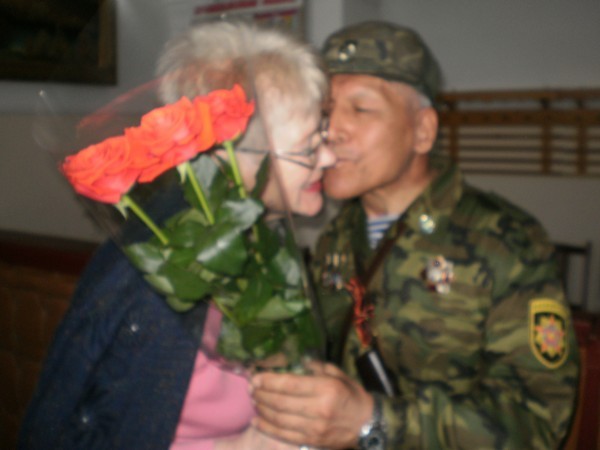 10 April 2015
On 11 April 2015 the Public Library № 5 hosts the evening event entitled «It's Long Time since We Took off the Uniform». The event starts at 4 p. m. at 14/2, Petrov Street, Astana. The meeting is organised within the frameworks of the campaign «I'm Proud of My Grandfather» dedicated to the 70th anniversary of Victory in the Great Patriotic War. It is planned that the evening event «It's Long Time since We Took off the Uniform» will be attended by students of the Secondary School № 30 and personnel of the National Guard.
The programme of the event includes:
1. Video on «Kazakhstan People — Heroes of the Great Patriotic War».
The video will demonstrate slides telling about the history of the war from the very first day to the raising of the Red Flag over the Reichstag. Kazakhstan people made a significant contribution to the Victory. They participated in all important battles of the war such as the battles of Moscow, Leningrad and Kursk, the liberation of Ukraine and Belarus. In all this battle, our soldiers and officers demonstrated their bravery and courage. Many of those who were born in Akmolinsk (Astana) fought on the fronts of the war; many of them were killed or lost. Nowadays we still find the remains of those combatants, who were not buried, in the territories where fighting was taking place.
2. Meeting with the Head of the Search Group 'Memorial Zone" Maydan Kusainov. He is the author of several books telling about the works of the group. Maydan Kusainov will tell the guests about the idea of establishment of the Search Group, about the work in various weather conditions such as rain and snowfall in wetlands and forests with the risk to be killed by unexploded ordnance, shells, grenades and mortars with the aim to find those who disappeared. He will explain the significance of the work with documents and archival materials to fill blanks in the history of the Great Patriotic War.
Maydan Kusainov has been working with the group for 30 years. He says that the destiny decided that he should help those who didn't return from the front. The story of Maydan's father affected all life of the searcher. His father fought in the battle of Leningrad. The veteran told many stories of soldiers who gave their lives for the Motherland. And all of them remained in the memory of Maydan. That's why he established the search group.
3. Exhibition — tale entitled «Personal Belonging of the Soldier...» which will show medals, letters from fronts, certificates, spoon and water bottle of one soldier who fought in the war...
The main mission of the evening event is to preserve the history and memory and pass the value of the life and peace in the world to our young generation.
Contact number: +7 (7172) 43-00-70
Use of materials for publication, commercial use, or distribution requires written or oral permission from the Board of Editors or the author. Hyperlink to Qazaqstan tarihy portal is necessary. All rights reserved by the Law RK "On author's rights and related rights". To request authorization email to mail@e-history.kz or call to (7172) 79 82 06 (ext.111)