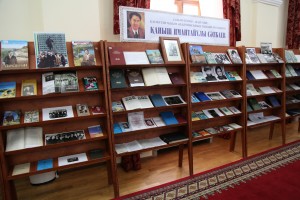 This year would have be exactly 50 years when died the famous Kazakh scientist, talented organizer of science and prominent public figure Kanysh Imantayuly Satpayev.
The evening dedicated to the memory of K.Satpayev and 50th anniversary of his death, under the auspices of the Republican State Enterprise "Gylym Ordasy" and the Memorial Museum of academician K. Satpayev.
At the evening were gathered relatives, students and Kanysh Satpayev's followers, who are scientists, academicians, students of the Kazakh National Technical University named after K. Satpayev.
Ph.D., and Academician Abdumalik Nysanbayev said about his meeting with K.Satpayev during the years of working together: "It is not easy to talk about Kanysh Satpayev, as he was a great man, a scholar of global scale. He was very effective person. K. Satpayev always worked on the result and set to other scientists the task – discover a new. His contribution to the development of Kazakhstan science is priceless. To take as an example Zhezkazgan's deposit, creation of metallogenic forecast map of minerals of Central Kazakhstan".
Academician Zholdymurat Oralbayev, in his speech, said: "Kanysh Satpayev left this world too soon. Hecoulddosomanydiscoveries. His exceptional intelligence, high culture, simplicity and active participation will remain forever in the hearts of those were lucky to meet him".
K. Satpayev was born in 1899. The whole era of scientific development in Kazakhstan is linked with his name. He was the founder of the Republican Geological Survey and the founder of the Kazakh school of metallogeny.
K. Satpayev's big contribution was the opening the branch of the Academy of Sciences of the Kazakh SSR. Being the first of its leader, he paid a special attention to the creation and development of other sciences in the country such as nuclear physics, astrophysics, chemistry, mathematics, biology, economics, history, literature and others.
At the same time with scientific and organizational activities K. Satpayev had the active state and public work. Many times he was elected as a delegate to the Supreme Soviet of the USSR and Supreme Soviet of the Kazakh SSR. From 1962 to 1964 he held position of Deputy Chairman of the USSR Supreme Soviet of the sixth convocation. He was awarded with more than 20 government awards, including 4 Orders of Lenin, Order of the Patriotic War 2nd degree and so on.
Life and scientific activities of K.Satpayev is the example of loyalty to the work, selfless service to the motherland and its people.
Material provided by RSE "Gylym Ordasy"
Use of materials for publication, commercial use, or distribution requires written or oral permission from the Board of Editors or the author. Hyperlink to Qazaqstan tarihy portal is necessary. All rights reserved by the Law RK "On author's rights and related rights". To request authorization email to mail@e-history.kz or call to (7172) 79 82 06 (ext.111)