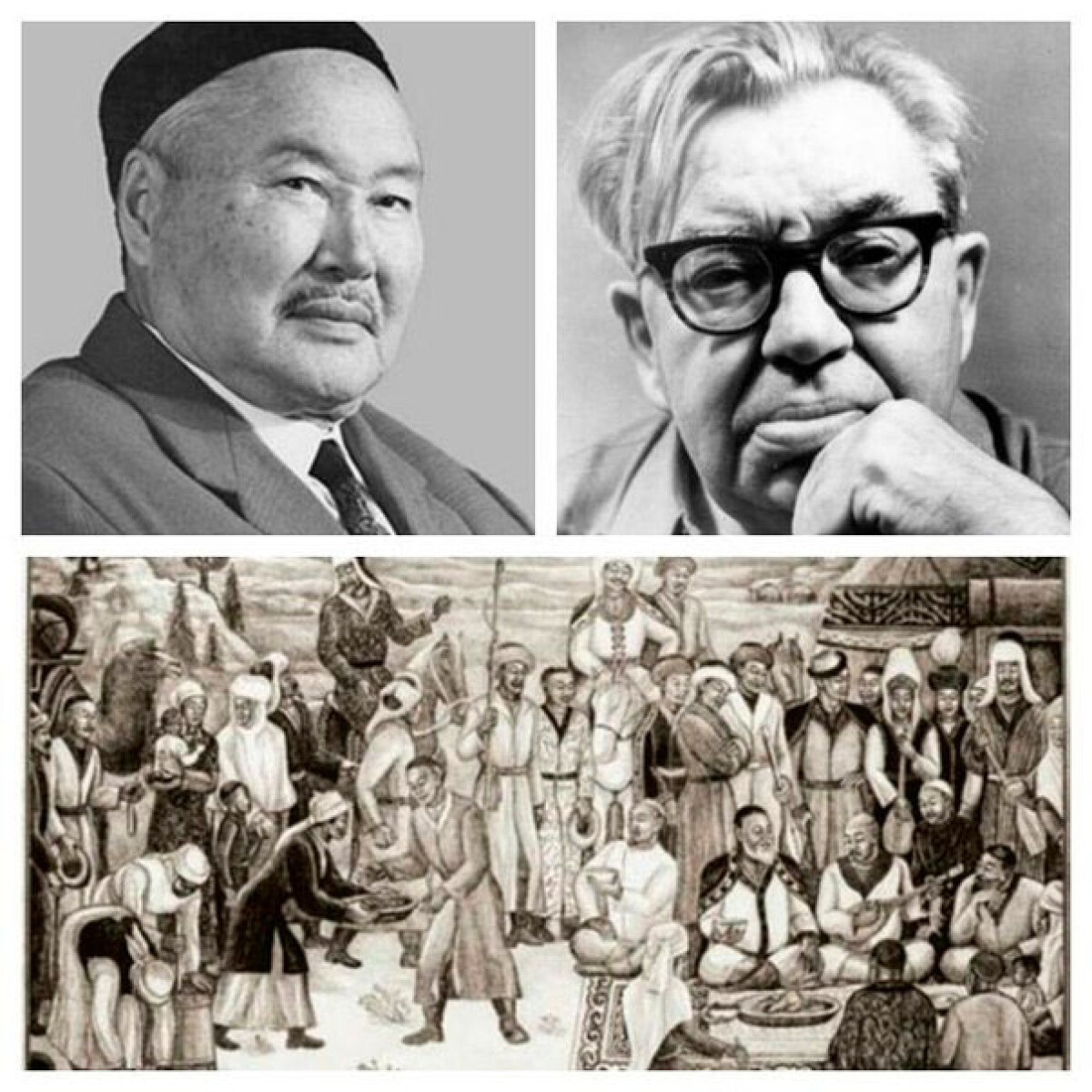 For a long time, the hospitality among Kazakh people was the unshakable part of the moral principles.
In any time of day or night even a stranger could come to a Kazakh's house. Such a person was called «kudayi konak» (sacred guest). Where he was lavished with care and attention; a sheep was killed especially for him or he was treated with some adequate meat dish. Traditions of Kazakh hospitality are described in the works of our outstanding compatriots: Sabit Mukanov and Ivan Petrovich Shukhov. 
In his autobiographic triology «School of Life» S.Mukanov writes: 
«Once a year all relatives were visiting each other. These meetings were thoroughly and solemnly arranged. Only one person could go from a poor family, as the others had nothing to ride on. So, everybody gathered. By the end of the day we reached the lake Eseney. Our relatives made a halt on its shores. 
We were waited; the meeting people were forwarding guests to different places. - You will stay at Rakhmet's, — announced the greeting person. 
- Rakhmet's? — Kasen asked gloomily, — What shall we do there? He is hungry himself. 
- You should tell this to the old people. This was the order. I don't know anything, — the usher said indifferently and turned his back on us. 
We had nothing else to do as go to Rakhmet's. He had a tiny yurta, smoked throughout; all in holes, slots and patches, but the host redeemed everything with his hospitality. He greeted us on the road, bowed civilly, ushered to the yurta and seated us both solemnly to the most honorable places. -
Don't be hard on me because of treatment. — Rakhmet said at a loss, — you can see yourself how I live. — And he went to kill his only goat kid». 
In the story «Shimmering mirages», I.P.Shukhov was admirably describing the Kazakh people's hospitality: 
«For the first time in my life I have seen the nomad aul, and I liked the free summer life of our real village neighbors — peaceful steppe nomads. 
That is why now during our wonderful trip we still meet father's hospitable friends-tamyrs in every other aul. According to the age-old unwritten law of the steppe, they were welcoming and treating us with sincere heartiness in their wonderfully cool in heat and warm in foul weather cozy yurtas». 
«During this first overnight stop on our way, — Ivan Petrovich continues, — at a roadside aul we were treated in a white yurt of the head of the aul kin — stout and gloomy in appearance white-bearded aksakal — Torsan. 
We were regaled at dastarkhan — orange linen tablecloth, spread right in front of us on the ornamented felt floor of the spacious yurt. At first we were having beloved by al the steppe habitants strong brick tea with added cream and holding lumps of sugar in our mouths, and with round like walnuts tasty baursaks (rolls, fried in oil). 
Then, closer to the late summer night — they served a huge, looking like a wash trough, wooden dish with pile of fuming, just boiled in a cauldron — under the open sky — flavored mutton. 
And I was delighted with the fact that this extraordinary steppe treat was allowed here without ceremony to be eaten right from that trough barehanded — hand over hand and promptly. That was the famous beshbarmak — the best national dish of the ancient nomads».
Used materials: 
Dzhelbudin E.T. Traditions and customs of Kazakhs. Adet-Guryp. 



Use of materials for publication, commercial use, or distribution requires written or oral permission from the Board of Editors or the author. Hyperlink to Qazaqstan tarihy portal is necessary. All rights reserved by the Law RK "On author's rights and related rights". To request authorization email to
or call to 8 (7172) 57 14 08 (in - 1164)