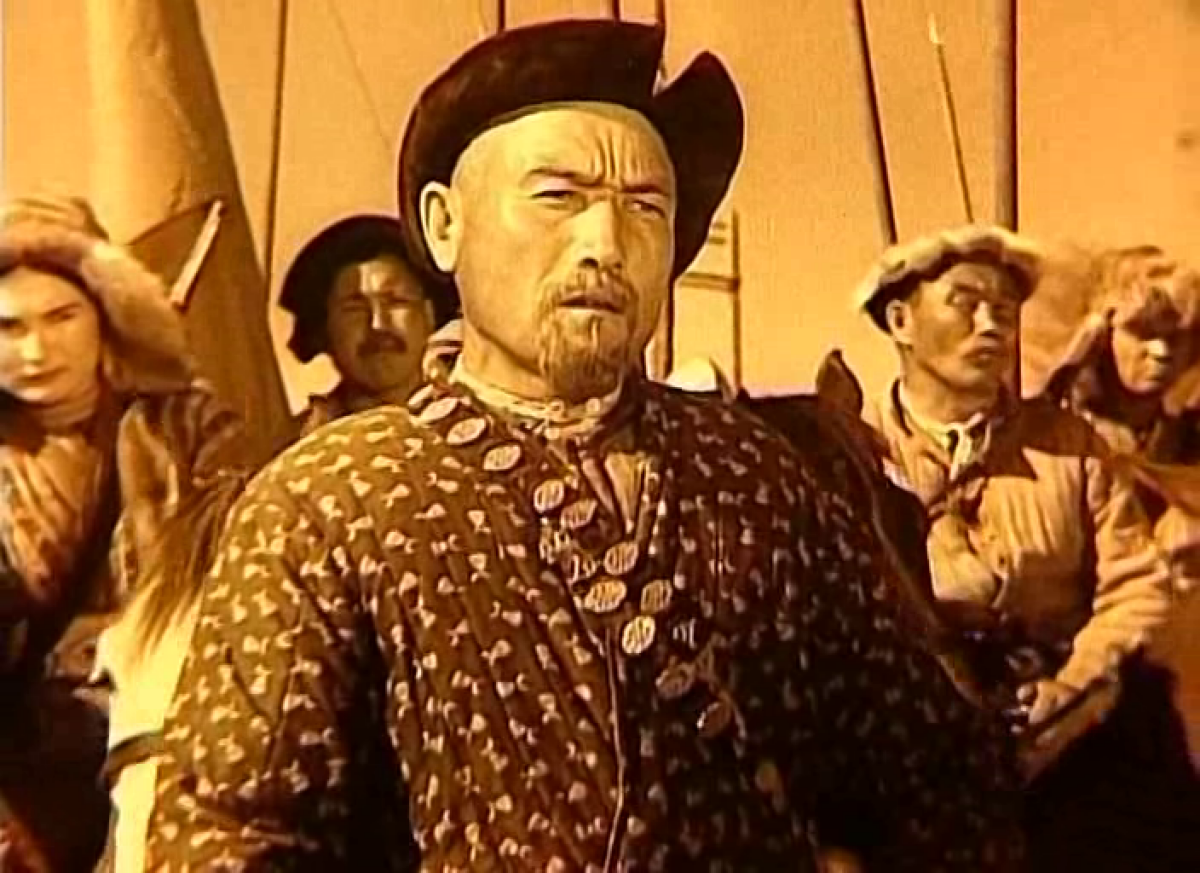 The hour of birth of Kazakh cinema came in 1929 with the establishment of the first movie studio Vostokkino
The hour of birth of Kazakh cinema came in 1929 with the establishment of the first movie studio Vostokkino. Most of the films here were documentaries on the Soviet build-up period. The first feature film with Kazakh theme and Kazakh actors, Amangeldy, was shot at Lenfilm in Leningrad. With the hero Kamangeldy Imanov's life as an example, the film depicts life and sufferings in pre-revolutionary Kazakhstan and the liberation movement of the Kazakhs.
 In the second year of the war 1942, the renowned Mosfilm studios were evacuated to Almaty and stayed there until in 1944 a safe return to Moscow became possible. Most of Sergey Eisenstein's well-known movie Ivan the Terrible was shot around Almaty. Numerous war movies were also shot there. 
 Through the experience with the presence of Mosfilm, Almaty was now able to produce its own movies. The first achievements by Kazakh filmmakers was the film version of Mukhtar Auezov's «Abai's way». Ever since, more than a hundred feature movies and numerous documentaries have been shot in Almaty. Both in terms of content and form, most of them reflected their time's social development and political conditions. Movies like «Zhambyl», «His time will come» (about Chokan Valikhanov), «Kyz Zhibek» and the award-winning «Land of the forefathers» and «Sultan Beibarys» after a novel by Olzhas Suleimenov were engaged in the recognition of the Kazakhs' identity. The combination of literature, musical creation and filmmaking has resulted in many good movies.
 From the mid-1980s on, Kazakh filmmaking has become more critical, experimental and cosmopolitan. Works such as New Worlds, Signs, Killer and Zhol are products of young film directors, who display the contradictions of our times and expose conflicts. 
 Since 1990, more than two thousand new private film studios have been established. The fruits of this competition in a free market have also found important recognition on the international level. The enormous creative potential of Kazakhstan's moviemakers, however, stands in sharp contrast to the pitiful material conditions they have to work under.
 In Germany, the multi-award-winning movie by Sarybaldy Narimbetov «The young harmonical player's song» has been shown in Germany. This movie is a perfect example of the new generation in Kazakh cinematography, which in its themes intertwines history and present in a purist, extremely impressive and penetrative manner.
 As in all-post-Soviet countries, a vital artistic scene has emerged, which with curiosity and improvisation talent explores its possibility and so far has displayed its new liberties to excessive extents. 
Used materials:
 Dagmar Schreiber «Exploring Kazakhstan»

Use of materials for publication, commercial use, or distribution requires written or oral permission from the Board of Editors or the author. Hyperlink to Qazaqstan tarihy portal is necessary. All rights reserved by the Law RK "On author's rights and related rights". To request authorization email to
or call to 8 (7172) 57 14 08 (in - 1164)