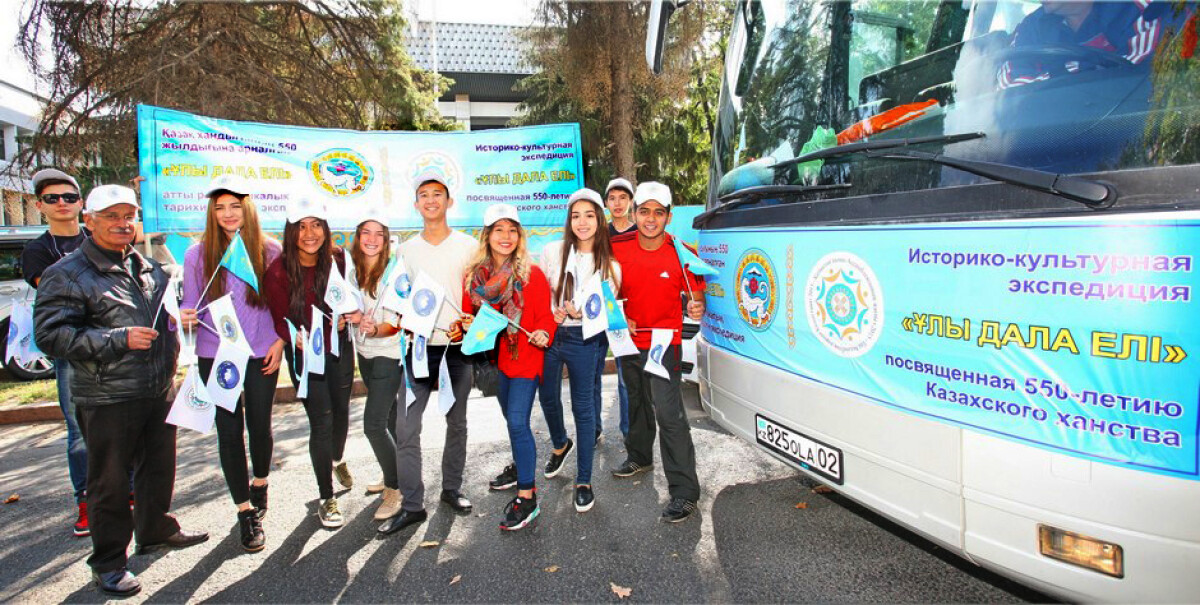 Due to the 550th anniversary of the Kazakh khanate "Uly Dala eli" historical-cultural expedition on Almaty highway headed to the Boralday Saka mound.
In the given expedition 20 historians, public figures, teachers and journalists took part. In Alatau region the given historical place dated back 2600-2500 years. According to the scientists, people who lived in the epoch of the Sakas were buried there. 
"The oncoming destination is the Boralday cemetery which is situated in the south of Almaty. That historical place was marked on the archeological map since 1994, but was not considered as a monument. As scientists say, there were 47-52 mounds at that area. Only one of them was dug. According to the materials based on the accomplished digging works up to the present times the Saka people, who lived in the 6th century, were buried there. Among them there were the buried ones in correspondence with the traditions of the dynasty. Some of them are of the 80-150 m land area, 15 m high. It may be called the mound of the elite. The tsars were buried there. Somewhere the complete families, somewhere a single person were buried. The proof for the authentic Saka mound are archeological monuments. To be more precise, the zoomorphic ornament was visible. Nowadays, after digging 2-3 mounds, we are going to organize the open-air museum", said Arnabay Nurzhanov, the chief research scientist of the Archeology Institute. 
In addition, for the first time that place was discovered by Zhetysu researcher Pantusov. In 1982 because of not being recognized as the monument that place was turned into the aul with a number of newly built houses. In 2006 Imangali Tasmagambetov, the akim of that time, initiated to take that area under patronage for 300 mln tenge; in general, the area spreads up to 11 km. However, that place was inhabited by people later, Ulzhan, Shnayrak microdistricts were put up. 
During the expedition, in addition to the digging works the final materials of the research works were collected. Later, that information was presented at the nationwide exhibition "Tarikh tolkynyndagy uly" in Taraz. And in the symbol of that historical expedition — the book-diary the scientists left their notes. 
It is worthy to mention that on 14 October after travelling around for a month the group of scientists who came from Astana were headed to Taraz. Deputies, intelligentsia, journalists, the Assembly of People of Kazakhstan and members of the youth organizations by going around the historical places, are holding various meetings on historical themes. The purpose of the current occasion —to raise the national and moral values by means of scientific-educational events.
By Gulmira Bizhayeva
Use of materials for publication, commercial use, or distribution requires written or oral permission from the Board of Editors or the author. Hyperlink to Qazaqstan tarihy portal is necessary. All rights reserved by the Law RK "On author's rights and related rights". To request authorization email to
or call to 8 (7172) 57 14 08 (in - 1164)