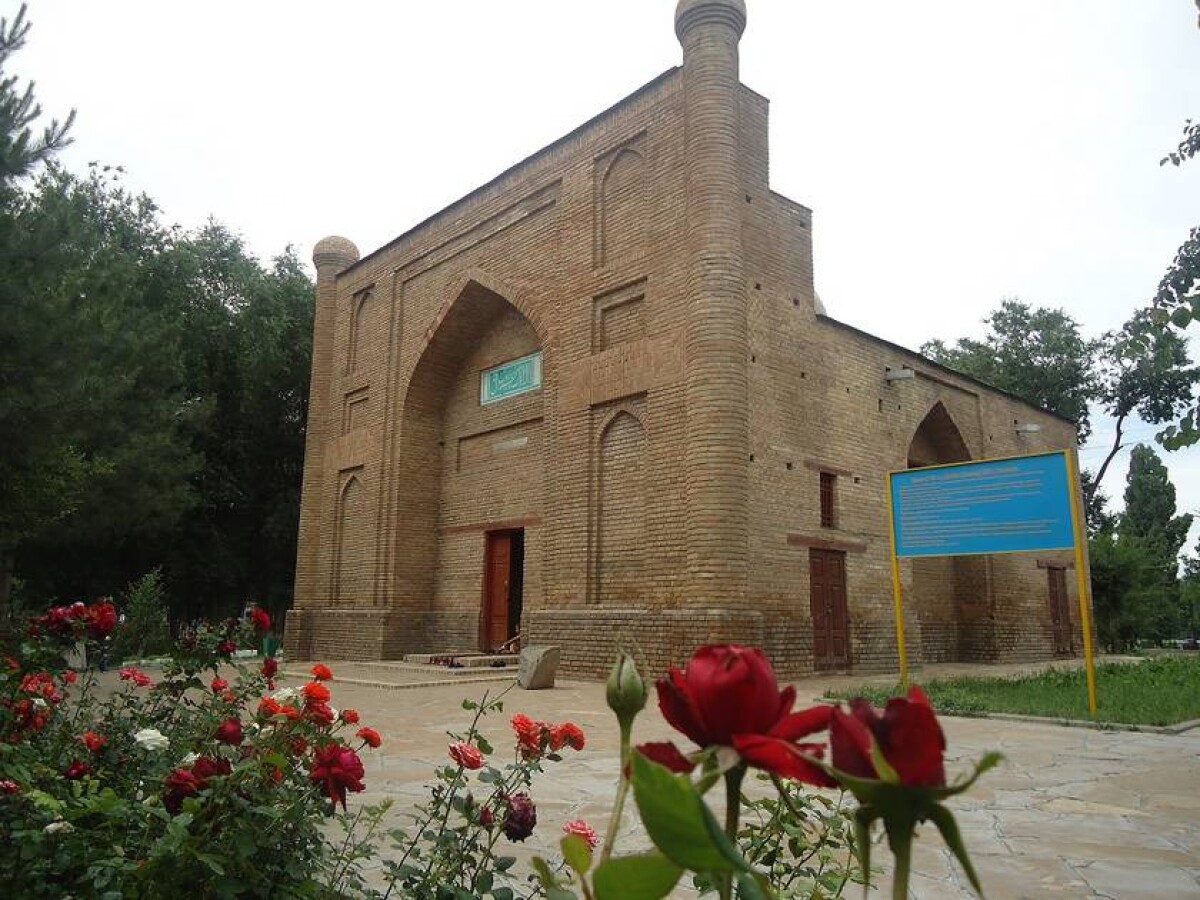 Located in ancient Taraz city the Mausoleum of Karakhan keeps the mysteries of many centuries
Sha-Makhmud Bugra Karakhan established his rule in the Karakhanid state in the 10th — 12th centuries. A mausoleum of the Saint Karakhan is a part of the Monuments of Ancient Taraz Museum-Reserve.
The building is also known as the Mausoleum of Aulie-ata. Legends about the Saint Karakhan passed on from generation to generation have been preserved to this day.
Truth intertwined with legend
In his youth Karakhan was in love with beautiful Aisha, a daughter of his sworn enemy. Once, without any hope to receive blessings of her father on their marriage Karakhan forced his way to the village where Aisha live in and stole her. Aisha's father ordered his guardians to find and kill them.
The lovers ran away fleeing violence. Tired after several days of continued racing the girl decided to swim in the Asu River where they stopped to have a rest. However, the guardians of her father followed the young couple. They placed a small steppe viper in her hat. Aisha fainted and Karakhan saw that she would die. He carried her to the nearest village to enter into a marriage legally. Their happiness lasted only a few minutes. Aisha died in his arms. On the same day, Karakhan vowed to love her forever. Karakhan constructed his mazar next to Aisha's mausoleum to be with his beloved woman after his death.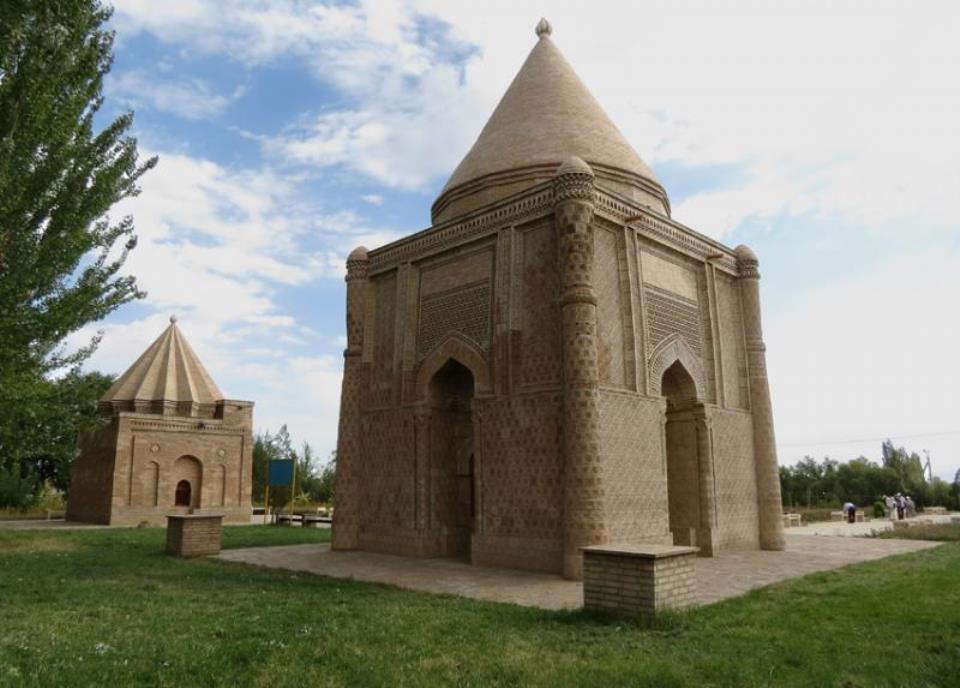 The Aisha Bibi Mausoleum
Located in Taraz the Karakhan Mausoleum is one of the most wonderful examples of architecture. It is constructed of bricks decorated with 60 different patterns. The building is almost square and consists of the central hall where the tombstone is placed and three small rooms.
By the middle of the 20th century, only one wall will lancet arch of the entrance and two columns had survived. In 1906, a new building was constructed on the place of the medieval mausoleum. And in 1979 the mausoleum was reconstructed.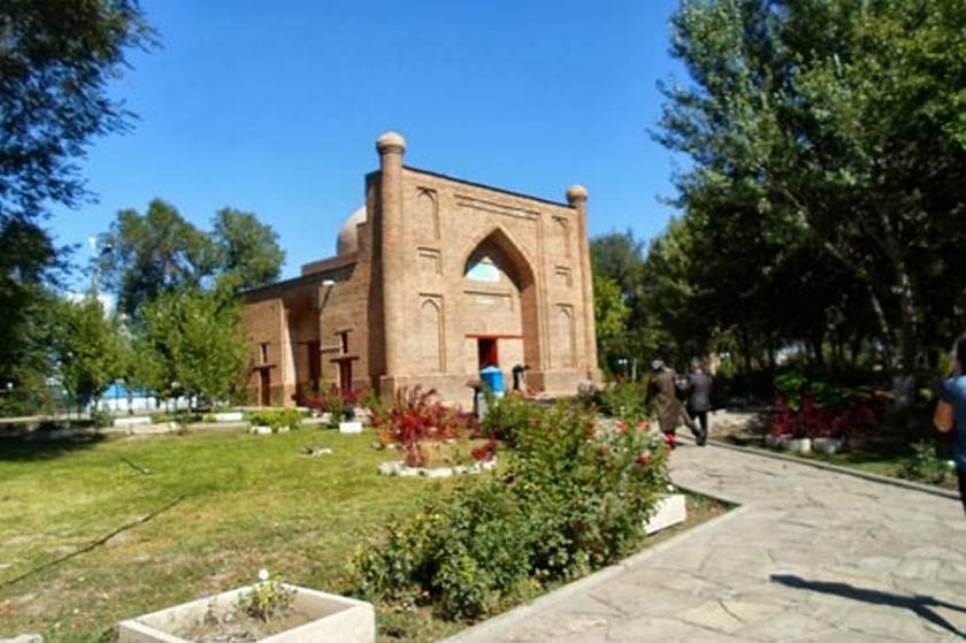 The Karakhan Mausoleum
Karakhan who captured a lion
Karakhan was considered to be a really wise and powerful ruler. He was well-known worldwide. However, despite unlimited wealth, he preferred a modest life.
He captured a lion and it followed all commands. People told that Karakhan saddled the lion like a horse and even rode it.
If spirits are not satisfied...
The epic "Alpamys Batyr" tells the story of poor landowner Baibori who traveled with his spouse from one holy place to another and asked God to give him a son and heir. At last his wife gave birth to a boy who was named Alpamys.
Pilgrimage to holy sites is an ancient Kazakh tradition. But today some people believe that they must not equate spirits to God and do not visit these places.
Aighul, a married woman from Taraz, told us her story: "Traditionally, on our wedding day we visited some picturesque places of our city. The wedding train arrived in the Karakhan Mausoleum. The curator of the Mausoleum welcomed and invited us to come in and read the Koran to the Saint Karakhan. "No, thank you, we don't equate spirits to God," — said my husband. Our family life began. But we didn't have children for more than five years. We visited different doctors and despaired after all. But one young married woman told us that she didn't have children for ten years and became a happy mother after visiting the Karakhan Mausoleum. I and my husband visited the Mausoleum, read the Koran and asked to bless us. A short time later I gave birth to a child."
Gulzhanat ABDIMOMYNOVA
Use of materials for publication, commercial use, or distribution requires written or oral permission from the Board of Editors or the author. Hyperlink to Qazaqstan tarihy portal is necessary. All rights reserved by the Law RK "On author's rights and related rights". To request authorization email to
or call to 8 (7172) 57 14 08 (in - 1164)