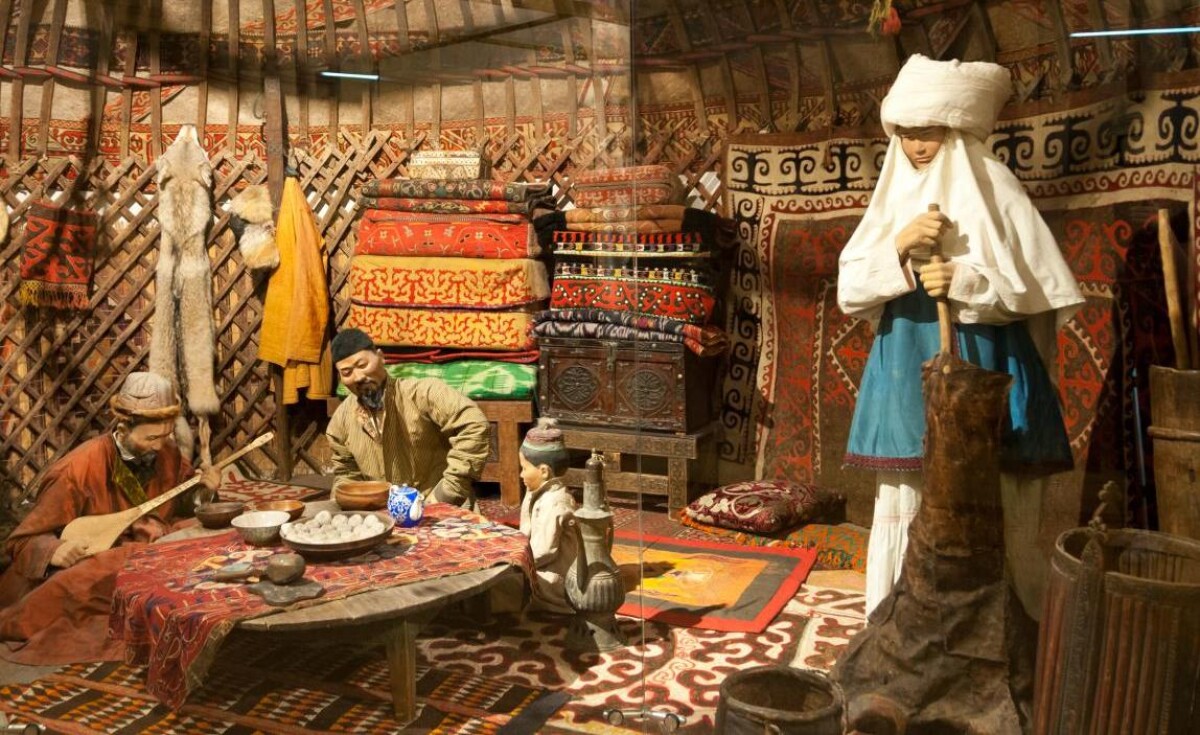 The Central State Museum of the Republic of Kazakhstan and the Center of Arts and Crafts "Bakhyt" held the traditional Big Central Asian trade fair of national crafts under the name "Silk Road" from May 23rd to 24th, 2015.
More than one hundred and fifty masters and crafts from Kazakhstan, Uzbekistan, Kyrgyzstan, Tadzhikistan, Turkmenistan and Russia took part in this trade fair.
Organization of such trade fair of crafts of arts and in the Central State Museum of the Republic of Kazakhstan became the tradition that causes increasing interest in judges of art and admirers of national masters.
Historically, it is known that the Great Silk Road is developed international trade way which played a big role in development of economic and cultural ties of the people of the East and West. In all times, noisy, colorful and international bazar in attracted dealers and buyers from the different countries of the world which hurried to get silk and porcelains from far China, spices from India, ceramics from Khwarezm, works of the fine arts and many other exotic goods. Ancient cultural traditions of the Great Silk Road develop also today.
The trade fair promotes development of cultural exchange and business cooperation between Kazakhstan and countries of Central Asia. Development of crafts is important because it is embodies national traditions and values of each nation. Awakening interest in crafts among young will allow teaching them to appreciate our national values and pass them from generation to generation.
This event is the part of cultural and educational program. The main aim of it is promotion of national crafts and attraction foreign visitors to know our national values.
The results of such trade fair, which is held in the Central State Museum of Kazakhstan, are following: increasing the number of new masters and talented handicraftsmen of Kazakhstan and other Central Asian countries, extension and increase of the circle of partners of the museum in the field of cultural cooperation, also increase of number of the visitors who are interested in historical and cultural heritage and traditional types of decorative applied art.
The wide range of gifts and souvenir products such as clothes, jewelry, musical instruments, east miniature and carpets, felt and silk products, textiles and lamps, amulets and leather products and many other things was presented at the Silk Road trade fair.
Contacts: 
The Central State Museum of Kazakhstan — 264-64-50, 264-55-77;
Public Funds "Center of Arts and Crafts "Bakhyt" — 375-56-58, 

mob. +7 701 390 81 25, +7 775 623 29 66.
Use of materials for publication, commercial use, or distribution requires written or oral permission from the Board of Editors or the author. Hyperlink to Qazaqstan tarihy portal is necessary. All rights reserved by the Law RK "On author's rights and related rights". To request authorization email to
or call to 8 (7172) 57 14 08 (in - 1164)