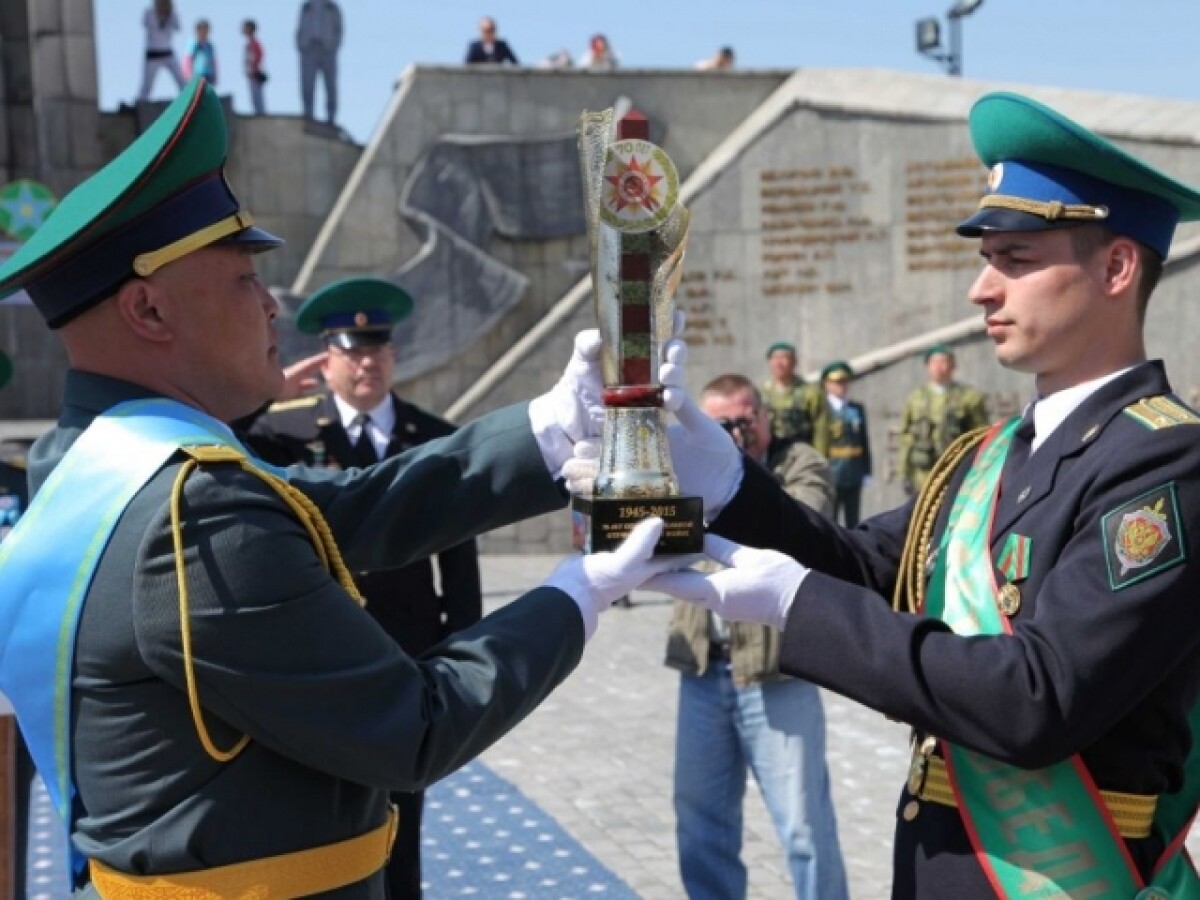 East Kazakhstan took over WW2 Victory relay race from Russian border service on 21 April 2015
East Kazakhstan took over the international Victory relay race along the CIS borders to mark the 70th anniversary of the Victory in the Great Patriotic War. The solemn events took place on 21 April 2015. The relay team will then go to other cities of the Republic of Kazakhstan.
Welcoming addresses were delivered by the heads of the delegations from East Kazakhstan and Altai region.
The solemn ceremony was accompanied by Kazakh and Russian music and famous wartime songs, including "The Day of Victory" by the composer Tukhmanov. Representatives of the local ethnic and cultural associations welcomed the guests.
Thereafter, the Russian delegation and accompanying persons moved to Ust-Kamenogorsk where the ceremonial handover of features of the Victory relay race was held.
The International Victory relay race started on 1 February 2015 in Brest, Republic of Belarus. The relay route then went to the Russian Federation. From 21 April — 2 May 2015 the Kazakhstan relay team will pass through the four cities of our Republic, including Ust-Kamenogorsk, Astana, Almaty and Taraz. Then the relay race will be passed to the Border service of Kyrgyzstan. Further, the WW2 Victory relay race will travel through the territories of Uzbekistan, Tajikistan, Turkmenia and Azerbaijan. The final destination is Moscow, Poklonnaya Hill, the relay race will reach this place on 8 May 2015.
"Today we are taking over the WW2 Victory relay race and its symbols from our Russian colleagues in a festive atmosphere. People of the former Soviet Union defeated fascism in the Great Patriotic War.
The Supreme Commander of the Armed Forces of the Republic of Kazakhstan Nursultan Nazarbayev has instructed the Government to held festive events dedicated to the 70th anniversary of Victory in the Great Patriotic War and also provide comprehensive assistance to the veterans", — the Deputy Head of the Department of the Central Office of the Border Service of the National Security Committee of the Republic of Kazakhstan Nurlan Kelimbetov said.
The relay race has become a good tradition. This year it is one of the first big events in the CIS to celebrate the 70th anniversary of the Victory. Nine CIS countries are taking part in the relay race.
All the events within the frameworks of the relay race are organised to preserve and strengthen our main value, the unity and cohesion of the peoples, while its symbol will take along the CIS external borders the idea of peace and concord, cooperation and mutual assistance as a reliable foundation for wellbeing of any country.
Use of materials for publication, commercial use, or distribution requires written or oral permission from the Board of Editors or the author. Hyperlink to Qazaqstan tarihy portal is necessary. All rights reserved by the Law RK "On author's rights and related rights". To request authorization email to
or call to 8 (7172) 57 14 08 (in - 1164)