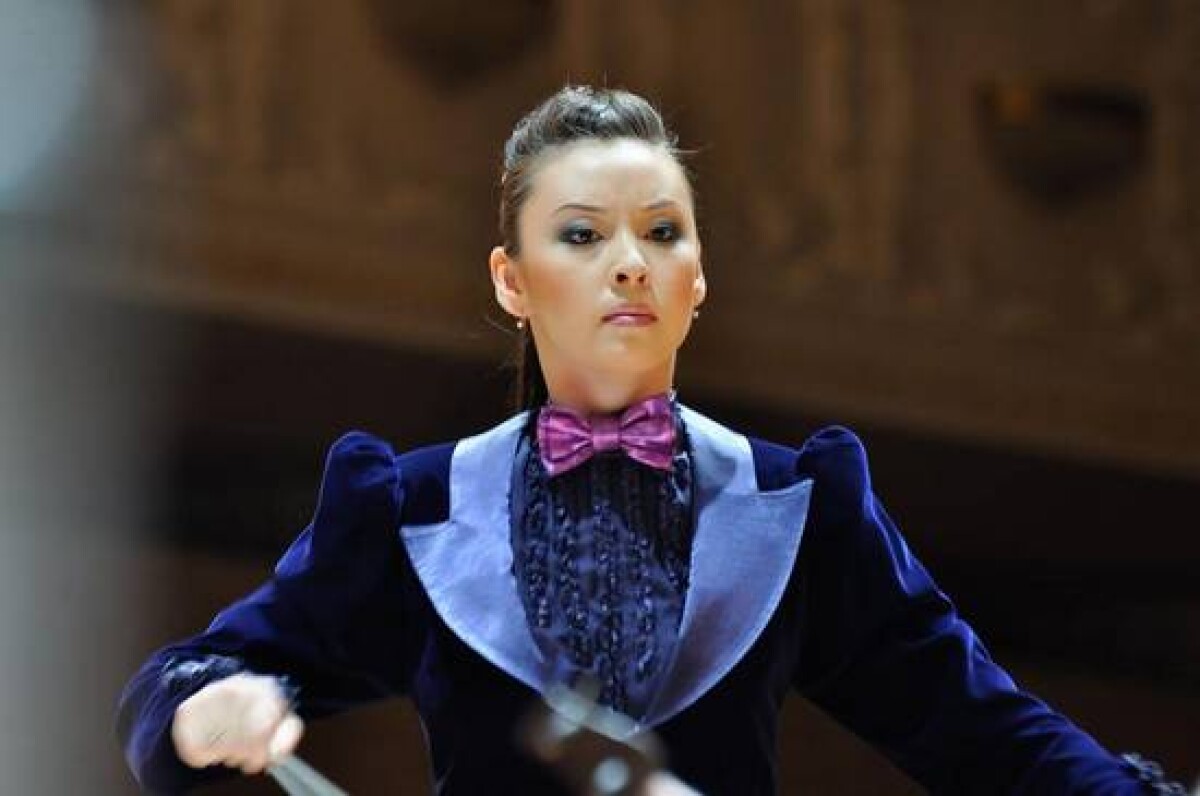 The orchestra group "Otrar sazy" is a unique phenomenon in the world of arts. It is a golden bridge between arts and people
The history of the orchestra "Otrar sazy" started in 1979. Initially, the orchestra was established as an ensemble under the Kazakh National Philharmonic Society named after Zhambyl. At the very beginning, the group consisted of eight musicians, students and teachers of the Kazakh National Conservatoire named after Kurmangazy who played traditional musical instruments. Bulat Sarybayev, a musical culture researcher who played the pipe, was the Director of the musical group at that period.
Once Bulat Sarybayev brought a traditional musical instrument called "saz syrnay" from the city of Otrar. The ensemble, established to transfer the national spiritual heritage from generation to generation, was named after this ancient musical instrument. By the way, this wonderful Kazakh traditional instrument still exists.
The orchestra group "Otrar sazy" was reestablished in 1982. In September of the same year famous Kazakh composer Nurgisa Tlendiev became its conductor. Nurgisa Tlendiev, the great maestro and conductor, was the person who made the orchestra famous worldwide.
In 1994, the orchestra group "Otrar sazy" won the first prize at the previous World Festival of Musical Art in North Korea and was awarded a golden medal. On November 5, 1999 the orchestra was named after Nurgisa Tlendiev. In 2000, the musical group obtained the name of an academic orchestra.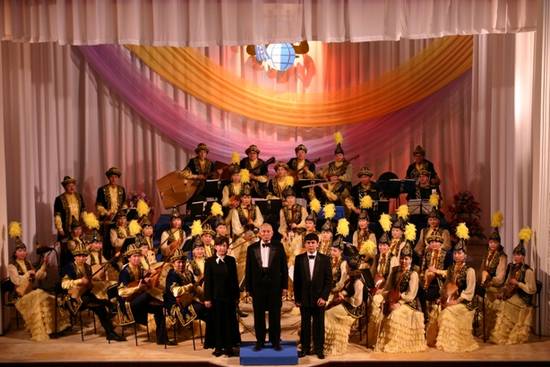 Folkloric and ethnic orchestra group "Otrar sazy"
Nowadays, sixty musicians work for the orchestra. They played the following musical instruments: dombra, kobyz, sherter, shankobyz, syrnay, saz syrnay, sybyzgy, asatayak, dauylpaz, tuyaktas, konyrau. This diversity of sounding gives the orchestra an opportunity to reflect and demonstrate the richest unique images of Kazakh national folklore. That is the goal set by the first artistic director of the orchestra Nurgisa Tlendiev.
The repertoire of the orchestra group "Otrar sazy" is based on folklore, legends, shezhire, kyuys and works of Kazakh composers created in traditional Kazakh style. They are Kazakh kyuys "Kenes", "Sary Ozen", "Sal Kuren", works of Kazakh composers "Kosbasar", "Sarzhaylyau", "Sylkydak" by Tattimbet, "Kambar Batyr" by Ykhlas, "Yeske Alu" by M. Tulebayeva, "Ata Tolgau", "Kosh Keruen" by N. Tlendiev, "Korkyt Kyuyi", "Farabi Sazy" by M. Kumisbekov, and to name but a few.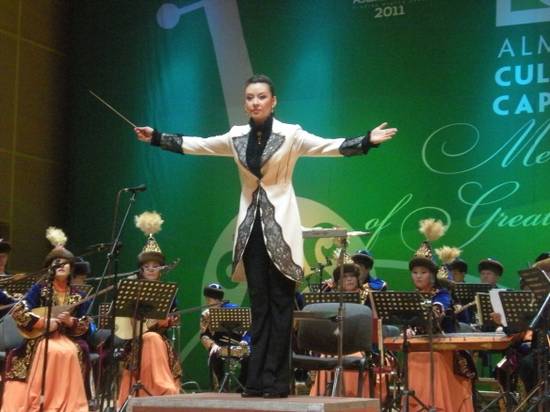 Nurgisa Tlendiev's daughter Dinzukhra Tlendieva
To date, Dinzukhra Tlendieva and Muslim Amze are conductors of the academic, folkloric and ethnic orchestra "Otrar sazy". Nurgisa Tlendiev's daughter Dinzukhra Tlendieva has been working as Director of the orchestra since 2009. She glorified her father's works and proudly continues his work.
Use of materials for publication, commercial use, or distribution requires written or oral permission from the Board of Editors or the author. Hyperlink to Qazaqstan tarihy portal is necessary. All rights reserved by the Law RK "On author's rights and related rights". To request authorization email to
or call to 8 (7172) 57 14 08 (in - 1164)