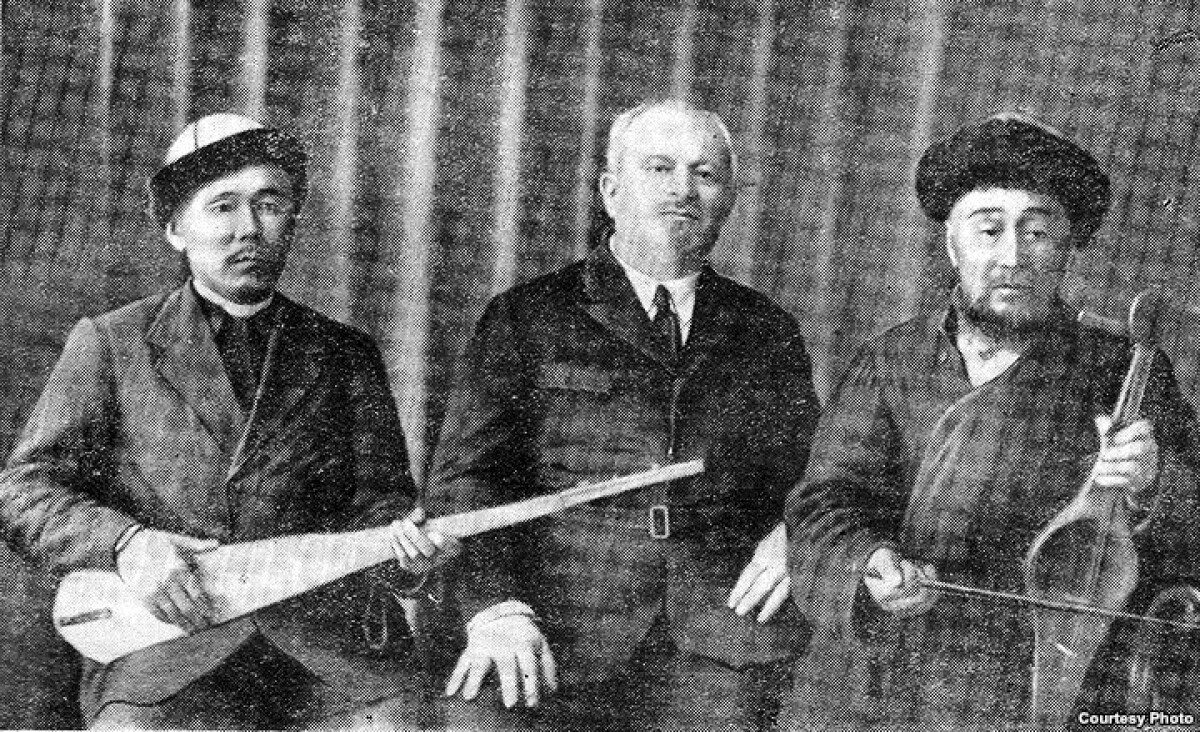 The name of Aleksandr Zataevich, expert on Kazakh folk music, is known to every person in Kazakhstan.
Aleksandr Zataevich was the person who managed to protect the unique Kazakh musical culture. People loved and respected him. Kazakhs put their songs into his hands and the soul as well. Being engaged in studying our history, Zataevich found his career and became famous.
Zataevich became a collector of Kazakh folk songs and worked hard. In Orenburg in 1920-1923 he recorded 1500 songs and kyuys. In the preface to the first collection of Kazakh songs he noted the following: "I recorded everyone who could sing and every musician and expert on music whom I found either intentionally or inadvertently".
In Orenburg in 1920 Zataevich met the famous singer and improviser Isa Bayzakov. Zataevich was impressed by Bayzakov's singing and musical and poetic works.
The researcher recorded several interesting songs and folk melodies by Isa Bayzakov. The songs "Kaken", "Bike", "Manysh-Konsha", "Zhat-zhar" and "Tanysu" were among them. All of them were included in the collection entitled "1000 Kazakh songs" published in 1925. For this work, Aleksandr Zataevich received the award of the Kazakh Central Executive Committee of the Communist Party and the People's Commissariat of Education of the Russian Soviet Federative Socialist Republic. Later in 1935 Zataevich managed to record more Bayzakov's songs such as "Gakku", "Altai", "Ken Sarai", Bir Bidai", "Kalka" and many others. Subsequently, the "Gakku" became a part of the first Kazakh opera "Kyz Zhibek" which was very popular both in Kazakhstan and the whole Soviet Union.
In 1926, Zataevich had a great trip to Semipalatinskaya province. He visited the cities of Semipalatinsk, Pavlodar, Karkaralinsk. It took hem two weeks to record songs in steppe auls of Kuuskaya region. In Karkaralinsk, the collector of Kazakh songs met Kali Bayzhanov, akyn (improvising poet and singer) from Bayanaul area. He was a professional singer, talented successor of the traditions of Kazakh akyns. Zataevich recorded his songs "Yrgakty", "Burtybai", "Kokzhendet" and so on. The voice of Kali has been preserved for descendants thanks to vinyl records and tapes which are now kept at the National Academy of Sciences of Kazakhstan.
Zataevich visited Pavlodar in August 1926. He worked there six weeks and recorded 340 songs. That was the place where he met Mayra Shamsutdinova. It happened during his trip on the passenger steamer "Leningrad" going from Omsk to Semipalatinsk. Just after the departure Zataevich heard wonderful singing and went downstairs to see the singer. There he saw a Kazakh girl surrounded by spectators. She sang Kazakh songs being accompanied by accordion. Aleksandr Zataevich recorded 14 songs of Mayra Shamsutdinova, including "Karakoz", "Uvaira", "Al karay kok", "Baksha", and to name but a few.
Having recorded a great number of Kazakh songs and kyuys Zataevich prepared a huge fundamental collection entitled "1000 Kazakh songs" published in 1925 for the first time. It mentioned 280 names of singers.
In 1936, Aleksandr Zataevich passed away. Kazakh people highly appreciate and respect the memory of the collector of Kazakh songs. A monument of musician and ethnographer listening to akyn was erected on his grave in Moscow in 1954.
Use of materials for publication, commercial use, or distribution requires written or oral permission from the Board of Editors or the author. Hyperlink to Qazaqstan tarihy portal is necessary. All rights reserved by the Law RK "On author's rights and related rights". To request authorization email to
or call to 8 (7172) 57 14 08 (in - 1164)