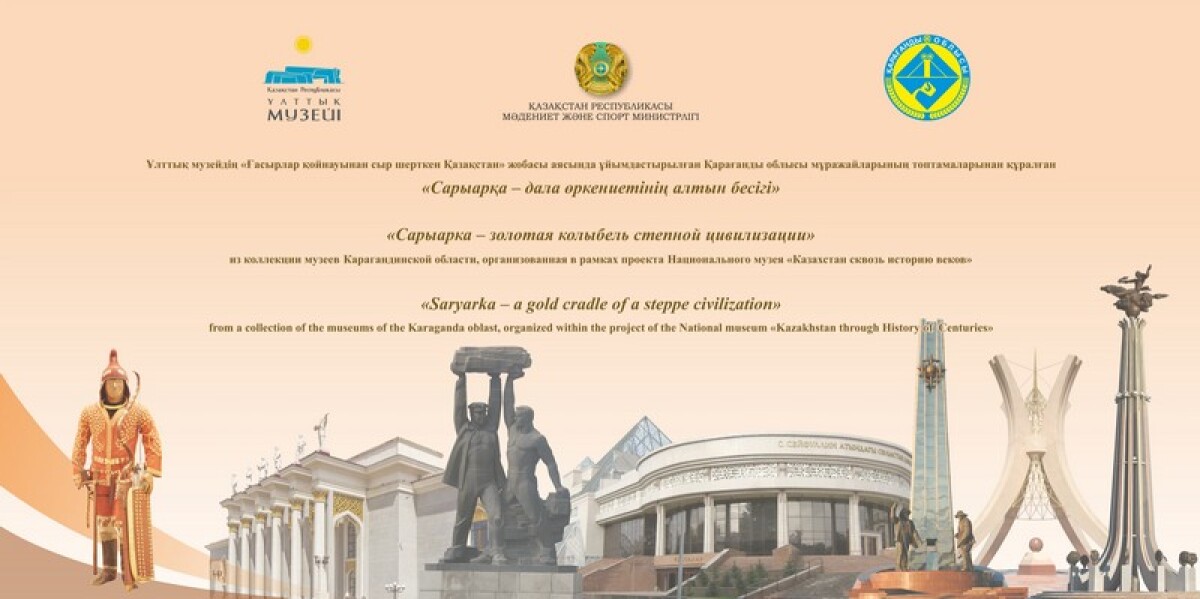 On February 27 at 16.00 in the National museum of Kazakhstan the opening of the "Saryarka — a Gold Cradle of a Steppe Civilization" exhibition will take place.
The exhibition is organized together with the Department of Culture, Archive and Documentation of the Karaganda region, the Regional History Museum with the assistance of the Ministry of Culture and Sport of the Republic of Kazakhstan and regional executive authority of Karaganda region.
The large-scale exhibition "Saryarka — a Gold Cradle of a Steppe Civilization" the National museum of Kazakhstan opens the project "Kazakhstan through History of Centuries" which is implemented within the State program "Cultural heritage".
617 exhibits from the best museums of the Karaganda region will be provided at the exhibition.
According to the press service of the National museum reports, visitors of the exhibition will see reconstruction of the garment of Saka warrior from a burial ground of Taldy-2, dated back to 7th-6th centuries BC (the village named after K. Amanzholova of Karkarala district), photos of stone sculptures — balbal, cult constructions and settlements.
The exposition is devoted to the 550th anniversary of formation of the Kazakh khanate and opens history of formation and development of the Kazakh statehood. It shows portraits of Kasym khan and Mashhura Zhusup Koleeva, photos of medieval ancient settlements Shotkara and Baskamyr, the monument of «Khan's rate» of the 12th -15th centuries, Alash's mausoleum of the khan, Bolgan Ana, etc.
The section of an exhibition about center of trade of steppes — the well-known Koyandinsky fair, which arose in 1848 in east part of the Karaganda region at the foot of the mountains, is illustrated by household items of that time. They are rushnik (Ukrainian traditional towels), churn, cabbage cutter, pot, cast-iron irons, rubel (household item, which Russian women in the old times used to squeeze (wash) and iron), samovars, scratcher for wool and flax, cooper kettles and kumgans (narrow-necked vessel, jug for water with a spout, handle and lid. They made of clay or metal (brass, silver). In the collection of arts and crafts the jewelry and subjects of a horse harness decorated with laid on metal plates, cast, stamping and relief are exposed.
The Karaganda region is one of the largest industrial regions of the republic that is inseparably linked with development and activities of the enterprises of Karaganda coal basin. The helmet of the miner of the 30s, lamps, jackhammer, pickaxe and other items that are material reflection of miner's glory of Karaganda also found their place in the exhibition. Also at the exhibition there is chance to know the complete information about area, objects of culture, the first Kazakh astronaut Tokhtar Aubakirov and many others.
Use of materials for publication, commercial use, or distribution requires written or oral permission from the Board of Editors or the author. Hyperlink to Qazaqstan tarihy portal is necessary. All rights reserved by the Law RK "On author's rights and related rights". To request authorization email to
or call to 8 (7172) 57 14 08 (in - 1164)