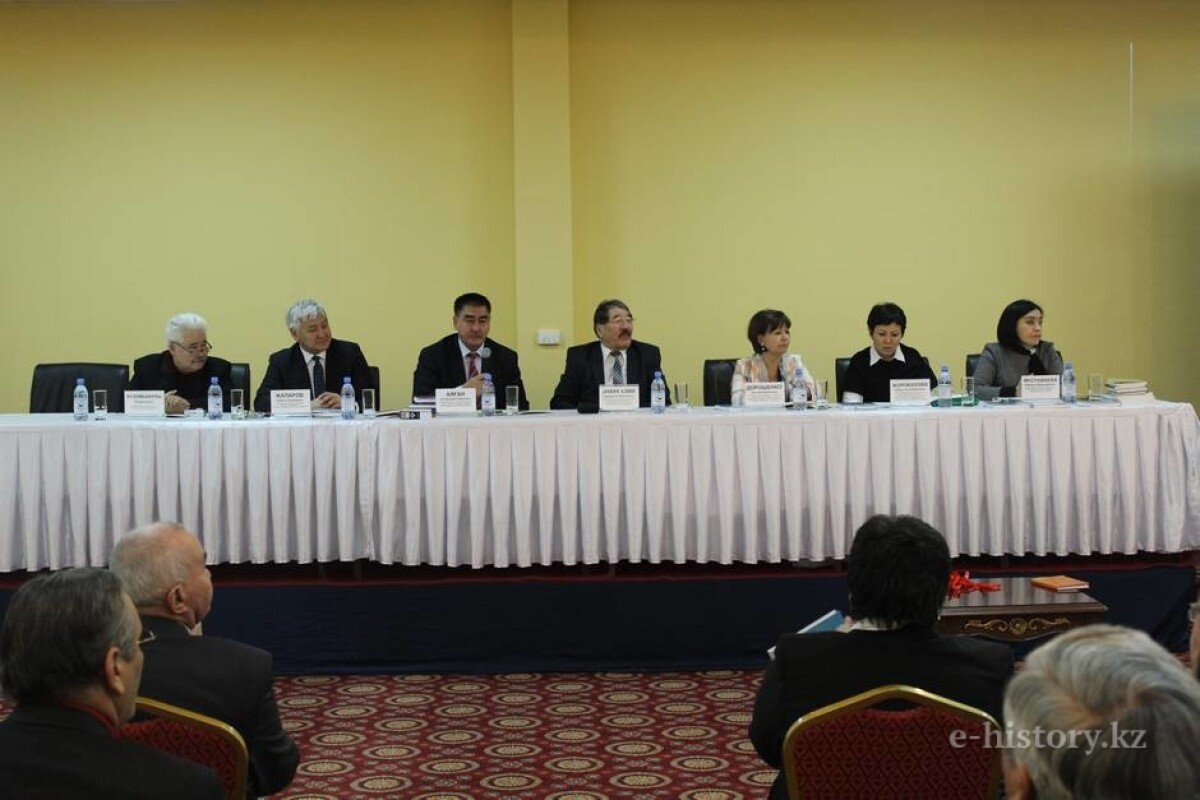 On December 27, 2014 the Institute of the History of the State, MES RK, organized the international scientific-practical conference "The Role of the National History in Shaping New Kazakh patriotism"
The conference participants discussed the following questions: the role of the First President of the Republic of Kazakhstan in the development and strengthening of Kazakh statehood; implementation of the State programme "People in the Stream of History"; new concepts of study the history; interaction with scholars from Russia, Uzbekistan, Kyrgyzstan and Ukraine.
"National history plays a crucial role in shaping new patriotism in Kazakhstan, education of each new generation in spirit of infinite dedication to our Motherland. The national history should be based on principles of social integration, friendship and mutual understanding between neighboring states. One of the tasks of historians is to prove the role of national history in formation of historical consciousness, new patriotism and all-Kazakh identity", — outlined the President of Kazakhstan Nursultan Nazarbayev.
The conference was followed by the round table "Problems of the Development of National Historiographies in Eurasian Countries". The following scientists presented their speeches: K. Zh. Amirgazin, doctor of pedagogical sciences, academician of the Petrovskaya Academy (Omsk, Russia); N. A. Mustafaeva, candidate of historical sciences, associated professor, Institute of History, Academy of Sciences (Tashkent, Republic of Uzbekistan), D. S. Kidirniyazov, doctor of historical sciences, professor, leading researcher, Institute of History, Archaeology and Ethnography, Russian Academy of Sciences (Makhachkala, Dagestan), T. I. Doroshenko, candidate of historical sciences, associated professor, Department of Humanitarian Sciences, National University of Uzbekistan named after M. Ulugbek (Tashkent, Republic of Uzbekistan).
Presentation of new books wrote and published by the Institute of the History of the State with support of the Atamura publishing house was conducted during the conference. They are the book of A. Kashkymbaev "Iliyas Esenberlin (1915-1983)" dedicated to the 100th anniversary of the writer; "The Recent History of Kazakhstan (1991-2014)" prepared by B. Ayagan, A. Auanasova and A. Suleymenov in Kazakh and Russian languages.
Use of materials for publication, commercial use, or distribution requires written or oral permission from the Board of Editors or the author. Hyperlink to Qazaqstan tarihy portal is necessary. All rights reserved by the Law RK "On author's rights and related rights". To request authorization email to
or call to 8 (7172) 57 14 08 (in - 1164)