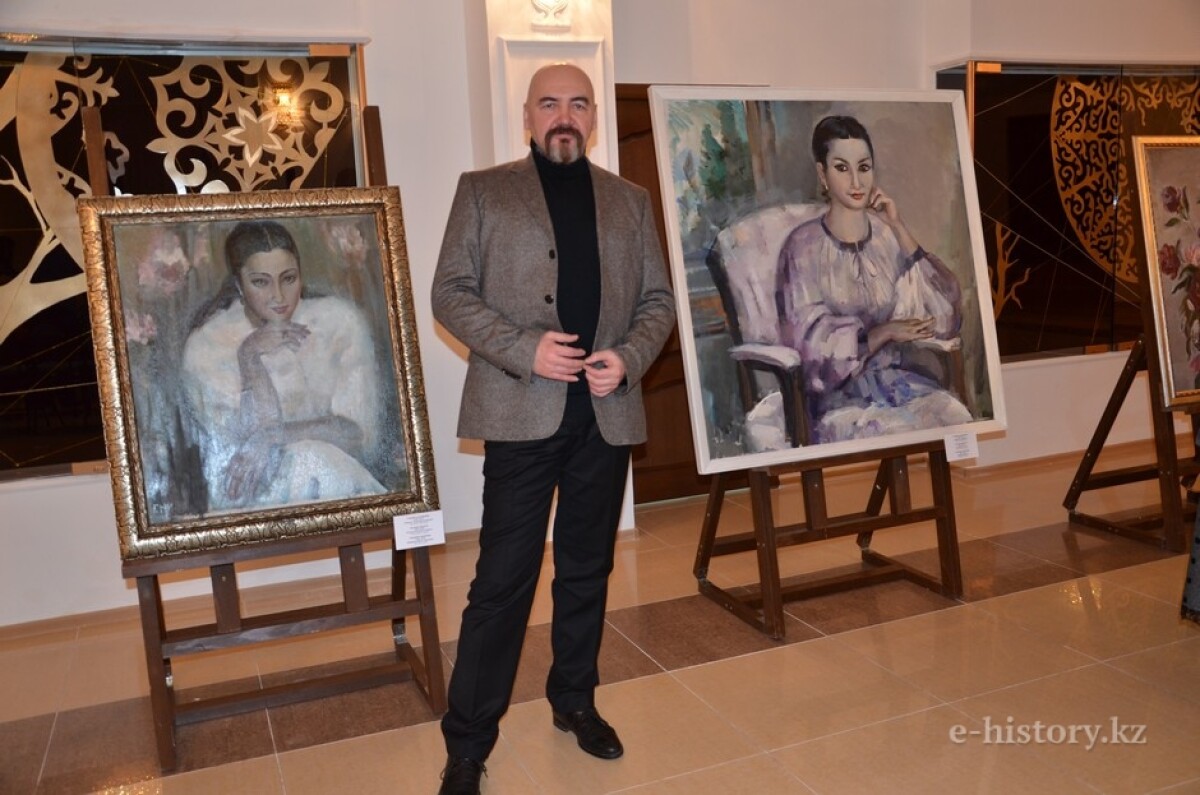 Astana hosted a thematic evening dedicated to the 85th anniversary of famous Kazakhstan's artist Gulfayrus Ismailova. Journalists of e-history.kz managed to talk with her son, Vadim Sidorkin
On December 12, 2014 the National Art Gallery "Astana" hosted an exhibition of pictures and a conference dedicated to the 85th anniversary of People's Artist of Kazakhstan Gulfayrus Ismailova. She worked as a Chief Artist of the Abai State Academic Opera and Ballet Theater for 17 years. On the theater's stage she created 28 plays.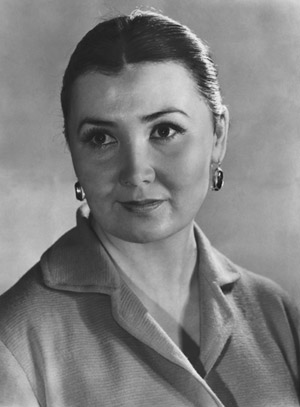 Gulfayrus Ismailova, as her son put it, was a multifaceted person: for a short period of time she was a cinema actress and played in such movies as "Kyz Zhibek" and "Botagoz".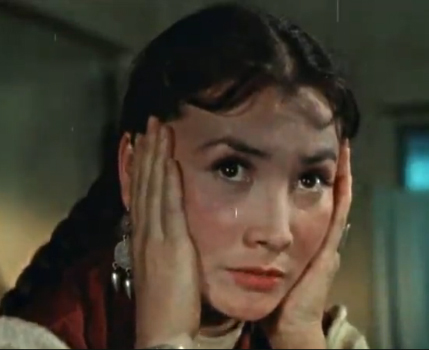 Gulfayrus Ismailova playing the role of Botagoz in a film of the same name
As her friend Lyubov Shashkova wrote "at the period when it was difficult and prestigious to be a member of a creative union, she belonged to the following three — the Union of Cinematographers, the Union of Theatre Workers and the Union of Artists of the USSR; so for these achievements she privileged to have her personal epigram in the Literature Newspaper. A woman who is an art director of a two-episode feature film, a woman who is a chief artist of Opera and Ballet Theater — before nobody had given Kazakh art the same".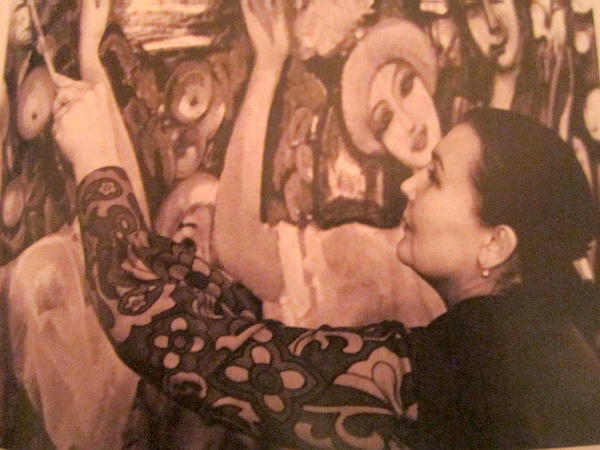 The National Art Gallery "Astana" hosted a presentation of Gulfayrus Ismailova's book of memoirs. Her stories about the childhood, years of study in Leningrad, work on "Kyz Zhibek" film and years of work at the Theatre were recorded on ten audio cassettes. Lyubov Shashkova dedicated many articles to the life of extraordinary creative family of artists. She transcribed recorded materials and wrote a book about globally recognized artist
The love story of Kazakh beauty which began during university years in Leningrad was romantic, timid and not devoid of problems. The international family of Gulfayrus Ismailova and brilliant graphic artist Evgeniy Sidorkin attracted much attention in Alma-Ata. Their couple was criticized. However, when Sidorkin proved that he was not an "outsider" and at 90 years old, he became the Honored Art Worker of the Kazakh SSR, creative community calmed down.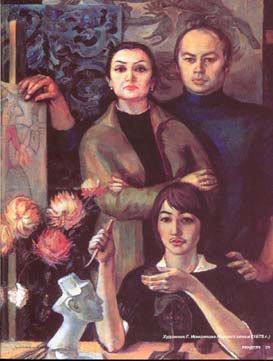 Gulfayrus Ismailova with her husband and son (portrait by G. Ismailova)
Last year Gulfayrus Ismailova passed away. Her beloved husband died 31 years earlier. Their son Vadim Sidorkin, now talented artist, portraitist, honors the memory of his parents, keeps and promotes their creative heritage. "She was a great and loving mother; she also was the best housekeeper and cook. That impressed my father and his numerous friends at the time. She was a multifaceted person", — said Vadim Sidorkin.
— Please, tell us about the style, techniques and the colour range used by Gulfayrus Ismailova. What did she achieve as an artist?
— She was a favorite student of Abram Markovich Cherkasskiy, professor who also studied at the St. Petersburg Academy of Arts. Perhaps, she was his main successor in terms of colours. Abram Markovich transferred many secrets of his painting to my mother, particularly umber and ultramarine — his favorite colours. Probable, that was the reason why she entered the Repin Institute under the Academy of Art of the USSR without any problems. There she continued studying with outstanding master M. P. Bobyshov. Cherkasskiy and Bobyshov were the main figures in her creative life.
Gulfayrus Ismailova liked painting since childhood. Her grandmother was a great craftswoman and healer as well. Gulfayrus knotted wonderful carpets and during the World War II worked for cooperative of carper-weavers and painted. From the childhood she worked and was close to art. She also sang and studied in a conservatory; Gulfayrus even had a choice to start her vocal training or studying art. But Abylkhan Kasteev said that we had many singers but few artists.
— Did Gulfayrus Ismailova mostly make portraits?
— Not only, she also painted compositions and her flowers — peonies, she also liked mountains so much.
— Vadim Evgenyevich, did your mother consider herself to be an artist rather than an actress?
— Certainly, that was her main occupation: not only theater art by painting also. Everything else took the second place.
— Did she paint in the later years of her life?
— She worked until it was possible. She was confined to a wheelchair for more than 15 years. However, she continued working and even made big things. The last two still lifes are in a personal collection of Dariga Nazarbaeva.
— Have you ever tried to count the works of Gulfayrus Ismailova?
— Never, unfortunately, it is impossible. Many pictures are destroyed because they were stored in the basement levels of our museums; many works appeared in personal collections during the 1990s. At least, they are in good hands, and I know many people who wanted to buy them.
— Which museum has the biggest collection of pictures by Gulfayrus Ismailova?
— Undoubtedly, the biggest collection is kept in the Kasteev Museum of Arts; all the best things always were moved there. That was prestigious and considered to be the safest. Astana is lucky as well, there are 10 paintings.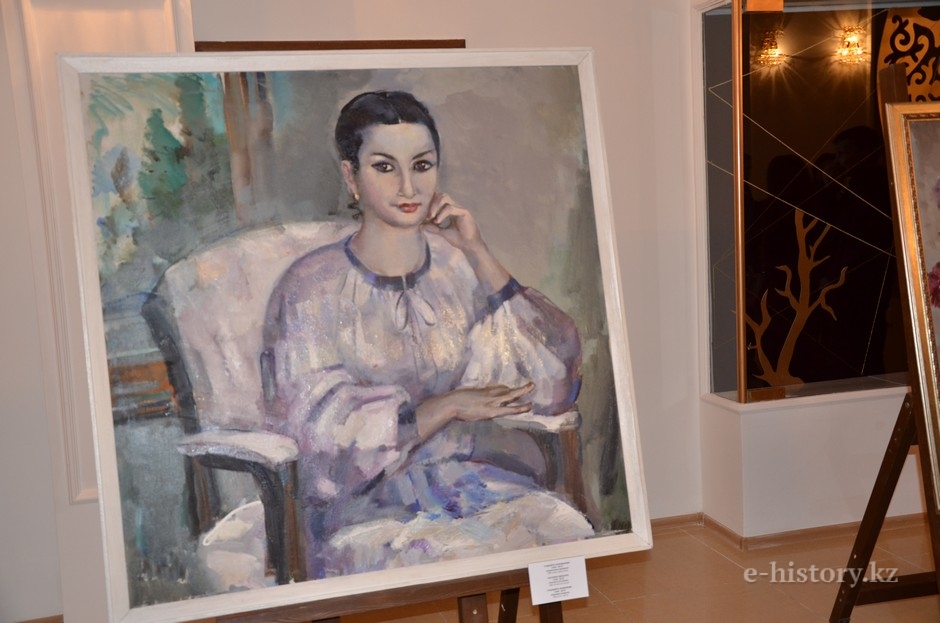 These pictures are exhibited at the National Art Gallery "Astana"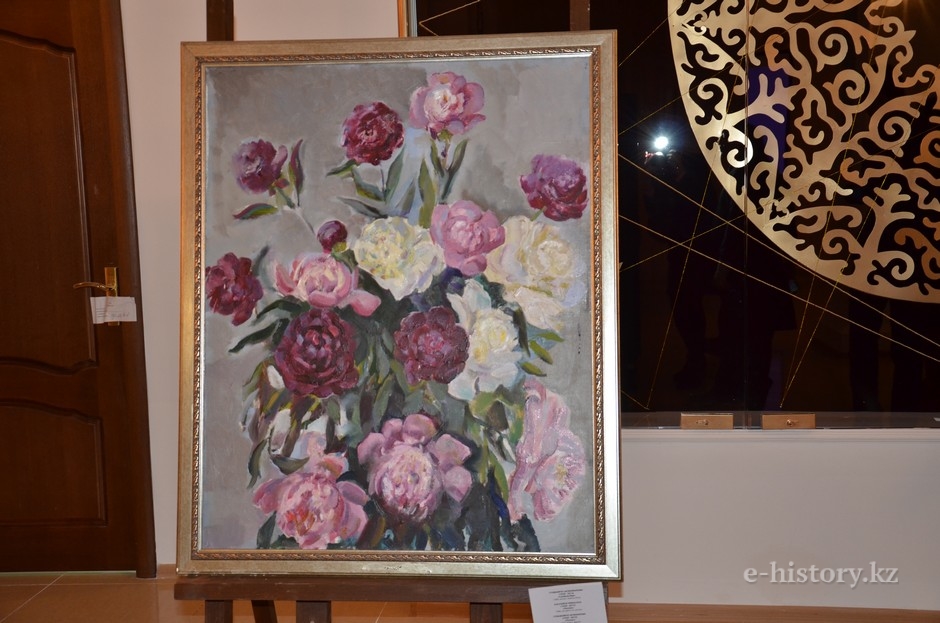 — Probably, the fact that you was born in creative family defined your life path. You are an artist like your parents.
— Perhaps. I began making sculptures but didn't choose that way, the circumstances were such. I like modelling when I was a child. Our family's close friend and artist P. Ya. Zaltsman appreciated my works. Outstanding sculptor Ye. F. Beloshova who was the Head of the Union of Artist of the Soviet Union also acknowledged my talent.
---
More facts about Gulfayrus Ismailova
She was born in a rich family. In 1932 her father was repressed. She was adopted by Mansur Ismailov. Her real name is Konarbaeva Kulpash Tansykbaevna.
The famous operas "Birzhan and Sara", "Kozy-Korpesh and Bayan-Sulu", "Yer-Targyn", "Chio-Chio-San", "Alpamys" and many others were decorated in accordance with Gulfayrus Ismailova's sketches.
She was an art director of "Kyz Zhibek" film produced by Sultan Khodzhikov.
When she was 29 years old Gulfayrus Ismailova painted her famous portrait triptych "Kazakh Waltz".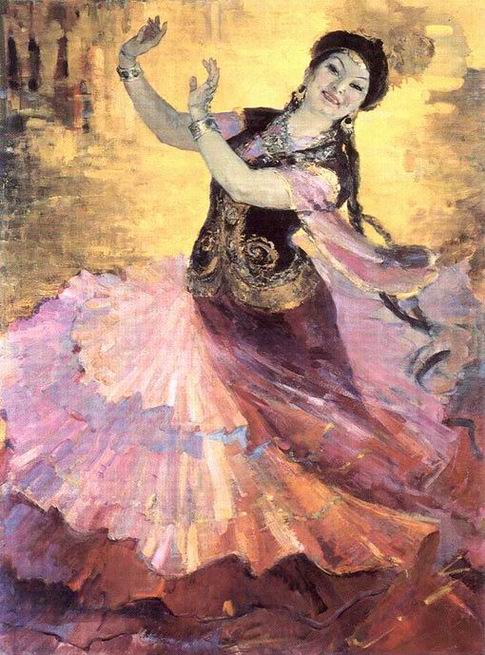 One of the pictures of famous "Kazakh Waltz"
The last words of her beloved husband Evgeniy Sidorkin were the following: "Do not marry, so nobody will harm you. And help our son to become an artist". Gulfayrus Ismailova fulfilled all her obligations with honour.
Lyudmila Vykhodchenko

Use of materials for publication, commercial use, or distribution requires written or oral permission from the Board of Editors or the author. Hyperlink to Qazaqstan tarihy portal is necessary. All rights reserved by the Law RK "On author's rights and related rights". To request authorization email to
or call to 8 (7172) 57 14 08 (in - 1164)