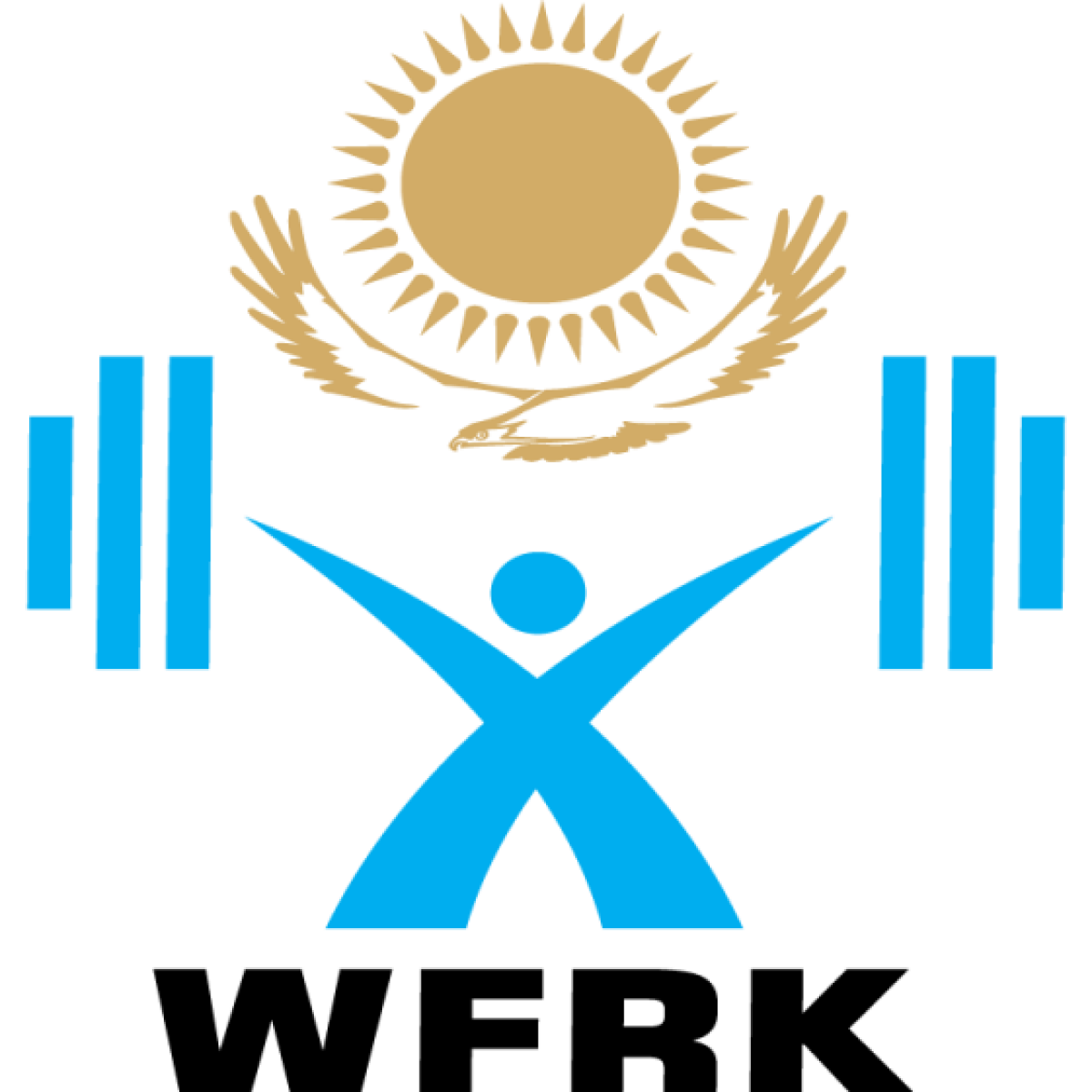 On November 8 the opening ceremony of the World Weightlifting Championship will be conducted in the Sports Palace named after Baluan Sholak
Almaty has become the second capital of the World Weightlifting Championship in post-soviet area. Until this moment Moscow received the strongest weightlifters n the world — in 1975, 1980 and 1983. The first weightlifting competition took place in London in 1891 when only seven sportsmen from six countries competed for medals in one weight category.
It is expected that this year 683 weightlifters from Kazakhstan, Belarus, China, Colombia, Ecuador, Egypt, Germany, India, Italy, Japan, Poland, Russia, Thailand, Turkey, Ukraine and the USA will come to Almaty.
The following sportsmen will defend the honor of Kazakhstan: Margarita Yeliseeva (48 kg), Zulfiya Chinshanlo (53 kg), Saule Saduakasova (58 kg), Mayya Maneza (63 kg), Karina Goricheva (63 kg), Zhazira Zhapparkul (69 kg), Gulnaz Nauryzova (69 kg), Svetlana Podobedova (75 kg), Anna Nurmukhambetova (75 kg), Arli Chontey (56 kg), Albert Linder (69 kg), Kirill Pavlov (77 kg), Medet Dzhundubaev (77 kg), Vladimir Sedov (94 kg), Rustem Sybay (94 kg), Ilya Ilyin (105 kg), Zhasulan Kydyrbaev (105 kg), Ibragim Bersanov (+105 kg), Selimkhan Abubakarov (+105 kg).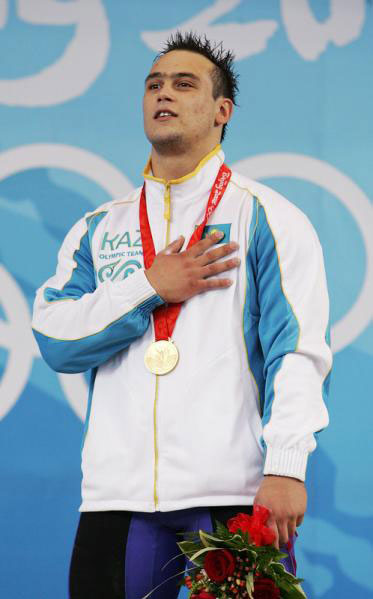 Ilya Ilyin
2012 was the most successful in the history of national weightlifting. Weightlifters Zulfiya Chinshanlo (up to 53 kg), Mayya Maneza (up to 63 kg), Svetlana Podobedova (up to 75 kg), and Ilya Ilyin (up to 94 kg).
| | |
| --- | --- |
| Svetlana Podobedova | Mayya Maneza |
Officially, the development of weightlifting in Kazakhstan began in 1935. Two years later, the first championship of the Republic was conducted. In 1954 Kazakh weightlifters started establishing world and all-Union records.
For example, in 1958 and 1960 S. Ulyanov became the Champion of the USSR setting world records. World and all-Union record holders A. Kolodkov, P. Kim, W. Drexler, A. Khrapatyy and S. Filimonov.
However, Yuriy Zaytsev is considered to be the first national of Kazakhstan who became the winner of the World Weightlifting Championship. In 1974 on the first in his career World Championship in Manila he got bronze in the weight category up to 110 kg. After Zaytsev's success, this category was considered to be traditional for Kazakhs. Two years later, on the Olympic Games in Montreal, he won gold. On the Olympic Games in Moscow in 1980 26-year Victor Mazin followed the path of his famous compatriot and became the World and Olympic champion.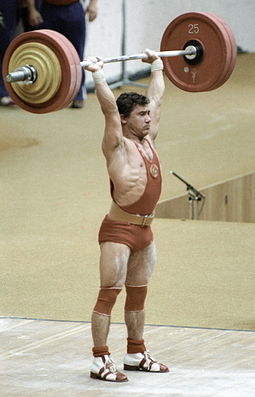 Victor Mazin
Four years later weightlifter from Kazakhstan Anatoliy Khrapatyy got bronze on the European Championship. After this success, until the end of the 1980s Anatoliy had no equal in the category up to 90 kg. In 1995 he became the world champion in Södertälje (Sweden), in 1986 — in Sofia, in 1987 —in Ostrava (Czech Republic), in 1989 — in Athens and in 1990 — in Budapest.
There was no World Weightlifting Championship in 1988. However, Khrapatyy won the Olympic Games in Seoul (South Korea). After the collapse of the Soviet Union he was the first athlete of independent Kazakhstan who got gold medal of the World Weightlifting Championship.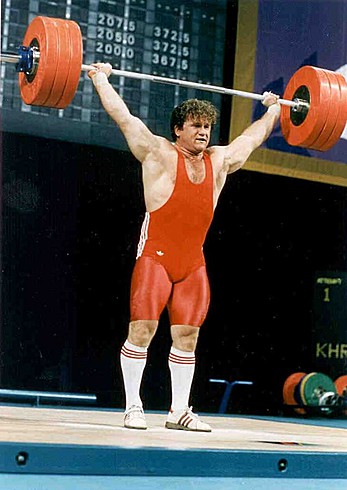 Anatoliy Khrapatyy
Another athlete from Kazakhstan S. Filimonov won silver medal on the Olympic Games in Athens. One year later 17-year-old Ilya Ilyin from Kyzylorda created a real furore when he won the World Championship in Doha (Qatar) in the weight category up to 85 kg. Another year later Ilya became two-time World Champion. In 2008 he won the Olympic Games in Beijing (China).
In 2009 on the World Weightlifting Championship in Goyang City (South Korea) Kazakhstan's weightlifting team won four gold medals and took the second place in team classification. Two girls who won gold were among them. They were 16-year-old Zulfiya Chinshanlo and Svetlana Podobedova. Zulfiya was registered in the Guinness World record book as the youngest world champion.  
Nowadays this sport is being developed in 13 regions and two cities of the Republic of Kazakhstan. The total number of weightlifters in the country is over 2 200 in 43 centers.
Weightlifting is one of the most popular sports in Kazakhstan, and there is every reason to believe that youngsportsmen will also successfully defend the honor of the country.
According to the Weightlifting Federation
Use of materials for publication, commercial use, or distribution requires written or oral permission from the Board of Editors or the author. Hyperlink to Qazaqstan tarihy portal is necessary. All rights reserved by the Law RK "On author's rights and related rights". To request authorization email to
or call to 8 (7172) 57 14 08 (in - 1164)