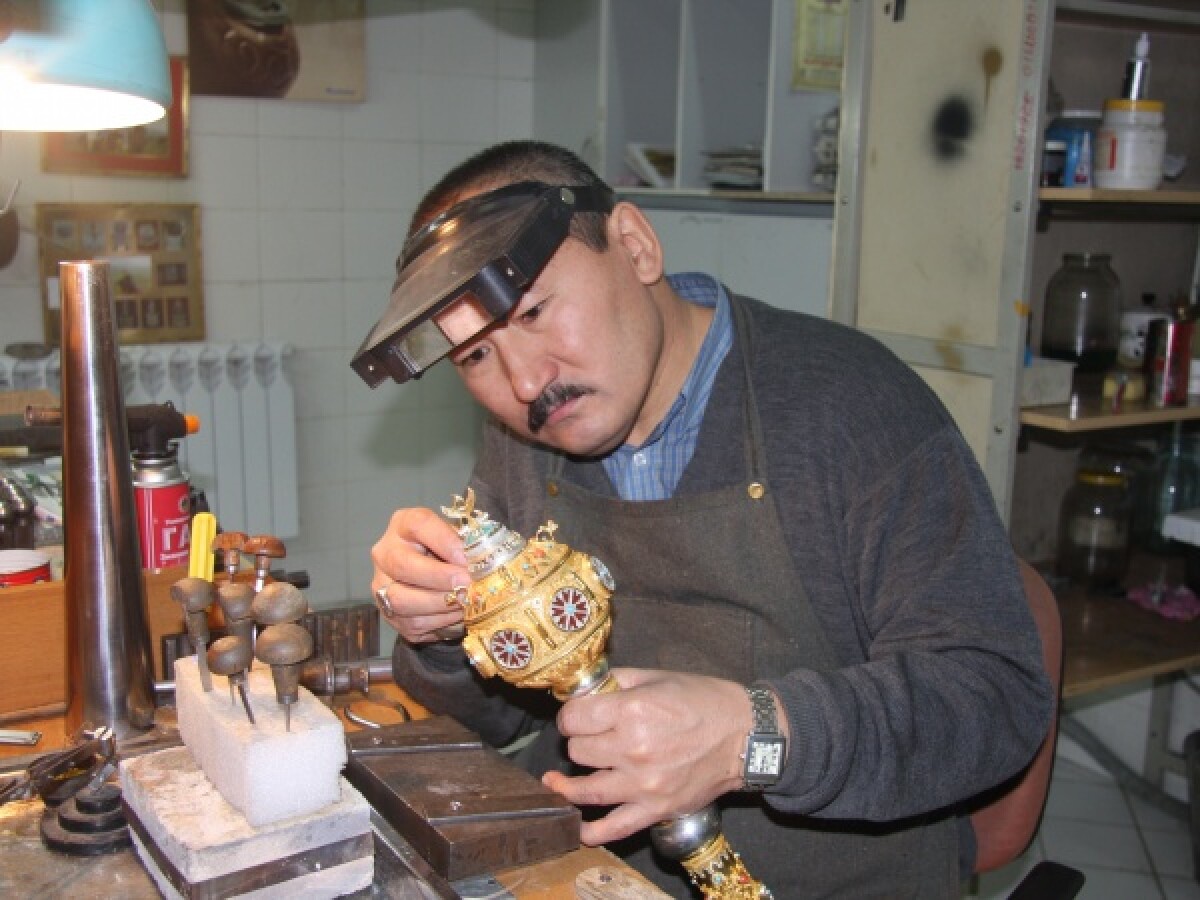 On November 12 the Museum of the First President of the RK will host opening of an exhibition of famous artist-jeweler, Honored Worker of Kazakhstan Berik Alibay
Kazakh national jewelry occupies a very special place in the history of national culture. Modern jewelry represents sufficiently advanced type of decorative and applied arts. Its history stretches back to antiquity. Skilled zergers (jewelers), who lived in ancient times, hand down their unique artworks made of precious stones and metals to future generations
Jewelry art has its own professional features and secrets. Usually Kazakh zergers worked individually transmitting their experience and skills from generation to generation.
Being "goldsmith and silversmith" from childhood absorbed national art Berik Alibay was born in 1964 in Kyzyl-say village, Merke district, Zhambyl region. He graduated from the Almaty Art College named after N. Gogol and the Kazakh National Academy of Arts named after T. K. Zhurgenov. Since 1989 he participated in republican, all-Union and international exhibitions. The best samples of his creativity were exhibited in the PRC, Saudi Arabia, Japan, Iran, Russia, Qatar, Turkey, Germany, Spain, the Sultanate of Oman, and England.
Contribution of Berik Alibay to the development of Kazakhstan's jewelry art was certified by numerous diplomas and gratifying letters. Of these, the gratifying letter of the President of the Republic of Kazakhstan N. Nazarbayev for the active participation in preparation and holding of the OSCE Summit in 2010 is of a special importance.
Berik Alibay is a member of the Union of Designers and the Union of Artists of Kazakhstan, Honored Worker of Culture of the Republic of Kazakhstan, holder of the scholarship of the President of the Republic of Kazakhstan, prize-winner of the "Astana — Bayterek 2005″ contest in the "Applied Art" nomination; he was also awarded the "20th Anniversary of the Independence of the Republic of Kazakhstan" medal. In 2013 in Saint Petersburg he was awarded the "Honored Jeweler" Brilliant Order of the International Memorial Fund named after Carl Faberge, and the "Honorary Jeweler of Muslim World" Order mark in 2014.
Zerger Berik Alibay made a great contribution to the development of culture of Kazakh nation: he participated in the reconstruction of over 3 000 exhibits of Kazakhstan's museums. His original works were presented in the Gallery of Ethnography and Applied Art in the Palace of Independence, in the funds of the Museum of the First President of the Republic of Kazakhstan, Central State Museum of the Republic of Kazakhstan as well as in private collections and foreign galleries. At the present time Berik Alibay is at the head of the Department of Reconstruction of Products of Metal, Wood, Leather and Bone in the Center of Conservation and Restoration of the National Museum of the Republic of Kazakhstan.
Original works of Berik Alibay will be presented in two halls of the exhibition. Visitors will have an opportunity to see weapons of Kazakh batyrs (warriors), symbols of power — staffs of rulers. The organizers of the exhibition promise that women's adornments (double bangles, eye rings, protective amulets, breast adornments, signet-rings, and so on) will not leave anyone indifferent.
The exhibition will demonstrate continuity of traditions of Kazakh zergers, diversity of samples of jewelry art revealing the most illustrative aspects of Kazakhstan's cultural heritage.
The "Inheriting the traditions of the Past" exhibition will close on December 15, 2014 in the Museum of the First President, Astana city, Beybitshilik Str., 11
Use of materials for publication, commercial use, or distribution requires written or oral permission from the Board of Editors or the author. Hyperlink to Qazaqstan tarihy portal is necessary. All rights reserved by the Law RK "On author's rights and related rights". To request authorization email to
or call to 8 (7172) 57 14 08 (in - 1164)