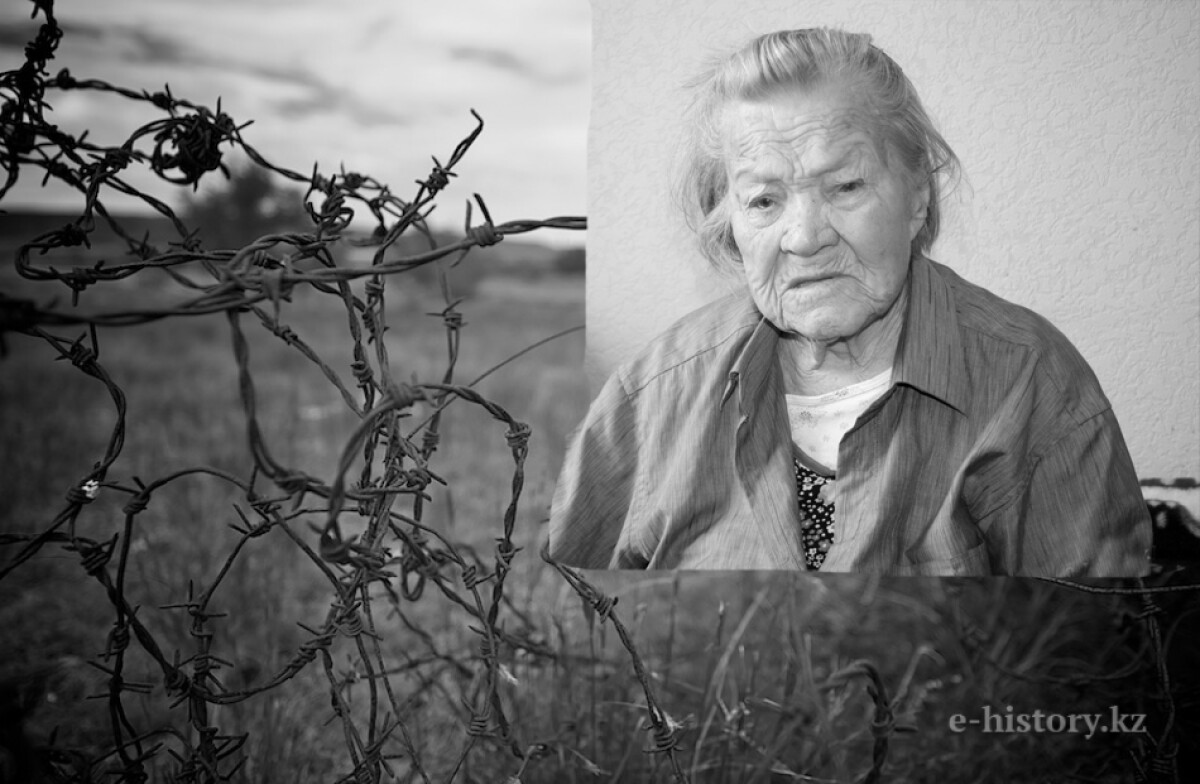 Yendanova Anna Grigorievna is one of the millions of victims of the criminal regime, repressed during the Bolshevik and Communist terror in the Soviet Union, the only surviving prisoner of ALZHIR.
Anna Grigorievna was born in 1917 in Vladivostok. She currently lives in the city of Astana. This year she has celebrated her 97th birthday. Despite the advanced age, she retained a clear mind, an excellent memory and a kind heart.
Her life story is the following. Her husband, Lev Endanov, NKVD investigator, was arrested in 1937 during one of the «purges», conducted in this service. Subsequently, he was shot. In 1938 she was arrested also. On July 31, 1938 as «a family member of a traitor to the motherland» she was sentenced to eight years in a labor camp by the Special Council of the NKVD; her children, two-year old daughter and seven-month-old sun, were sent to orphans' homes. When she was 21 old years old, Anna arrived to ALZHIR on August 27, 1938 from the Vladivostok prison. ALZHIR, Akmolinskiy Camp for Wives of Parricides, was the largest women camp on the territory of the Soviet Union in the era of totalitarianism.
All eight years spent in ALZHIR she worked as a cook. She was, as some say, «near coppers», and could eat what she had cooked, so Anna did not take her bread ration and gave it to others.
Life tested her again and again. At first she learned about her son's death. Then after discharge on March 18, 1946 Anna addressed a letter to the director of the orphans' home, where her daughter was sent. It was him who brought Anna tragic news about her daughter's death. It would seem that the last hope for a better life was ruined but she did not give up. However, problems did not stop there. As a former prisoner it was forbidden to her to travel outside Akmola; for a long time Anna had nowhere to live and could not find a job. But the strong nature helped her to overcome all difficulties. After a while, she got on with her life. She met a nice man, Khadzhimurat Nizamutdinov, to whom told everything about her difficult fate. He could understand this extraordinary woman and later became her reliable supporter in life. They married and raised three children. Anna taught them only kindness and mercy. Thanks to this her children have grown good, kind and highly educated people.
Anna Grigorievna's life is a good example of steadfastness and firmness f human nature.
The information was given by the ALZHIR memorial museum
translated by I.KUZMENKO
June 3, 2014 
Use of materials for publication, commercial use, or distribution requires written or oral permission from the Board of Editors or the author. Hyperlink to Qazaqstan tarihy portal is necessary. All rights reserved by the Law RK "On author's rights and related rights". To request authorization email to
or call to 8 (7172) 57 14 08 (in - 1164)