The Museum of Modern Art of the city of Astana hosts the exhibition of manufacture of famous artist-restorer Krym Altynbekov «The art of the Saka and Scythia tribes in modern times»
Krym Altynbekov is jeweler-restorer of international fame, the great monuments of the Saka culture of the IV–III centuries B.C., «Sarmatian leader» from Araltobe, «The Golden Man» from the Issyk barrow as well as the artifacts of Ahmed Yasawi mausoleum in Turkestan were restored and reconstructed by his hands. Number of thousands of discoveries of various periods and cultures were turned to life by him. Originals of his findings are stored at the biggest museums of Kazakhstan and reconstructions made by him became the hallmarks of Kazakhstan's history. «The Island of Crimea» is the name of his a unique studio. It is situated on one of the winding old streets of Almaty. Well the studio, surrounded by valuable archeological rarities really resembles an island of treasures.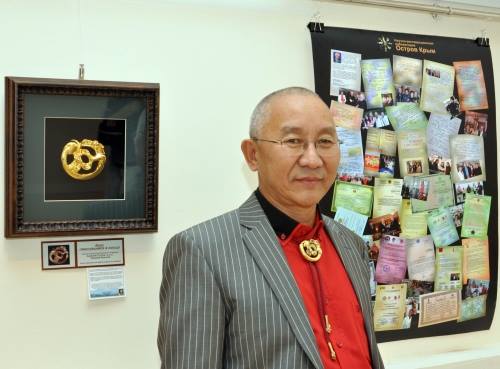 The paintings presented at the exhibition are not just the elements of decor, but works based on the history of Kazakhstan. They are full of the culture and mythology of Saka tribes. While looking at these pictures, one can realize how deep the art of our ancestors was, and some face the desire to convey the core values of life.
Being an expert in ancient history, Altynbekov brilliantly reflected the nomadic outlook in his designer's jewelry made of precious metals. All his manufacture is designed in the spirit and style of the ancient products of Saka and Scythia tribes.
On March 14, 2014 in Budapest Krym Altynbekov was awarded the Order of Merit of the Hungarian Knight's Cross for his outstanding contribution to the revival and promotion of the Saka and Scythians heritage.
On March 14 Sandor Fazekas, the minister of Rural Development of Hungary, presented the Order to Krym Altynbekov on behalf of the President. The presentation was dedicated to the 165th anniversary of revolution and fight for the freedom of Hungary on March 15, 1948–1949.
Exhibitions of works of Krym Altynbekov in the field of preservation of cultural and historical heritage «Culture of the great steppe» were held in the Hungarian capital Budapest, as well as in other major cities such as Debrecen, Keszthely and Balatonszemes where Hungarian citizens had an opportunity to get to know the unique exhibits of everyday life of steppe nomadic people who had family ties with modern Magyars.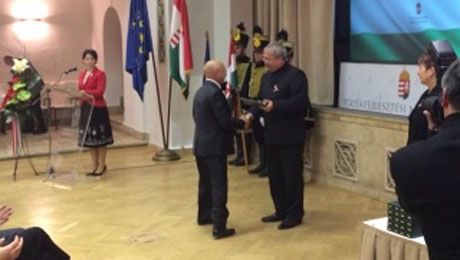 Krym Altynbekov has become one of the first foreigners who were awarded such a honour.
translated by  I.KUZMENKO
June 18, 2014
Use of materials for publication, commercial use, or distribution requires written or oral permission from the Board of Editors or the author. Hyperlink to Qazaqstan tarihy portal is necessary. All rights reserved by the Law RK "On author's rights and related rights". To request authorization email to
or call to 8 (7172) 57 14 08 (in - 1164)