The works by People's Artist, Honored Worker of the Republic of Kazakhstan, a recognized art expert of Tatarstan, France, China are complex and international.
Paintings by a great artist of our time are based on deep metaphors, symbol system, imagination and inner voice of an author. They strike with their uniqueness, colors and impressiveness. 
 Periods of Kamil Mullashev's works: 
1) Early 70s until the second half of the 80s of XX century. Famous works as 'Morning', a triptych 'Earth and Time. Kazakhstan' were created at that time, which became a kind of romantic symbol of Kazakhstan, as well as series of works devoted to the development of virgin lands and its workers. The works painted in the Soviet period is consistent with the era, where the artist presented the diversity of Kazakhstan nature, scenes from daily life and labor achievements of Kazakhstan people in a realistic manner. 
 'Morning', 1996, oil on canvas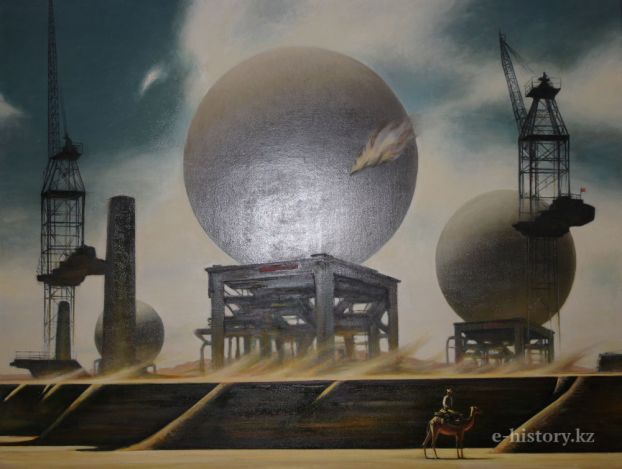 Triptych 'Earth and Time. Kazakhstan' 
a left part 'Over the white desert', 2001, oil on canvas 
Triptych 'Earth and Time. Kazakhstan' 
a central part 'Youth', 2000, oil on canvas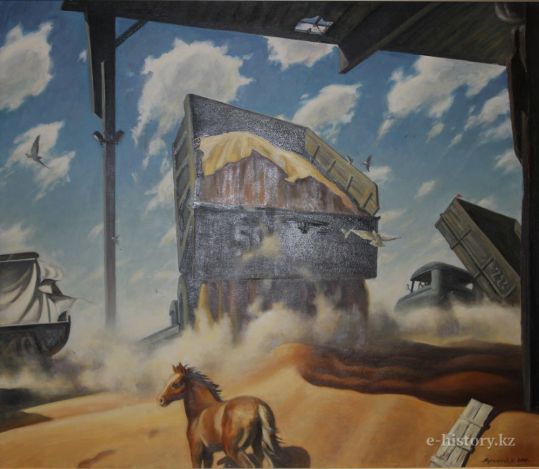 Triptych 'Earth and Time. Kazakhstan' 
a right part 'Grain harvest time', 2001, oil on canvas
2) From mid-80s to mid-90s, Kamil Mullashev's works are characterized by a change of artistic language. This period is marked by the search of new expressive means, a predominance of the picturesque freedom. The artist notes that 'there was need for color, desire to enjoy the freedom of color perception'; 
3) 90s and 2000s were productive for Kamil Mullashev. This time going under the sign of national and civil consolidation prompted Kazakhstan artists to work on historical paintings and portraits. History should be both studied and emotionally felt for K.Mullashev, otherwise it will not serve as spiritual basis upon which modern society can be built. Reflecting life philosophically, the artist refers to the East in his works as to one of the cradles of world culture; 
4) The unique feature of contemporary works from series 'My new sight' is a paraphrase of the great paintings of the past and stylized design done in the spirit of symbolism. It is an opportunity to expand perception of the world, to realize different reality looking beyond ordinary for an artist of symbolic and allegorical painting.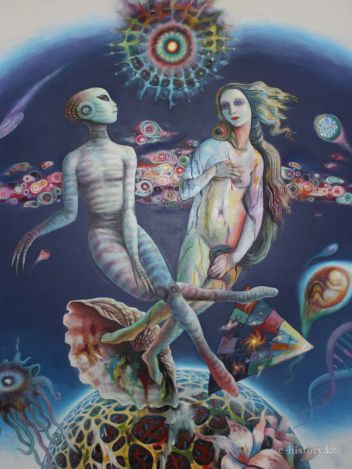 'Above the Earth', 2016, oil on canvas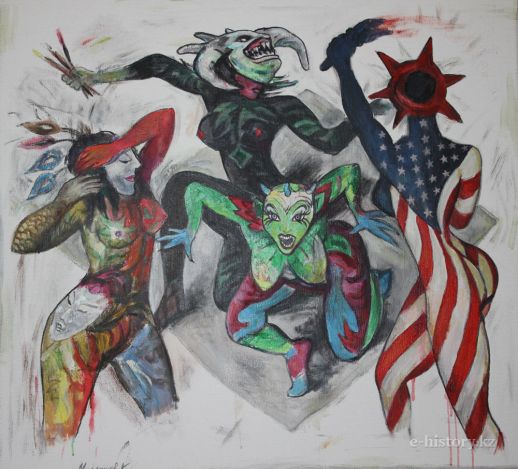 'Body-art holiday', 2016, oil on canvas 
Each of above-mentioned stages of development of Kamil Mullashev's works is characterized by historical moments of Kazakhstan, since the period of virgin lands and ending with the modern era of technology and globalization. 
The exhibition of K.Mullashev's works are dedicated to two significant dates — Capital Day and the 25th anniversary of Kazakhstan's Independence and runs at the National Museum of Kazakhstan until August 1, 2016.
Photo: Malika MURSALIMOVA
Use of materials for publication, commercial use, or distribution requires written or oral permission from the Board of Editors or the author. Hyperlink to Qazaqstan tarihy portal is necessary. All rights reserved by the Law RK "On author's rights and related rights". To request authorization email to
or call to 8 (7172) 57 14 08 (in - 1164)