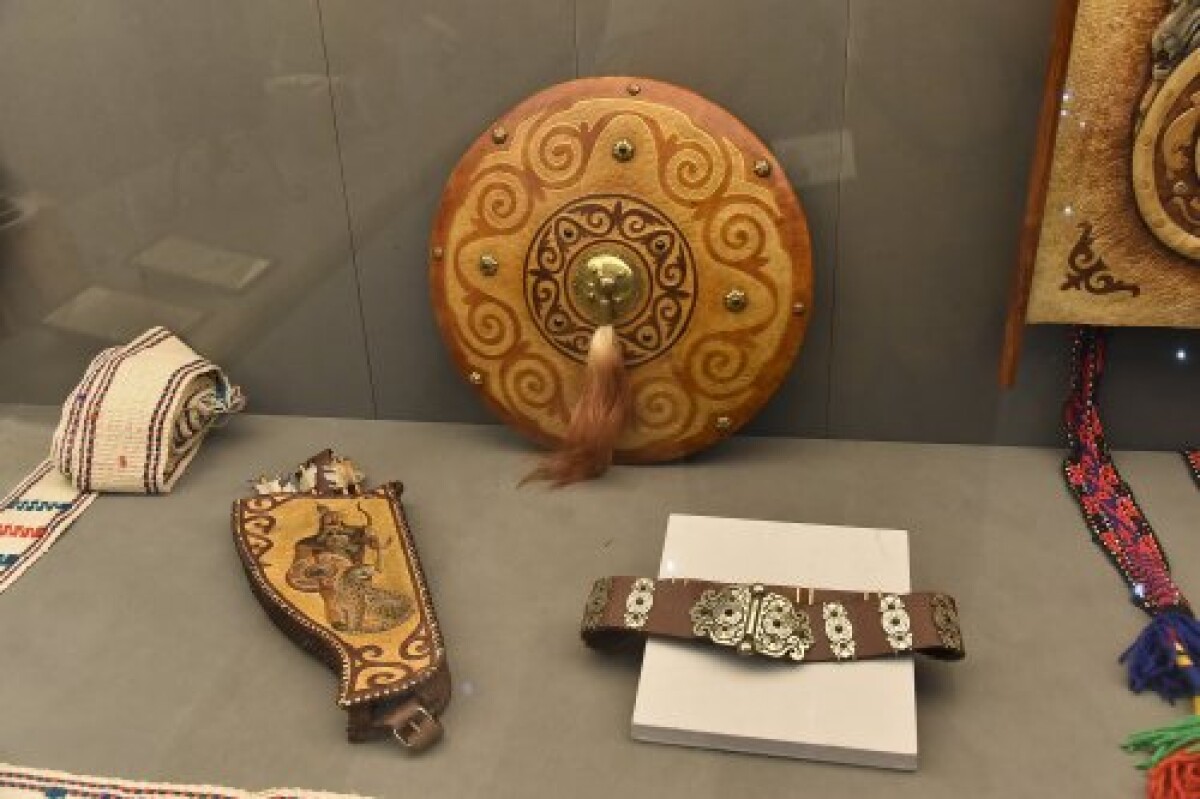 The National Museum of the Republic of Kazakhstan hosted solemn opening of exhibition of Zhambyl Region museums 'Tarikhy teren Tarazdan tagzym'.
The exhibition was held immediately before the 25th anniversary of Independence of the Republic of Kazakhstan. 
 Director of the National Museum Darkhan Mynbay noted that history of Taraz is considerably ancient and this reion is rich for valuable historical artifacts in his speech. 
 'Head of the state Nursultan Nazarbayev said: 'Taraz is the guiding star of our history'. A lot of valuable information about Taraz can be found in the ancient written monuments and chronographers' works. It proves that the history of our people goes back over centuries. Therefore, many valuable historical and cultural exhibits are found in this region. We have a project 'Kazakhstan through the history of centuries' in the museum. Museums from different regions our country hold their exhibitions at the National Museum under this project. Everybody can visit them during two months at the National Museum. Astana residents and guests of the capital are very interested in these exhibitions' – D.Mynbay said. 
 A writer Elen Alimzhan noted in his speech: 'You can see exhibits relating to the ancient epochs, epochs of the Saka, Huns, Turkiic Khanate and exhibits of modern times as well at Taraz Museum'. 
 The residents and guests of the capital have a great opportunity to see the unique artifacts of the Saka era, pottery found during archaeological excavations in the ancient settlement Taraz; golden items from Zhetytobe burial ground (2012); bronze objects, terracotta tiles from Aisha-Bibi Mausoleum and many other things thanks to this exhibition. 
 Zhambyl region is rich for its cultural and spiritual heritage, the uniqueness of which is connected historically with Great Silk Road. A rich numismatic collection is presented on the exhibition. 
 The military equipment of the period of Kazakh khanate formation is also presented in the exhibition. The first quarters of Kazakh Khanate founders Zhanibek and Kerey was located in interfluve area of the Shu and the Talas – Kozybashy district. In October, 2015 the 550th anniversary of the Kazakh Khanate was celebrated at the international level. 
 The best samples of decorative-applied art of Kazakh people from the funds of Zhambyl Regional local history museum, collection of the national musical instruments, leather and wooden items, jewelry provided by Abai Zhambyl humanitarian college as well were presented in the section 'Ethnic culture and lifestyle of Kazakh people'. 
 Another section of the exhibition 'Kazakh tarikhyn ozgertken uly perzentteri' devoted to people from Zhambyl, awarded high government awards: ranks 'Hero of the Soviet Union' to Bauyrzhan Momyshuly, 'Khalyk kaharmany' to Kairat Ryskulbekov and Gaziz Baitasov, order 'Aibyn' of the III degree to Polat Ayankulov and Zhaksybek Bayseitov, who sacrificed themselves in the peacetime in the fight against terrorism.

Use of materials for publication, commercial use, or distribution requires written or oral permission from the Board of Editors or the author. Hyperlink to Qazaqstan tarihy portal is necessary. All rights reserved by the Law RK "On author's rights and related rights". To request authorization email to
or call to 8 (7172) 57 14 08 (in - 1164)