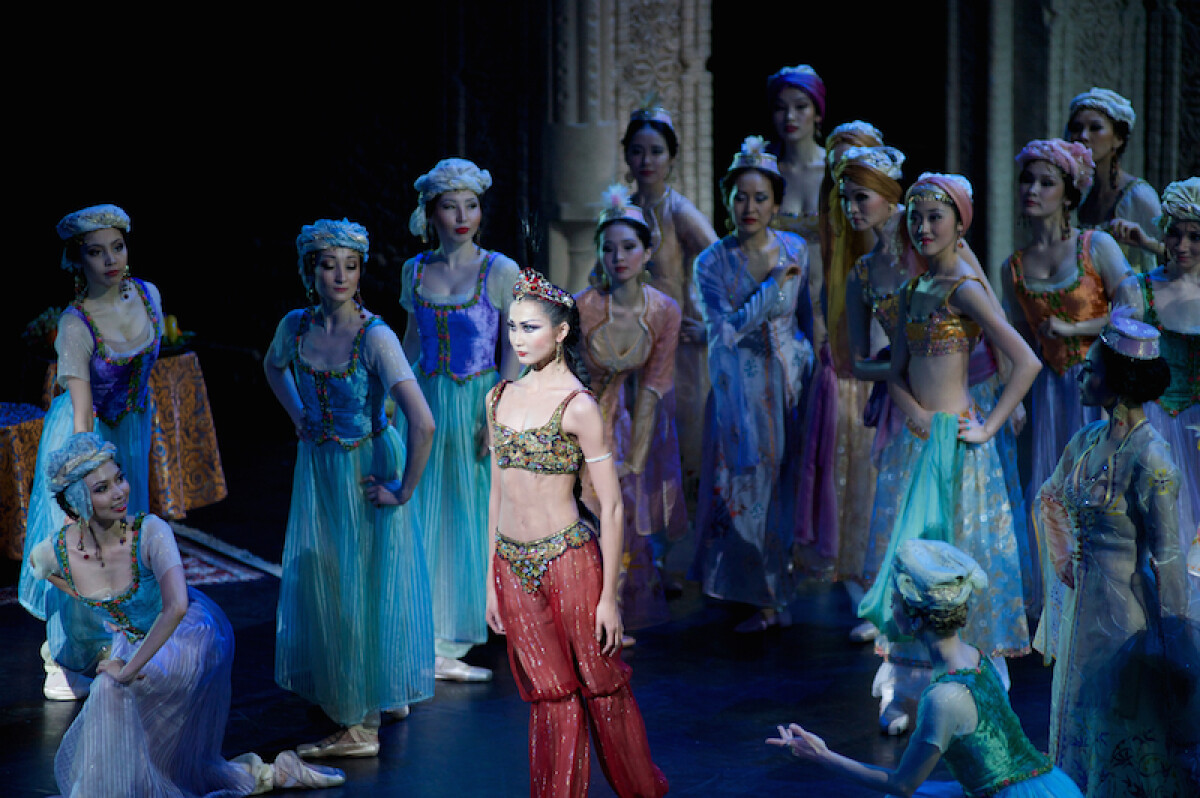 "The Fountain of Bakhchisarai" ballet in the new edition was performed in "Astana Opera".
One of the most favourite staging of the second theatre season of the Opera and Ballet Theatre — B. Asafyev's choreographic poem was performed on the main scenic staging of the capital theatre in the context of the II International Festival "Silk Road". 
The honored activists of Kazakhstan Tursynbek Nurkaliyev and Galiya Buribayeva were working at this ballet performance. The parts in the staging talented soloists of "Astana Opera" ballet performed skillfully. Zhandos Aubakirov personated into formidable Crimean khan Giray at the stage. And the party of the passionate Zarema who loves him the honored activist RK Gauhar Usina performed. Nazerke Aimukhametova was good at the stage in the role of an amazing young Mariya. And manful Vatslav was played by the honored activist of the country Tair Gatauov, faithful commander-in-chief Nurali — Bakhtiyar Adamzhan played. 
As Tursynbek Nurkaliyev, the choreography producer of "The Fountain of Bakhchisarai", director of the "Astana Opera" dance company told at the eve of the performance, the new edition of the ballet is the modern look at the choreographic masterpiece of Rostislav Zakharov. At the same time he noted that in this staging there was work for everyone — the whole cast of the corps-de-ballet was engaged. 
 According to Nurkaliyev's words, only in the performance of the harem more than forty artists of female corps-de-ballet participate. 
- Participants had to work hard because in this staging there is a big amount of various dance items", maître shed light on some details of the work at "The Fountain of Bakhchisarai". 
Also, he made it clear that along with our leading soloists in the ballet the multitude of young artists, who for today approved themselves at the "Astana Opera" stage, take part. 
— They have their own admirers, he added. 
 It is worthy mentioning that the basis of the plot of dramatic words of N. Volkov the homonymic poem of Alexander Pushkin that he wrote in 1821-1823 years being under the impression from visiting the Bakhchisarai Palace of the Crimean khans. 
It is the story about the fact as the formidable khan being in love with the young Polish princess Mariya was ready to give his heart to her. But she did not respond to his feelings because she was faithfulness to the dead groom Vatslav. Khan's heart was broken. And Giray's beloved wife Zarema, whom the ruler left because of the young wonderful choice, undertakes unsuccessful endeavors to return the favor of her master. And out of jealousy she killed her competitress. 
In memory of his unrequited love Giray khan raised the fountain which later was called "The Fountain of tears". The performance passed on as it is called in one breath. The audience was excited. 
Tatyana KAZANTSEVA, Astana 
"Liter" newspaper 
Use of materials for publication, commercial use, or distribution requires written or oral permission from the Board of Editors or the author. Hyperlink to Qazaqstan tarihy portal is necessary. All rights reserved by the Law RK "On author's rights and related rights". To request authorization email to
or call to 8 (7172) 57 14 08 (in - 1164)