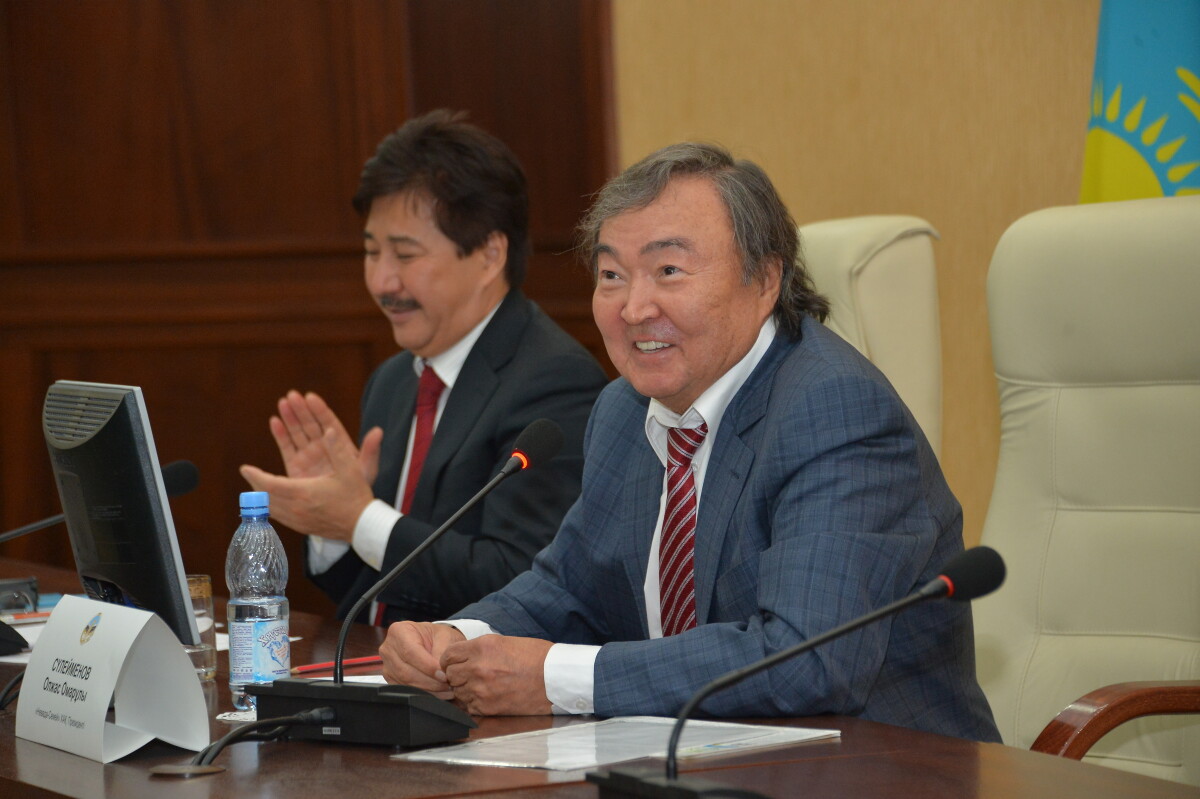 In KazNU the meeting with the President of Nevada-Semipalatinsk International Anti-Nuclear Movement Olzhas Suleimenov with university instructors and students was held.
The past meeting was dedicated to the 26th anniversary of the last nuclear explosion on the territory of Kazakhstan. The rector of KazNU Galymkair Mutanov greeted a national poet, scientist-linguist, and an outstanding public activist. The date of the conduct of the meeting was chosen not by accident. 26 years ago, Nevada-Semipalatinsk International Anti-Nuclear Movement, notwithstanding the confrontation, stopped 11 out of 18 planned explosions at the Semipalatinsk Nuclear Test Site. The military-industrial complex managed to realize only 7 tests, the last of which occurred on 19 October 1989. 
"Nearly two million of Kazakhstan people took part in the demonstrations, marches of protest with the demand to cease the nuclear tests and close the Semipalatinsk Polygon on the sacred land of Abay Kunanbyaev, Shakarim Kudayberdiyev and Mukhtar Auezov. On 28 February 1989 the world learnt about the creation of Nevada-Semipalatinsk movement for the first time". The efforts of the all-time leader Olzhas Suleimenov in the sphere of nuclear disarmament gave the certain fruits. On the New Land in Russia, at the atoll Mururoa in France, near Lop Nor in China and Nevada in the USA the moratorium for the conduct of tests functions; by the Decree of the President of the Republic of Kazakhstan the Semipalatinsk Polygon was closed", Galymkair Mutanov noted. 
"After uniting the people's democracy with the parliament's one, by the efforts of the activists, and now the veterans of the Movement, we managed to achieve the result of the global scale. We realized into life what was not affordable for great powers. It was the first real step towards the universal nuclear disarmament. These bombs, which lie in the arsenals are waiting for their time", Olzhas Suleymenov reflected. "The world is pregnant with war. Menaeuvers of the states in world politics remind those testings and pains which the woman suffers before delivery", the poet described the current events in the world and threat of nuclear war. In 2016 the Nevada-Semipalatinsk International Anti-Nuclear Movement is planning to carry out the International Congress in Astana dedicated to the 25th anniversary of the Semipalatinsk Polygon which motto is "Voters against nuclear arms". The mankind constantly lives at the merge of war, we should not rest on our laurels, we are to accumulate our energy", the President of the Nevada-Semipalatinsk International Anti-Nuclear Movement said. 

In turn, KazNU students thanked Olzhas Suleimenov and promised to render the assistance in all good initiations of the outstanding public activist with the support of the world in the whole world. 
The Conference Room of the Academic Board where the meeting was held was overcrowded. The meeting with the legendary poet, scientist, possibility with getting the answers to questions, taking photos with Olzhas Suleimenov would be remembered for long. Such meetings would have the continuation and it gives joy.
Use of materials for publication, commercial use, or distribution requires written or oral permission from the Board of Editors or the author. Hyperlink to Qazaqstan tarihy portal is necessary. All rights reserved by the Law RK "On author's rights and related rights". To request authorization email to
or call to 8 (7172) 57 14 08 (in - 1164)