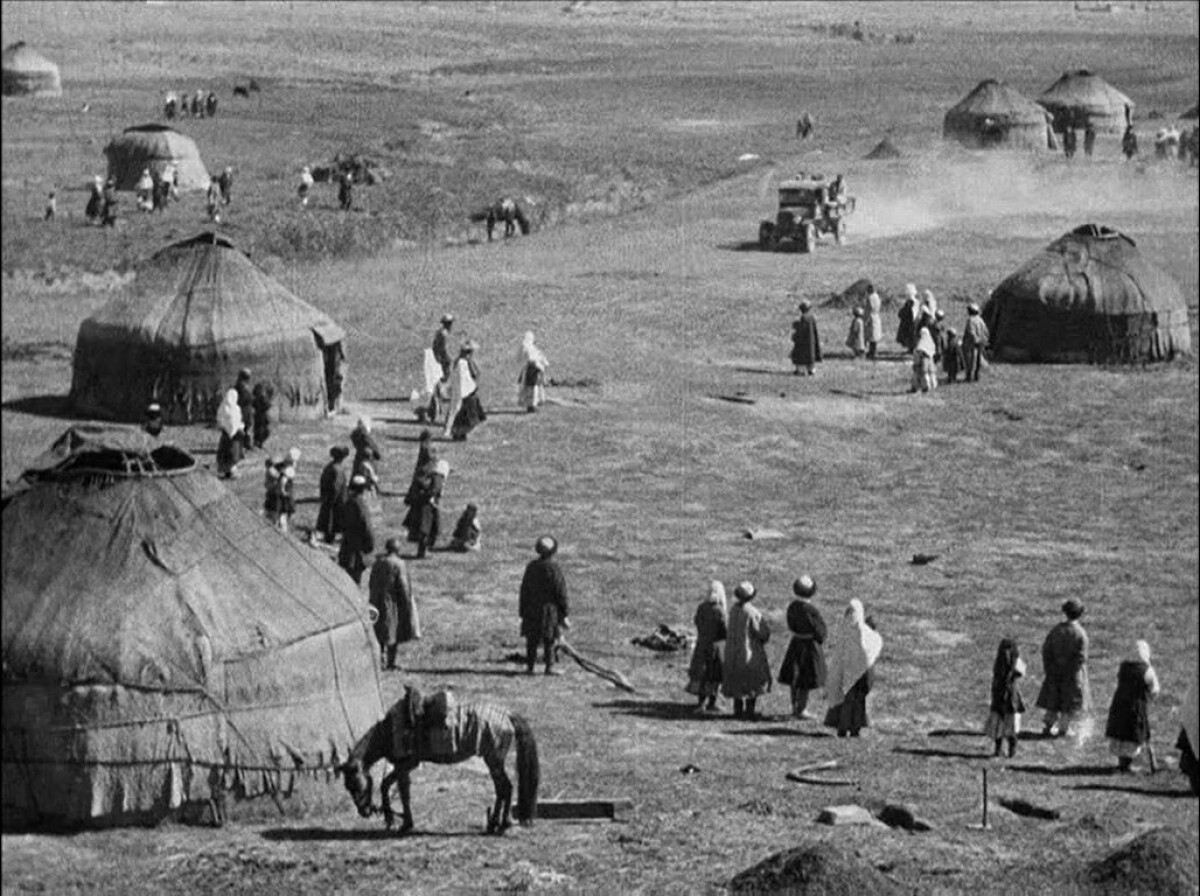 The Internet portal "National Digital History" presents an archival document - The Resolution of the All-Kazakh Congress of Soviets aimed at eliminating uneven land use in auls
The Central Committee of the All-Union Communist Party of the Bolsheviks sought to liquidate the private property of large and medium-sized livestock owners, i.e. actually the most enterprising nomads in the Kazakh Autonomous Soviet Socialist Republic.
In the period from March 28 to April 3, 1927, the Resolution of the 6th All-Kazakh Congress of Soviets on the redistribution of hay and arable land was adopted. The Congress of Soviets believed that the mandatory redistribution of hay and arable land in auls is timely and necessary in the presence of existing uneven land use in auls.
Historically, land use in auls was formed on the basis of the right of seizure. Hence the dominance in land relations, both on the part of a strong clan, and, in particular, the bai within the clan.
The presence of this unevenness contradicts the principle of nationalization and, on the other hand, leaves the poor in a dependent position from the riches.
Further, the resolution specifies the advantages that will result from the redistribution of lands, aimed at eliminating uneven land use in auls.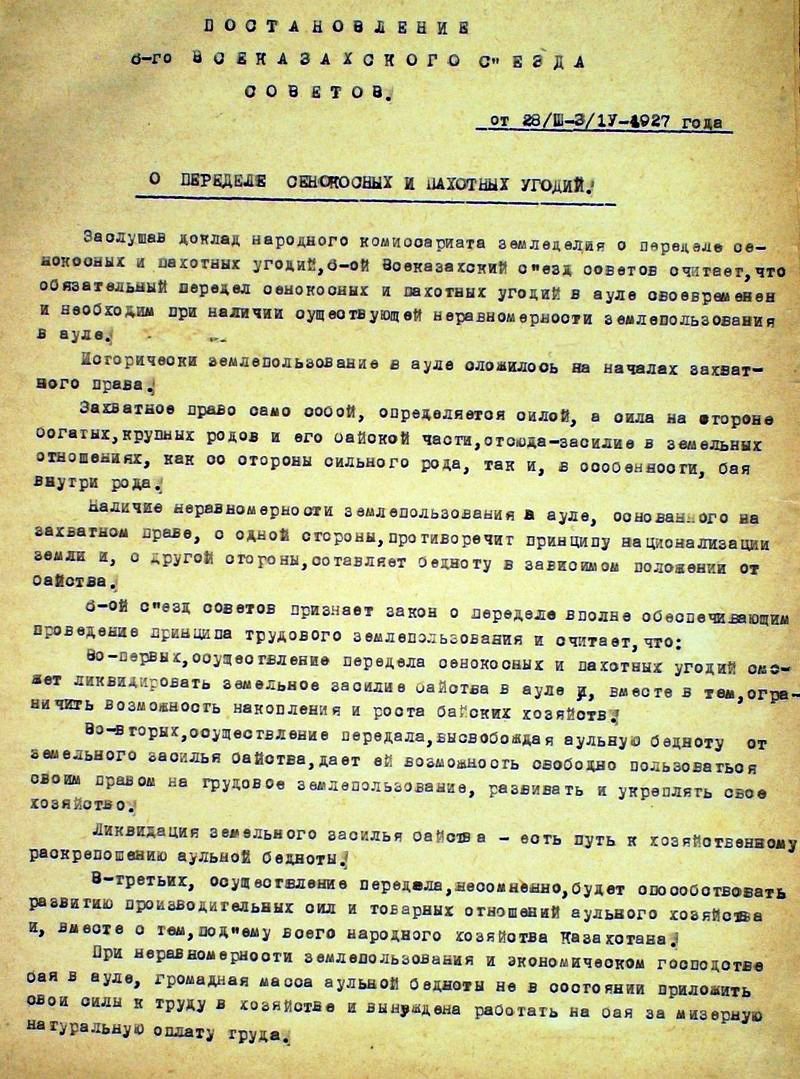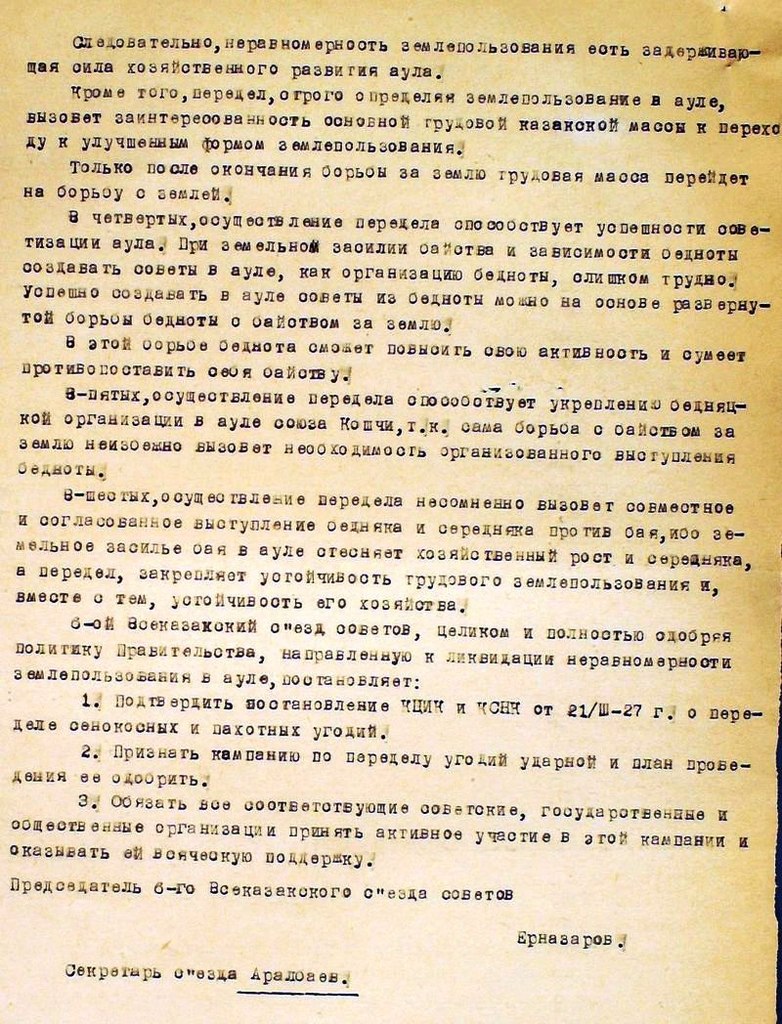 The new document was in fact the beginning of the war against the bais. 2 million 900 hectares of land were forcibly taken away. Revolutionary demarcation in nomadic and semi-nomadic auls became a harbinger of the deployment of a broad campaign for the final liquidation of large farms.
About 1 360 thousand acres of hayfields and 1 250 thousand acres of arable land were taken from well-to-do farms and transferred to the poor and middle peasants.
However, this measure did not bring the expected effect. Those who did not have livestock could not use the hayfields and pastures that they had transferred, and in most cases returned it to their former owners.
The next step was the confiscation of property of large bais - cattle owners with their eviction together with their families outside the areas of residence.
By Makhabbat BOLSHINA
Translated by Raushan MAKHMETZHANOVA
Use of materials for publication, commercial use, or distribution requires written or oral permission from the Board of Editors or the author. Hyperlink to National Digital History portal is necessary. All rights reserved by the Law RK "On author's rights and related rights". To request authorization email to kaz.ehistory@gmail.com or call to (7172) 79 82 06 (ext.111).
Use of materials for publication, commercial use, or distribution requires written or oral permission from the Board of Editors or the author. Hyperlink to Qazaqstan tarihy portal is necessary. All rights reserved by the Law RK "On author's rights and related rights". To request authorization email to
or call to 8 (7172) 57 14 08 (in - 1164)