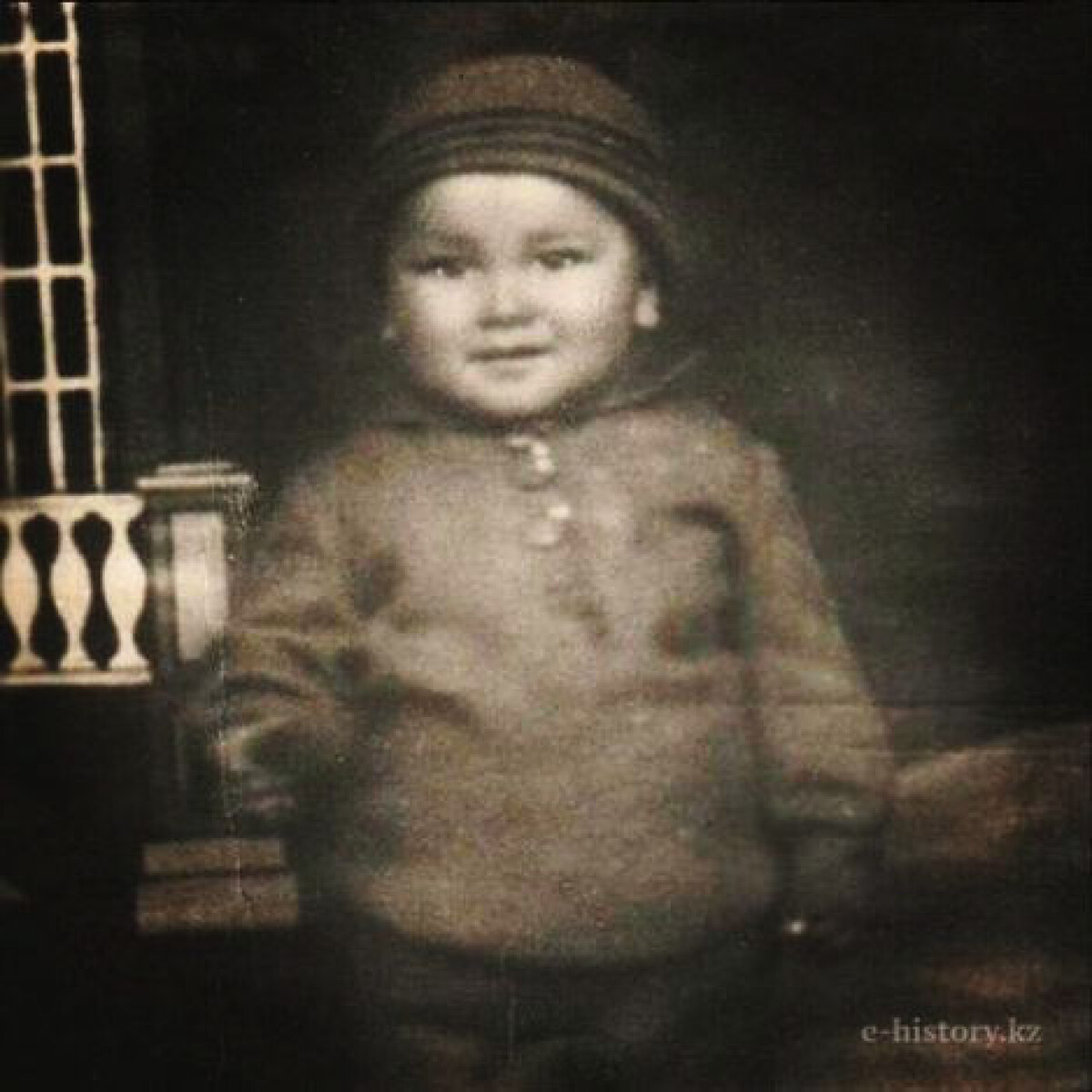 The great son of the Kazakh nation Saken Seyfullin and his spouse Gulbakhram had two children: daughter Laura, born in 1931 and son Ayan, born in November 1936.
Both Laura and Ayan died when they were little. The reason of the death was cruel repressions of that time.
Many photos of Saken Seyfullin have preserved (in comparison with other Kazakh intellectuals). Here is Saken Seyfullin's photo depicting him together with his friend K. Otekin. The picture is taken in one of summer days 1937, in Almaty. This photo shows that Saken is cheerful and full of strength.
"With the birth of Ayan Saken became very child loving person. He was very nervous at the special ceremony "kyrkynan shygary" (forty days since the birth of a child). Even when Saken wrote his book "Our life" he gave to one of the character name Ayan. He liked names like Ayan, Ardak", — said his wife Gulbakhram Seyfullina.
The name to Saken Seyfullin's son was given by Mukhtar Auezov.
Two photos from family archive of Saken Seyfullin where depicted his wife playing with their son Ayan remained. Besides, there is also a picture in which there is only Ayan.
Saken and his wife intensively prepared for celebration of a year anniversary of their little son. Traditionally for such celebration they bought white cloth. However, unfortunately, they could not use it. When a few days left  before the celebration of the birthday three people from the NKVD arrested Saken.
Thus, in September 1937 Saken Seyfullin was accused as "the enemy of the people" and he was arrested. According to the staff of the capital museum of S. Seyfullin (the article "Saken and Gulbakhram" was published in the Astana in "Astana akshamy" newspaper) the last time Gulbakhram saw her husband was on February 8, 1938:
"When I entered, I saw Saken... Once his ruddy face turned black... For some 4-5 months, his hair turned gray. Eyes faded... Cheeks were pulled in. Before me as if some ghost sat... It was our last meeting with Saken. We could not even talk about anything properly. When you forced to speak in Russian language, then what can you say? And when I asked him: "Why you do not ask about Ayan?", Saken as if the person who just wakened from a dream asked me the question: 
— Is he alive? 
— Stop saying nonsense. They would not allowed him to come here, thus he stay at home. How can you have such bad thoughts! He is alive and healthy, do not worry, we wait for your justification.
  — Of course it is, I just saw a nightmare. 
Here Saken Seyfullin spitted out. His voice did not sound clear, the sound left mixed up with hissing from a gap between teeth. "I am honest, innocent and I will be justified", — he told so that the supervising person heard it".
Their sad meeting was on February 8 and on February 25 Saken Seyfullin was shot. Gulbakhram was also accused as "the enemy of the people", she was sent to Akmolinsk. The poor woman suffered a lot on her way.
"My son Ayan got sick. He had bad diarrhea and there was no medicine. There were no bread and any other food. I gave him something like a stick. But he did not eat it. It was so hard when among a lot of people my son had bad diarrhea...
He had a high temperature which was passed to me" — shared her Gulbakhram memory with writer Zhaiyk Bekturov (Eneden erte aiyrylgan tol sekildi, Kazakhstan, 2003, p.83).
Just image the feeling of a mother who did not know how to help to her child who got sick.
"I give up everything. There was nobody around who could help and give water. My only son is dying" (Eneden erte aiyrylgan tol sekildi, Kazakhstan, 2003, p.83).
Mother, who endured such grief, regretted that she did not die instead of the son.
When Gulbakhram got off the train, she went to the house of her friends:
— Now I won't enter into the house. Go with me towards a cemetery. I have a child on my hands. Do you have an iron shovel? Take it with you. He just died in the train. Do you have one-meter white fabric? Take one kettle filled with water. The child needs to be buried and you should read ayait (verse from Holy Quran)...
The body of little Ayan was washed with water, wrapped in white fabric and buried... 
It was on August 18, 1938. Ayan lived only 1 years and 9 months.
The gravestone monument was established to Ayan Seyfullin. The initiator of it was the group of people led by Kuat Esimkhanov.
Zangar KARIMKHAN
Use of materials for publication, commercial use, or distribution requires written or oral permission from the Board of Editors or the author. Hyperlink to Qazaqstan tarihy portal is necessary. All rights reserved by the Law RK "On author's rights and related rights". To request authorization email to
or call to 8 (7172) 57 14 08 (in - 1164)