Events calendar
17 October
17 October 2009
In Pavlodar was set a memorial plaque in memory of a war veteran Uakhap Syzdykov
In Pavlodar was set a memorial plaque in memory of a war veteran , political and economic activities Uahap Syzdykov (1924-1992) on the front of the house in which he lived. At the grand opening of colleagues , friends and family remembered his talent as an organizer , selfless love for his native land.
He was born in the village of Uahap Syzdykov Tlektes Lebyazhinsky area after the ninth grade he began to teach children. In September 1942 , after the military courses , junior lieutenant went to the Bryansk Front , became the commander of the platoon 235th Infantry Division. He was wounded twice , for Military Merit was awarded the medal " For Courage ". Was fought Ukraine, Belarus and Poland.
17 October 1992
In 1992, in Kazaly district of Kyzyl-Orda region, a monument to Zhankozha Batyr was opened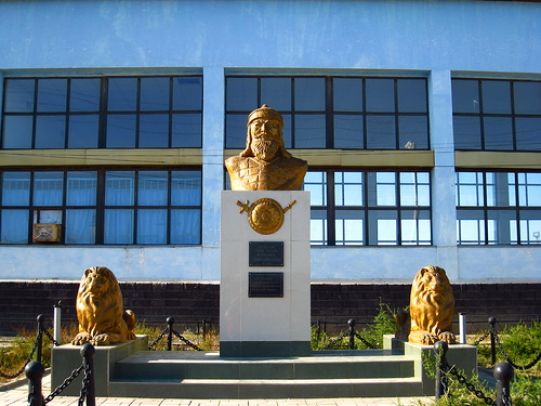 Zhankozha Nurmuhameduly - warrior , Sergeant kind shekty , led the national liberation revolt against the oppression of Syrdarya Kazakhs Khiva and Kokand khanate (1st floor . XIX century ) and the colonial policy of Russia ( 1856-1857 ) .
The glorious life was like a brave fight and touching death Zhankozha batyra . And being a bi of brave men, he did not aspire to power and fame, has always remained a simple man . Never swore allegiance to the Russian tsar , always found a reason for the refusal. There was a freedom fighter Kazakhs who recognize " any Russian or Khivans or Kokand khans and no ."
At first, the point of the national liberation movement Zhankozha was directed against the Central Asian khanates . They cruelly oppressed the Kazakhs , seized the land and built a fortress on them , strangled the highest taxes. And for non-payment - wrecked villages and took away the simple belongings were taken away young men and women for sale in the slave markets of Central Asia. 's Patience ran out, and the Kazakhs organized militia. The battle against the invaders passed with variable success.
With the permission of his father Zhankozha went into the militia. In the battle for the fortress on the banks of Khiva Zhandarev Kazakh zhigit crushingly defeated the army of the Khan of Khiva . Seventeen-year- Zhankozha showed his strength and courage , killing in combat Tyky batyra .
Zhankozha warrior , gifted warrior , was able in the 30- 40s inflict serious damage Khiva: in 1835, captured and burned the fort Babacan on the Syr Darya River and the river rose by Kuandarya .