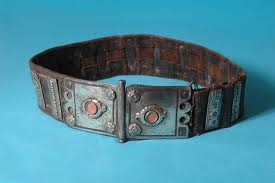 An integral part of the Kazakh costume, both male and female, were the belts made of leather, velvet, silk, and wool - "bedik."
 During the manufacture of belts for formal attire the customers did not stint on the expensive materials, and the masters did not spare the time and used all their skills. The men's belts with pendants were especially beautiful, and also: with purse, steel, tinder and sheath for knife. Sometimes the pendants had only a decorative purpose. The functional and decorative pendants called "okshantay". The belts made of leather were decorated with the patterned embossment, the figural metal plate's insets of semiprecious stones and with the carved plates made from bones. Such typesetting belts are the old items of clothing.Their Kazakh name is "kise". They are similar to women's belts, however, they are wider and more elegant. Women's belts were made ​​of silk. The belts made of silk with a decorative viscous were called "kur beldik". The same name could be applied for the belts made from camel wool and goat's wool. A velvet was used for women's belts.

  The belts of velvet and silk, embroidered with pearls and buckles were called "kamar belbeu." The stuffed belts "CUR" were produced as well. The women belts were decorated with the metal rectangles, triangles, the heart-shaped and the hornlike onlays, as well as with the inlays in the form of turquoise, agate, carnelian, etc. The jade was used for such onlays. The Kazakhs believed that the clothes decorated with jade, protects a person from lightning...
S. Zh. Asanova, Almaty, Fashion Academy "Symbat"
From the article: "A Study of History of folk costume."
Photo: abyroi.kz
Use of materials for publication, commercial use, or distribution requires written or oral permission from the Board of Editors or the author. Hyperlink to Qazaqstan tarihy portal is necessary. All rights reserved by the Law RK "On author's rights and related rights". To request authorization email to mail@e-history.kz or call to (7172) 79 82 06 (ext.111)