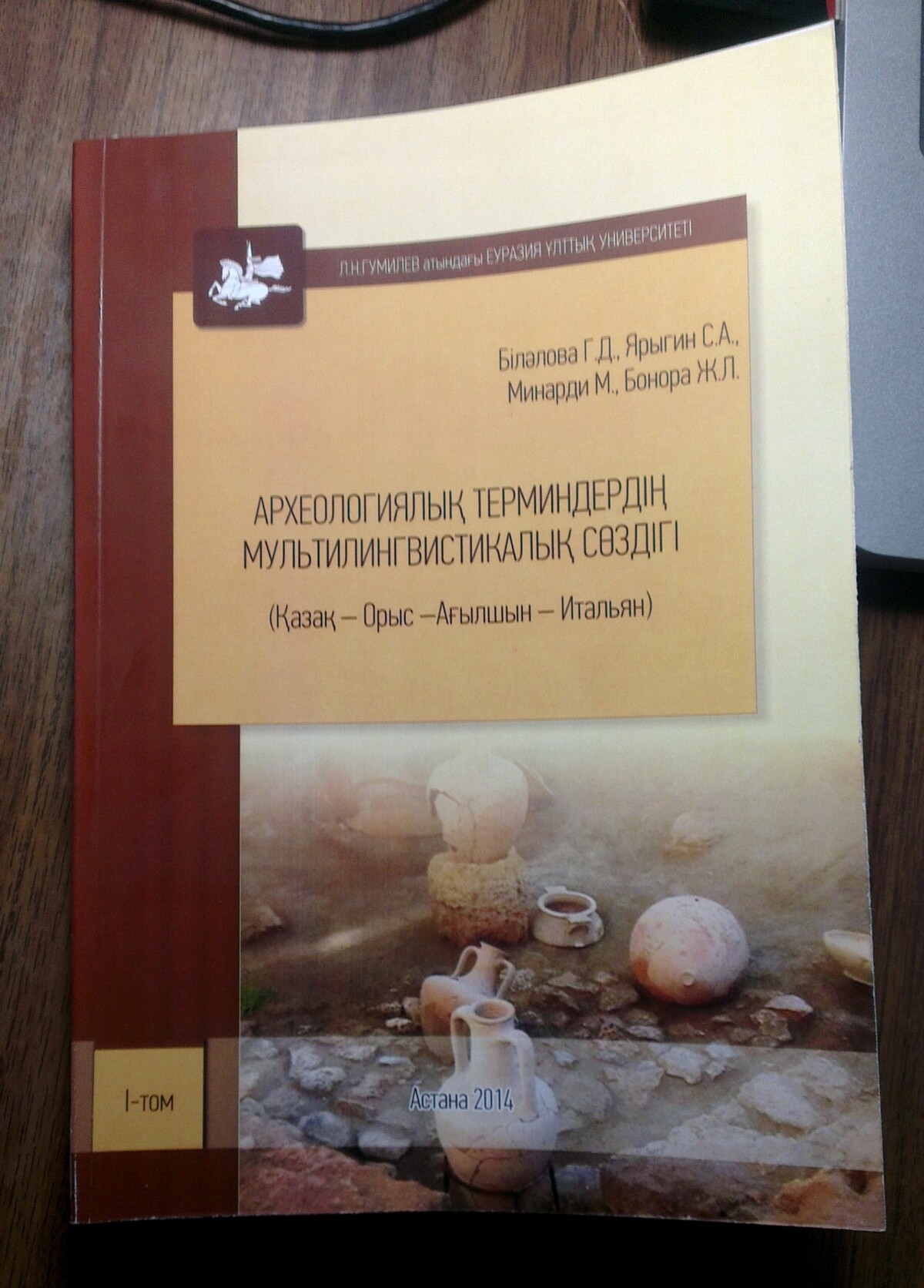 Italian archeologist, teacher at Eurasian National University named after L. Gumillyov, Jan Luca Bonora told to our web-portal about multilingual dictionary of archeological terminology.
"One and a half years ago, I decided to write a dictionary and thus to make a gift to Kazakhstani students studying archaeology. Kazakhstan gave me the opportunity to work and live. When I was invited by the university, I started to think that I can do useful things. Then I started work on the dictionary in three languages Russian, English and Italian. Soon, I found a man who helped me to write the Kazakh language", - said Jan Luca Bonora about his work. 
The dictionary consists of two parts and contains more than 3,000 terms that are used in archaeological research of Eurasian steppes of Central and Middle Asia. The dictionary gives a brief interpretation of the meanings of the terms in the Kazakh and Russian languages.
"It is important that students understand what is archeology, landmark, communication, pillar, columnand more.In Russian and Kazakh language you will find a description of word meanings and translations in English and Italian languages"- explains Jan Luca Bonora.
According to the professor, the dictionary makes easy to read and understand not only scientific articles, but also «when foreign students will come to the field on excavations, the dictionary can help to communicate. For this reason my dictionary can be used", - said the professor.
| | | | | |
| --- | --- | --- | --- | --- |
| Kazakh | Description | Russian | English | Italian |
| Абак | It is the board for arithmeticalcalculation. It is divided into rows and stripes. The calculation is implemented by moving the stones and little subjects on the stripes   | Абак | Abacus | Abaco |
| Абака | The column, plate consisting of the upper part of the column capitals and pilasters. It has quadrilateral shape with truncated corners and concave sides inward. | Абака | Abacus (pl. Abaci or Abacuses) | Abaco |
| Абақты | The prison, where people are deprived of their liberty. | Тюрьма | Prison | Prigione |
| Абразив | It is in the form of solid material, the fine grains or pre-ground material in the form used in the processes of grinding, rubbing and honing. | Абразив | Abrasive | Abrasivo |
| Абразивты құрал | It is the tool is used for grinding and honing. | Абразивное Орудие   | Abrader, Abrading stone | Abrasivo, Strumento per abradere |
| Абрис | This outline shape of the object; contour image of a certain shape of the object, which shows some edge tint paints or colored images | Абрис | Contour, Outline | Contomo, Sagoma |
| Абсида | It is projection building, half-round, faceted or rectangular in plan, covered with a semi-dome or cloistered semi-arch. | Абсида (или Апсида) | Apse | Abside |
| Абыз-патша | The king who has entire political and religious authority. | Царь-жрец | King-priest | Re-Sacerdote |
The structure of the dictionary 
This multilingual dictionary of archeological terminology is very valuable for science in Kazakhstan. He is the first who introduces Kazakh language as scientific language of archeology. For the first time, all archeologists who work in Kazakhstan and can speak in Russian, English and Italian will get a special instrument, which will help them to express the concepts and words in Kazakh language.
In 1990, in Russian and foreign science appeared a number of historical and archeological dictionaries. In Kazakhstan, this kind of publication is the first experience like a kind of experiment. Written in four languages this dictionary is a great contribution to archeology.
This book, according to the author, is designed primarily for students and teachers, researcher and professionals, also who are interested and engaged in archeology, history and anthropology in Kazakhstan and beyond.
Today Professor Jan Luca Bonora is busy preparing the presentation of the first multi-lingual dictionary of archeological terminologies. In short time the publication will be released. 
Use of materials for publication, commercial use, or distribution requires written or oral permission from the Board of Editors or the author. Hyperlink to Qazaqstan tarihy portal is necessary. All rights reserved by the Law RK "On author's rights and related rights". To request authorization email to
or call to 8 (7172) 57 14 08 (in - 1164)