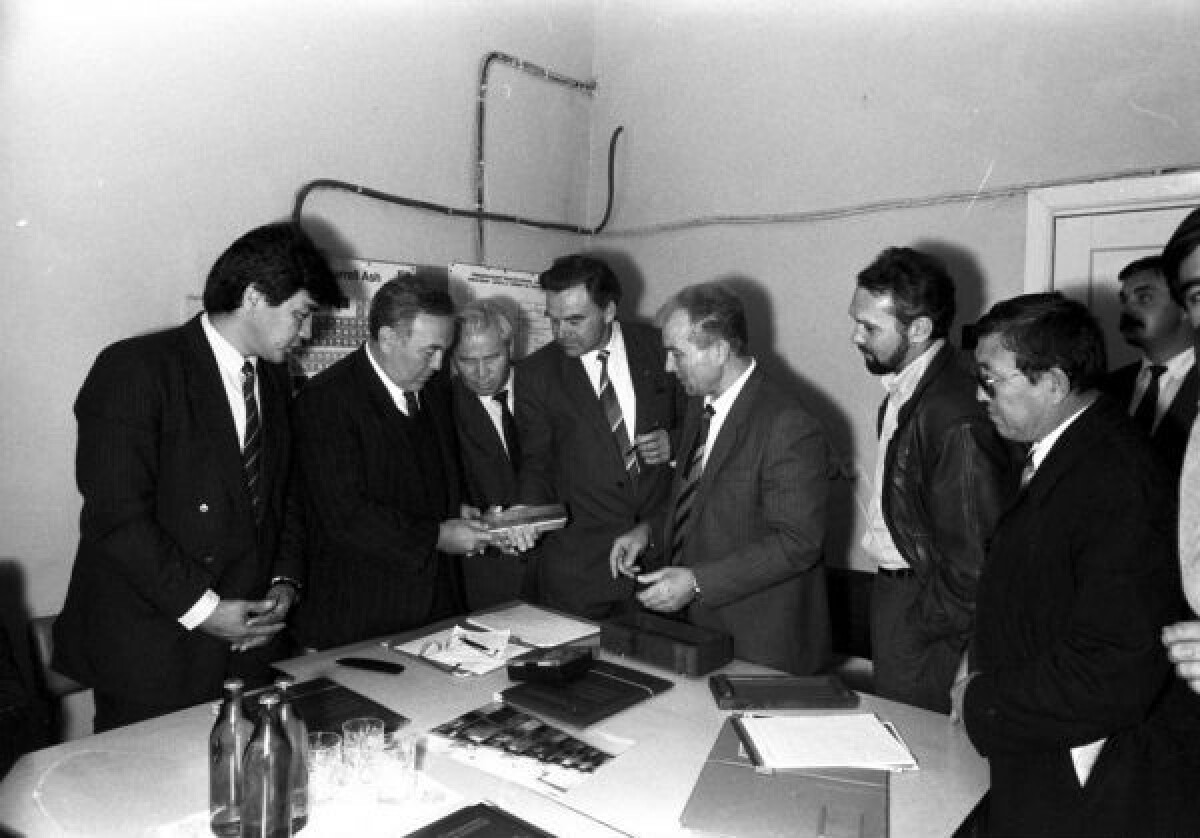 25 years ago, Kazakhstan had its first gold bar. Thus, Kazakhstan began to accumulate its own gold reserves
27 January 1992, the historic event took place - at the Ust-Kamenogorsk lead-zinc plant was smelted the first bar of higher test gold with weight of 10.5 kg, which took pride of place in the gold reserves of Kazakhstan. But about the creation of its own gold reserves was previously announced.
January 6 in Kazakhstan was published a decree on liberalization of prices - the state eased the cost of almost all products in free-swimming. This step was important in terms of the transition to a market economy, however, caused total price rise and chronic inflation. This year, annual inflation exceeded 3000%.
Even the old-timers did not remember such tense situation with products. Grocery shelves were absolutely empty. Everything that went on sale was sold out immediately at once.
As reported at the time, the newspaper "Kazakhstanskaya Pravda" in all grocery stores was two very long queues. One for vermicelli which was sold in accordance with the entered card redemption system, the other for three varieties of bread.
"Tomorrow is such a wonderful holiday - Christmas, and now even cry, - says angrily worker L.Mostovaya. – I would give my recent money, but bought something to serve the table. I feel ashamed in front of guests!"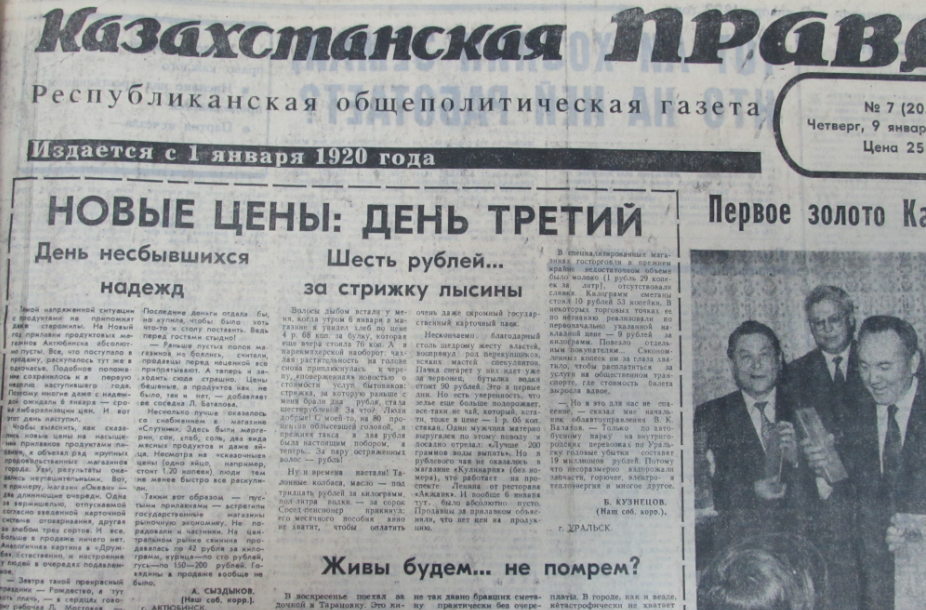 And even private traders did not rejoice. In central market pork was sold at 42 rubles per kilogram, chicken - a hundred rubles, goose - 150-200 rubles. Beef was not on sale at all.
"What a time we had! As per talon sausage or butter - thirty rubles per kilogram, half a liter of vodka – forty rubles. A neighbor-pensioner figured, his monthly benefit was clearly not enough to pay even very modest state card ration"- outraged the shop visitor.
All this was accompanied by a shortage of cash in circulation. "In order to pay the salaries, pensions, allowances, we had to buy the money in Russia, - said Nursultan Nazarbayev in his book "Kazakhstan's way". - Until the first half of 1992 the funds from the Central Bank of Russia we received for free. But after the division of budgets we already had to buy rubles. And since the funds for the purchase of money in the budget of Kazakhstan was not enough, the country immediately felt a shortage of cash. We took the rubles in debt (one might say, on credit), then Russia brought us a debt of $ 1.5 billion. After a few years, only in the calculations for "Baikonur" cosmodrome we were able to write off the debt."
Kazakhstan's independence took place in a very difficult moment, when the former Soviet Union held the transition from a planned socialist economy to a market, and after the collapse of the USSR were broken economic ties between the republics.
Therefore, price liberalization was a forced step. To hold fixed prices under pressure of huge ruble supply from Russia and other former Soviet countries was impossible. There was a sharp rise in prices for consumer goods; standard of living of the population began to decline. Simultaneously with this problem, the country's leadership had to urgently solve a number of organizational issues, as being part of the USSR, Kazakhstan did not have some of the structures required a sovereign state.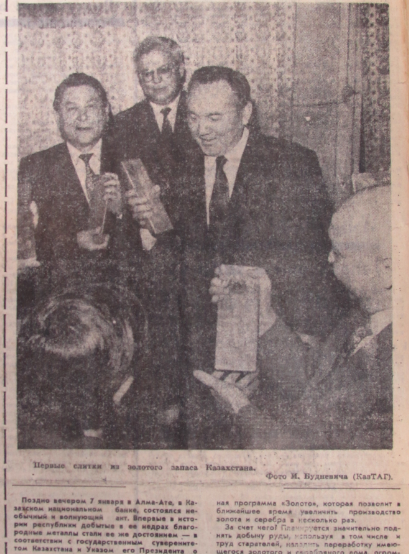 Since January 7, 1992 in Alma-Ata, the Kazakh National Bank held an unusual and exciting act. For the first time in the history of the republic, obtained in its interior precious metals became the property of her own - in a state with the state sovereignty of Kazakhstan and its President Decree on the establishment in the republic its own gold reserves and the Diamond Fund.
Director General of the production association "Kazzoloto" M.Murtazayev handed President N.A. Nazarbayev gold and silver bars from the first batch smelted from Kazakh ore, which had redistribution at around Moscow factories and returned to the country. Five gold bars of the highest standard - 99.99 – of eleven kilograms and two silver bars of thirty kilograms for many millions rubles. President immediately deposited it for keeping to Gokhran. They were received by its director A. Nursultanov.
The Head of State gave instructions to the Government and the National Bank to take measures for the development of gold mining industry.
From now on, all noble metals produced in the country, which before were completely taken out by center, would belong to its people. A special program "Gold" was developed, which allowed in the near future to increase the production of gold and silver in several times.
It was planned to significantly increase production of ore, also using the work of miners, to adjust the existing gold and silver scrap processing, huge debris at enterprises of nonferrous metallurgy of various wastes and "tails" containing these metals, their extraction from concentrates.
And pure metals planned to be produced in Kazakhstan itself. To do this, we began to create the refining industry. History of the State Depository for Precious Metals began with the Decree of President Nursultan Nazarbayev on August 31, 1991 "On creation of gold and diamond reserves fund of the Kazakh SSR".
Thus, the independence of Kazakhstan, its growing external communications received by these means a solid foundation.
The inauguration event was attended by Chairman of the Supreme Council S.Abildin, Prime Minister S.Tereschenko, Deputy Prime Minister K.Baykenov, and Chairman of the Economic Reform, Budget and Finance Committee of the Supreme Council S.Takezhanov.
By Makhabbat BOLSHINA
Translated by Raushan MAKHMETZHANOVA
Use of materials for publication, commercial use, or distribution requires written or oral permission from the Board of Editors or the author. Hyperlink to National Digital History portal is necessary. All rights reserved by the Law RK "On author's rights and related rights". To request authorization email to kaz.ehistory@gmail.com or call to (7172) 79 82 06 (ext.111).  
Use of materials for publication, commercial use, or distribution requires written or oral permission from the Board of Editors or the author. Hyperlink to Qazaqstan tarihy portal is necessary. All rights reserved by the Law RK "On author's rights and related rights". To request authorization email to
or call to 8 (7172) 57 14 08 (in - 1164)