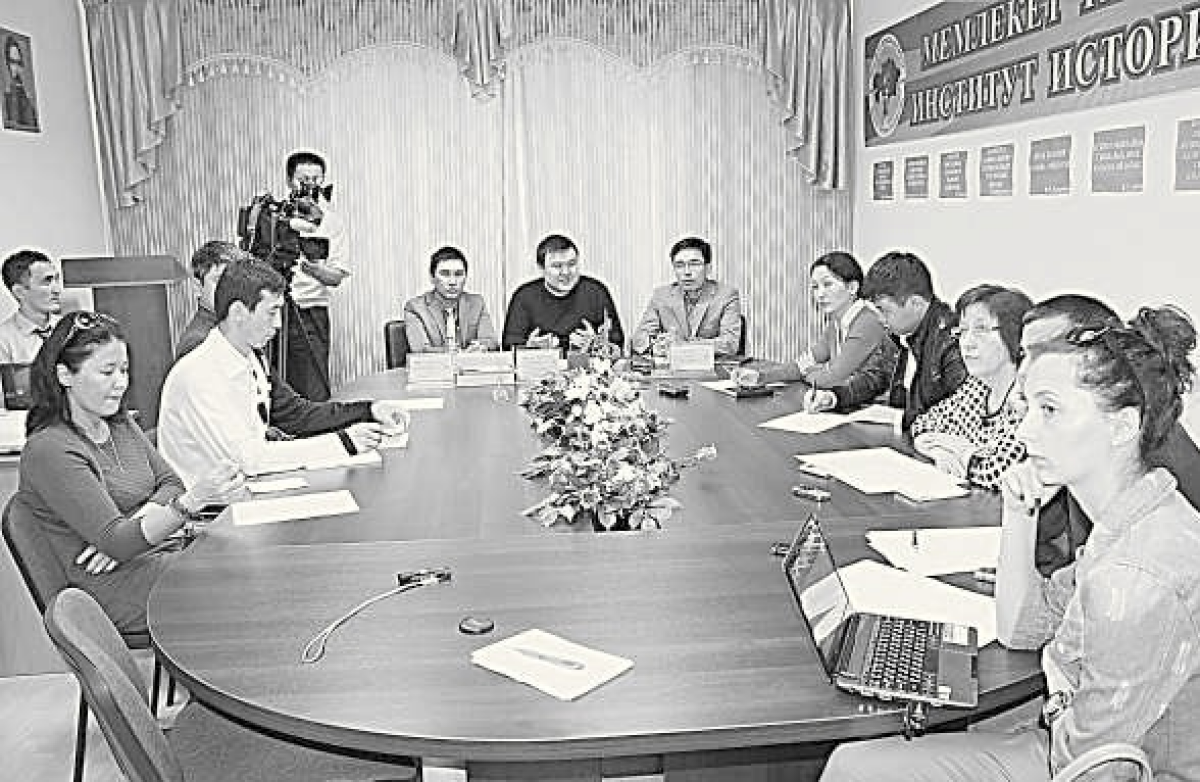 In Astana conference-hall of the Institute of History of State of the Science Committee of the MES of the RK hosted seminar-training for representatives of mass media on «Interdisciplinary approach to
In Astana conference-hall of the Institute of History of State of the Science Committee of the MES of the RK hosted seminar-training for representatives of mass media on «Interdisciplinary approach to investigation of ethnogeny of Kazakhs»
Seminar-training was held under the instructions of Marat Tajin, the State Secretary of the Republic of Kazakhstan. Selection of the theme is justified by its topicality because population genetics has an opportunity to make a revolution in history understanding and expand its horizons. It is relatively new kind of historical science for Kazakhstan, and it is gratifying that we have interested in it creative young scientists, including Zhaksylyk Sabitov from L. N. Gumilyov ENU, Maksat Zhabagin and Aikyn Askapuly, genetics of the Nazarbayev University, who was responsible for the conduction of the seminar-training. According to their opinion, in the twenty-first century genetic studies will be the main method for investigation of ethnogenesis of any nations, and such multidisciplinary approach, developed at the crossroads of history and genetics, and could make a breakthrough in the study of the ethnogenesis of Kazakhs.
In 60-s of XX century double Nobel winner Linus Pauling expressed his opinion that the rate of accumulation of mutations in DNA is constant, and it can be used as a sort of molecular clock of evolutionary history, including investigation of events in human evolutionary history. With the help of this method experts began to study human populations, and Y-chromosome provoked the greatest interest among historians. This is the smallest chromosome in the human genome which contains approximately 80 genes. In comparison with others that have about 1,5 thousand genes, it is not so many. Because of its little size Y-chromosome was considered to be uninteresting for researchers «genetic pacifier». However, after a while scientists discovered that the Y-chromosome is passed by paternal line, i.e. exclusively from father to son, so with the help of labeling is theoretically possible to trace its descent to the distant ancestors by the male line.
— Investigation of the Y-chromosome by the DNA labels is a new applied historical method, which will allow verifying scientific hypotheses — Zhaksylyk Sabitov said. — And population genetics could help historians to answer many questions and reveal secrets of epoches when «archives keep silence». There is a plenty volume of work. Today Kazakhstan's scientists have investigated the origin of only major clans. Genealogy of Abulhair Khan, for example.
Intensive ethnic mixture, especially in the era of the great migration of the Huns, and then Turkic tribes during after the Mongol invasion, left its mark on the appearance of Kazakhs. In addition, during the impetuous ethnic and migration processes ancestry of Kazakhs mixed with representatives of other ethnic groups, often assimilating them into their ethnicity. Scientists believe that population genetics could take into account these aspects as well.
Help them, and the fact that the Kazakhs, unlike other nations, most kept their genealogy. The fact that in contrast to other nations Kazakhs, in general, saved their genealogy will help scientists.
Source: «Kazakhstan Truth», № 274 dated September 14, 2013
Material was provided by the Institute of History of State of the SC of the MES of the RK
Use of materials for publication, commercial use, or distribution requires written or oral permission from the Board of Editors or the author. Hyperlink to Qazaqstan tarihy portal is necessary. All rights reserved by the Law RK "On author's rights and related rights". To request authorization email to
or call to 8 (7172) 57 14 08 (in - 1164)