In 2005, Aliya Moldagulova's memorial complex was opened in Aktobe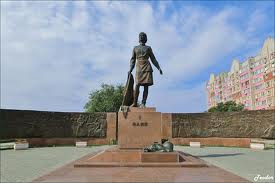 In Aktobe Aaliyah Moldagulova's memorial complex was open.
Authors of a memorial - known sculptors Bakhytzhan Abishev and Esken Sergebayev tried to leave from Alija's all-widespread image as severe soldier of the Soviet army. The heroine appeared in the form of the young 19-year-old girl, whose life was torn off tragicly by war. The eye of the girl is turned afar, to far Moscow, Pskov for which release Alija gave her life. At the bottom the holdall and flowers, as a worship tribute to a great feat lies. Alija's bronze figure is established on a granite pedestal. The monument is framed by two granite reliefs on which the people history - from saksky times up to now is represented.
Для копирования и публикации материалов необходимо письменное либо устное разрешение редакции или автора. Гиперссылка на портал Qazaqstan tarihy обязательна. Все права защищены Законом РК «Об авторском праве и смежных правах». mail@e-history.kz 8(7172) 79 82 06 (внутр. – 111)