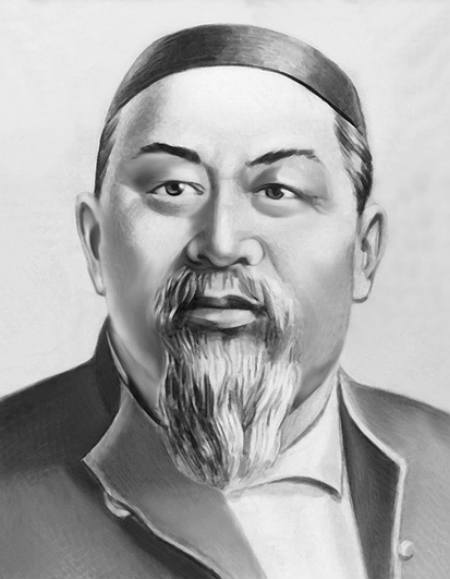 20 April 2015
The conference was attended by famous experts on Abay's life and works, scientists, public figures as well as teaching staff and student of educational institutions of the city of Astana.
The opening ceremony included the speech of the Director of the National Museum of the Republic of Kazakhstan Darkhan Mynbay. He said the following: "This year will become a particular period full of significant for our country historical events. This year marks the 550th anniversary of the establishment of the Kazakh Khanate, the 180th anniversary of Shokan Valikhanov, 170th anniversary of Abay Kunanbayev, 70th anniversary of Victory in the Great Patriotic War, 20th anniversary of the Assembly of People of Kazakhstan and the Constitution of the country. All this important anniversaries which have already got their special places in the history of country, will not remain without attention from the National Museum of the Republic of Kazakhstan which was established to promote the great deeds of the nation.
The conference on "Heritage of Abay" is dedicated to the 170th anniversary of Abay Kunanbayev and is aimed to start celebration of this date. I hope that this scientific forum will allow discussing important issues which will result in a resonance in the society and be interesting for our young generation".
The Director of the National Museum of the Republic of Kazakhstan also shared his view on propaganda of the heritage of Abay: "Abay is a passport of Kazakh nation; he is a criterion for our spirituality. He is both a symbol and guard of the national sanity. Therefore, the National Museum supports the traditions of museums to promote and popularise the heritage of famous figures, such as Abay, tries to use material values and the whole educational system".
The following scholars delivered their speeches during the conference: prominent expert on Abay' life and works Professor Mekemtas Myrzakhmetov, Academician Garifolla Yesim, Director of the Research Centre "Otyrar Kitapkhanasy" of the L. N. Gumilyov Eurasian National University Tursyn Zhurtbay, Director of the Research Institute "Abaytanu" of the Al-Farabi Kazakh National University Zhankara Dadebayev, Doctor of Historical Sciences and Academician Orazak Smagulov, Professor Serik Negimov and many other famous scholars and researchers.
A film about the poet was demonstrated during the conference. The scientific even was followed by the exhibition of early editions of works of Abay Kunanbayev and his poems translated to foreign languages. The organisers also conducted an exhibition of Abay's portraits taken from the collection of the National Museum.
Use of materials for publication, commercial use, or distribution requires written or oral permission from the Board of Editors or the author. Hyperlink to Qazaqstan tarihy portal is necessary. All rights reserved by the Law RK "On author's rights and related rights". To request authorization email to mail@e-history.kz or call to (7172) 79 82 06 (ext.111)