Declaration of the state independence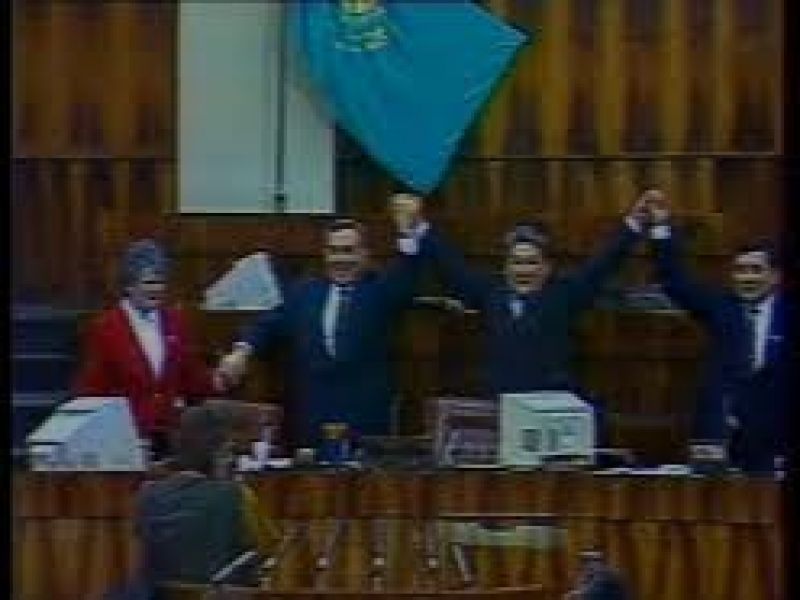 At the beginning of December, 1991 leaders of three republics: Russia - B. Yeltsin, Ukraine L.Kravchuk and Belarus – S. Shushkevich signed the Belovezhsky agreement on denunciation of the allied contract of 1922. Actually disintegration of the USSR was legally issued.
December 10, 1991. The Supreme Council made the decision on renaming Kazakh SSR to the Republic of Kazakhstan, and on December 16, 1991 the Supreme Council proclaimed the state independence of the Republic of Kazakhstan. The new stage in the history of the republic began.
Process of the birth of the new state began.
The Constitutional Law "About the State Independence of the Republic of Kazakhstan" of December 16, 1991 became a special stage of this process. Developing key ideas of the Declaration on the state sovereignty, the Constitutional Law unambiguously fixed that the Republic of Kazakhstan from now on builds the relationship with all states on the principles of international law, as well as it befits the independent state. For the first time uniform Kazakhstan nationality was established. The variety of forms of ownership proclaimed the Declaration, the principle of division of the government on legislative, executive and judicial was legalized, the state course on independent economic system with the financial credit, tax and customs policy was fixed.
For protection of independence and territorial integrity of the Republic of Kazakhstan the Constitutional Law also provided for the first time creation of own Armed forces. In comparison with standards of the Declaration that the supreme body of judicial protection of the Constitution the Constitutional Court of the Republic of Kazakhstan admitted was new.
In essence this Law became the Temporary Constitution of Kazakhstan independence at a legislative stage of formation of its sovereignty de jure since standards of the Constitution Kazakh SSR and other acts admitted 1978 operating in the territory of the Republic as they didn't contradict the Constitutional Law of December 16, 1991. Its contents was directly based on the Constitution of the Republic of Kazakhstan 1993.
At an Ashkhabad meeting leaders of the republics of Central Asia and Kazakhstan, analysed the Belovezhsky agreement, legal aspects of a problem and expressed readiness for participation in formation of the new state. On December 21, 1991 in Alma-Ata at meeting of 11 independent states  heads which were a part of the former Union, the protocol of the agreement on creation of the Union of the Independent States (UIS) was signed.
In Kazakhstan dynamic development of sovereign statehood began.
In the political sphere it was headed for formation of the strong presidential republic with the subsequent reform of the parliamentary power assuming the professional Supreme Council. Discussion of the draft of the new Constitution of the republic, reform of executive power is carried out. For a transition period positions of heads of administrations to whom all completeness of responsibility for state of the economy, implementation of presidential and governmental decisions on places is assigned are entered.
Source: 
http://uchebnik.kz/istoriya-gosudarstva-i-prava-rk/122-raspad-sssr-i-provozglashenie-gosudarstvennoy-nezavisimosti-respubliki-kazahstan/
Use of materials for publication, commercial use, or distribution requires written or oral permission from the Board of Editors or the author. Hyperlink to Qazaqstan tarihy portal is necessary. All rights reserved by the Law RK "On author's rights and related rights". To request authorization email to mail@e-history.kz or call to (7172) 79 82 06 (ext.111)