In 1934 was created the Kazakh State orchestra named after Kurmangazy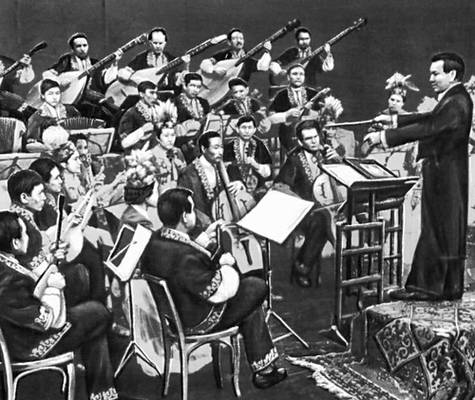 Academician A.Zhubanov was the founder of the orchestra. After him about forty years the orchestra was led by People's Artist of the USSR State Prize winner, Kazakhstan, knight «Parasat» Professor Kazhigaliev Shamgon.
Orchestra is a member of many international and national forums, festivals, competitions, decades, holidays, stands and conferences. He is the holder of the first prize and the title of the winner of the IV World Festival of Youth and Students in Bucharest (1953). He was conferred the honorary title «Honored team republic» (1967), «Academic» (1978) and November 29, 1984 was awarded the Order of Friendship of Peoples. Orchestra presents individual performing school not only in their own country and the CIS, but also abroad — Poland, Romania, Hungary, Germany, Czechoslovakia, Finland, France, Sweden, Portugal, Denmark, India, China, Afghanistan. He's toured many outstanding soloists: S. Lemeshev, K.Baiseitova, R.Baglanova, L.Zykina, S.Kiizbaeva, B.Tulegenova, R.Dzhamanova, A.Dnishev, G.Esimov, N.Usenbaeva, Zh. Baspakova, Sh. Abilov and others.
Для копирования и публикации материалов необходимо письменное либо устное разрешение редакции или автора. Гиперссылка на портал Qazaqstan tarihy обязательна. Все права защищены Законом РК «Об авторском праве и смежных правах». mail@e-history.kz 8(7172) 79 82 06 (внутр. – 111)