Today is the birthday of the only Kazakh female pilot of the Great Patriotic War Hiuaz Dospanova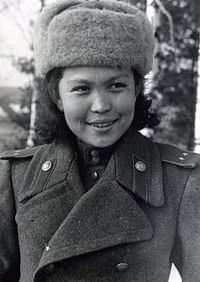 During the Great Patriotic War in USSR was created the unique world's first Aviation Regiment consisting only of women. It is full name is: 46th Taman Guards Red Banner Order of Suvorov of 3rd degree of Night Bomber Aviation Regiment. Germans gave to the girls the simple and brief nicknames «Night Witches». One of the legendary pilots Hiuaz Dospanova was originally from Kazakhstan. She made history as the first Kazakh female pilot.
For the bravery and courage H.Dospanov was awarded with the Order of the Red Star, World War II degree, Red Banner, medals «For the defense of the Caucasus», «For the liberation of Warsaw» and «For the Victory over Germany». She came from the war injured, but she could sit without work. She worked in the Party. In 2004, by the decree of the President of Kazakhstan she was awarded with the title of «Halyk Kaharmany» («People's Hero of Kazakhstan»).
Для копирования и публикации материалов необходимо письменное либо устное разрешение редакции или автора. Гиперссылка на портал Qazaqstan tarihy обязательна. Все права защищены Законом РК «Об авторском праве и смежных правах». mail@e-history.kz 8(7172) 79 82 06 (внутр. – 111)