In 2009 exposition complex named after Abylaykhan was opened in the Burabay State park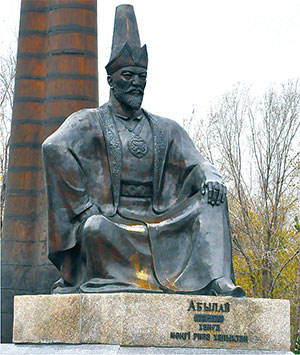 In 2009 exposition complex named after Abylaykhan was opened in the Burabay State park
In 2009 exposition complex named after Abylaykhan was opened in the Burabay State park by the initiative of the Nur Otan People's Democratic Party and the Office of the President. 
The territory of the museum located at Abylaykhan Square is 288 square meters. According to historical data, that was the place where Abylaykhan received ambassadors of Chinese and Bukhara Khanates and other states; that was the site where the Shandy Zhoryk famous battle took place. Sculptural compositions of the museum are the attempt to reconstruct the events of that period.
The project is implemented with the aim to preserve historical heritage, popularization of Kazakh history and tourism development.
Для копирования и публикации материалов необходимо письменное либо устное разрешение редакции или автора. Гиперссылка на портал Qazaqstan tarihy обязательна. Все права защищены Законом РК «Об авторском праве и смежных правах». mail@e-history.kz 8(7172) 79 82 06 (внутр. – 111)