In 1929 was born a writer, journalist and statesman Kakimzhan Kazybayev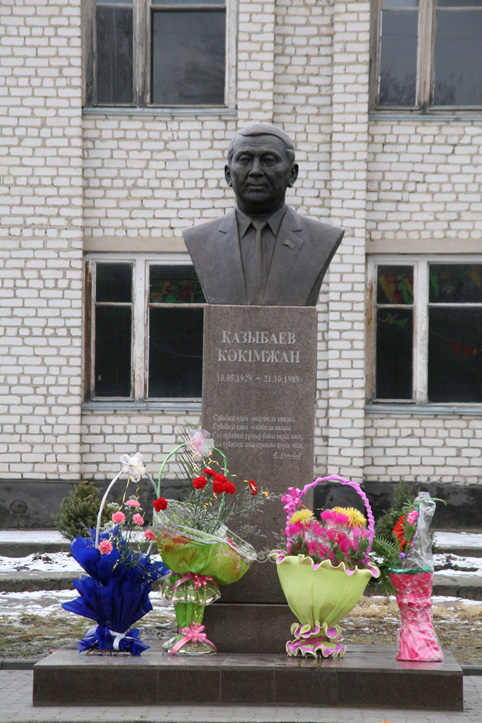 Kakimzhan Kazybayev was born in 1929 in the Seven Rivers in the village of Agharta Sarkandskiy district. After high school he entered the Kazakh State University and the Faculty of Journalism in 1952
Kakimzhan Kazybayev was born in 1929 in the Zhetysu in the village Agartu of Sarkandy district of Taldykorgan  region. In 1952, after graduate of high school he started to study journalism at the Kazakh State University. For a long time he worked in senior position in the offices of the regional and national newspaper, in the Central Committee of Communist Party of Kazakhstan and deputy chairman of the State Committee for publishing, printing and book trade. 
From 1974 to 1982, he was the head of Telegraph agency (KazTag) under the Council of Ministers of the Kazakh SSR.
The novel "The Holy Hatred" («Священнаяненависть» (1966) about the hero of the storming of the Reichstag R. Koshkarbayev, the collection of essays "Born by October" («РожденныеОктябрем» (1970) and the novel "Frost" («Изморозь» (1972) were written by him.
He set the first project for aityses ( oral improvisation competition) at the National TV station. He also was the initiator of the 150th anniversary of Sh. Valikhanov under the auspices of UNESCO. His last years he led the magazine "Communist of Kazakhstan" («КоммунистКазахстана»).
Для копирования и публикации материалов необходимо письменное либо устное разрешение редакции или автора. Гиперссылка на портал Qazaqstan tarihy обязательна. Все права защищены Законом РК «Об авторском праве и смежных правах». mail@e-history.kz 8(7172) 79 82 06 (внутр. – 111)