Events calendar
19 March
19 March 2004
16 years ago N.Nazarbayev made message to the people of Kazakhstan."For the competitive Kazakhstan and competitive nation"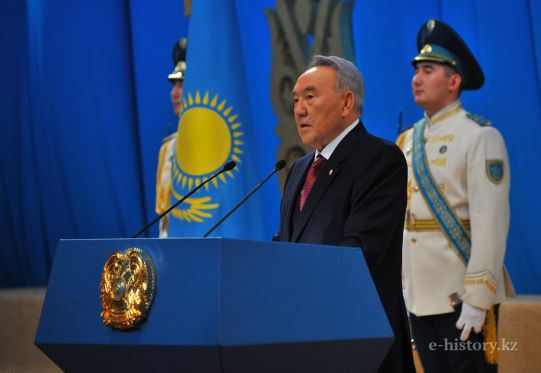 Dear people of Kazakhstan!
The past year gave us confidence and optimism in terms of the development of the national economy.
Total GDP growth in the last four years was almost 50%. In early March, the influential publication "Daily Telegraph" published an economic analysis of the British company "Oxford Analytic," in which Kazakhstan is recognized as one of the most vigorously developing countries among the countries with transitional economy and forecasted that it maintain its leading position in the current year.
2003 was the first year of implementation of industrial innovation strategy. Created development institutions in the country have already real impact on the modernization of the processing industries. Development Bank lends 20 investment projects which worth over half a billion dollars.
Innovation Fund began financing the construction of the first space satellite countries. Five petrochemical companies restored their activity last year. Factories for the production of zinc in Balkhash, polyethylene pipes in Atyrau, berth and infrastructure to support marine operation in the Caspian Sea put into operation. Kostanay diesel factory was launched. The reconstruction and upgrade of many light and food industries have been implemented.
It can be considered as good sign that in 2003 for the first years of independence, the growth rate of processing industry exceeded the growth of extractive industry. Only in mechanical engineering they exceeded 20%.
The first year of the agro-food program completed and results are encouraging. The volume of state support to Agro-industrial complex (AIC) has significantly increased. Farmers last year received 51.6 billion tenge and in the current year approximately 70 billion was allocated.  
19 March 1899
Today, on March 19, 1899, the first metallurgical engineer and stateswoman Madina Bergaliyeva was born
19 March 1859
157 years ago Ch. Valikhanov for the first time described construction Tash-Rabat